Vintage Italian Murano glass chandelier
Deze Italiaanse hanglamp uit de jaren zestig is een bijzondere verschijning.
Het is een kroonluchter met hand-geblazen Murano glazen bollen welke zijn gemaakt met de Pulegoso techniek waardoor de bollen vol zitten met kleine luchtbelletjes en de buitenkant wat ruw en oneffen is.
Diverse fabrikanten maakten gebruik van deze Pulegoso techniek, oorspronkelijk is het bedacht door Napoleone Martinuzzi de art director van Venini, maar deze lamp met deze specifieke bollen en vormgeving wordt toegeschreven aan Seguso.
De glazen ballen hangen aan een chrome armatuur en kunnen voor het transport gemakkelijk los worden gehaald. Binnenin zitten drie fittingen waar normale lampen met een E14 fitting in passen. De bedrading is volledig vernieuwd.
De hoogte is zelf te bepalen, momenteel is de totale hoogte ongeveer 1 meter van onderkant lamp tot aan de plafondkap, maar het is mogelijk er een langere ketting aan te monteren.
De bollen verkeren in een nette staat zonder barsten of beschadigingen.
Het chrome op het frame heeft wat lichte sporen van oxidatie maar het frame is eigenlijk onzichtbaar omdat de bollen dat afdekken. De armpjes zien er wel netjes uit, en de chrome schijfjes tussen de bollen zijn gepoetst en weer netjes met lichte sporen van gebruik.
De lampenketting is vervangen voor een nieuw exemplaar met een mooie lange schakel zoals het origineel ook was.
Afmetingen:
De lamp is ongeveer 45 cm hoog en heeft een diameter van 35 cm, van de onderkant van de lamp tot de plafondkap is de totale hoogte ongeveer 1 meter. De ketting kan vervangen worden door een langere ketting, of de ketting die er nu aan zit kan worden ingekort.
De prijs van deze bijzondere lamp is 1375 euro.
Beautiful Italian chandelier from the sixties with handblown Murano glass bubbles executed with the so called Pulegoso technique. The balls have a lot of small air-bubbles enclosed in the glass which is caused by adding salts to the glass before it is blown.
Several Italian glass manufacturers such as Barovier & Toso, Seguso and Venini used this technique. This specific lamp is often attributed to Seguso.
The glass bubbles are suspended from a chrome spiderweb frame and can be easily removed for save transport. Behind the bubbles are three regular E14 lightsockets, the lamp is completely rewired and we have replaced the chain it hangs from.
The chandelier is in a good condition. All the balls are intact and clean. The chrome frame has a bit of oxidation but that is not visible because the balls cover the frame. The arms are in a good and clean condition.
Just a very nice piece which has some similarities to the Kalmar Tulipan lightfixtures but then in an Italian way.
Dimensions:
45 cm high and with a diameter of 35 cm. The total height of the lamp from the ceiling to the bottom of the lamp is approx 100 cm.
The price of this rare and charming Italian chandelier is 1375 euro.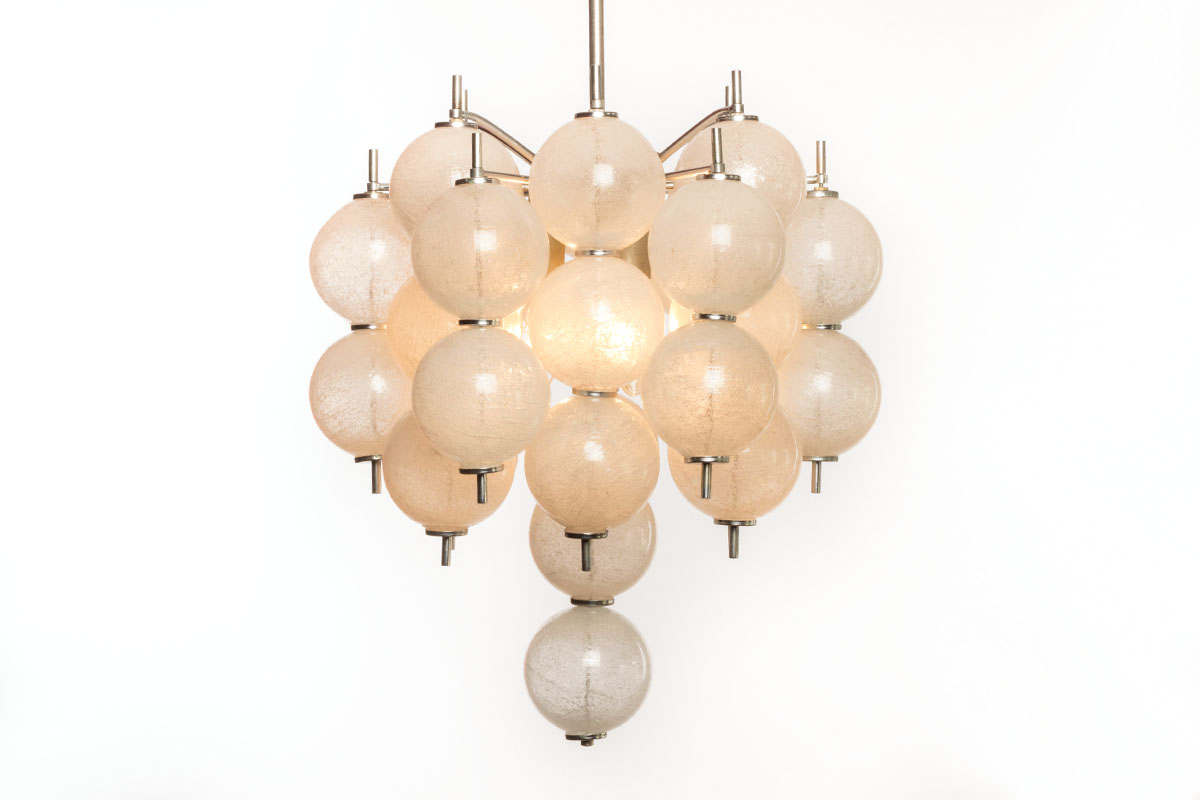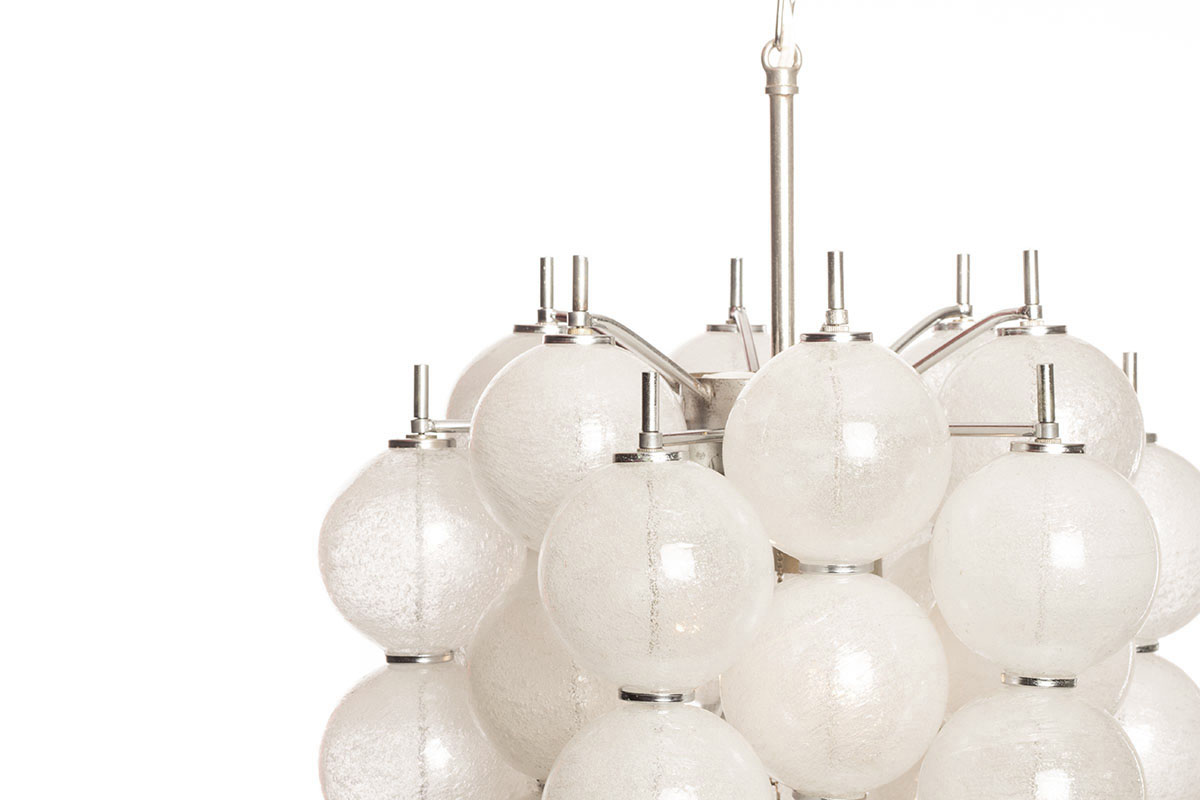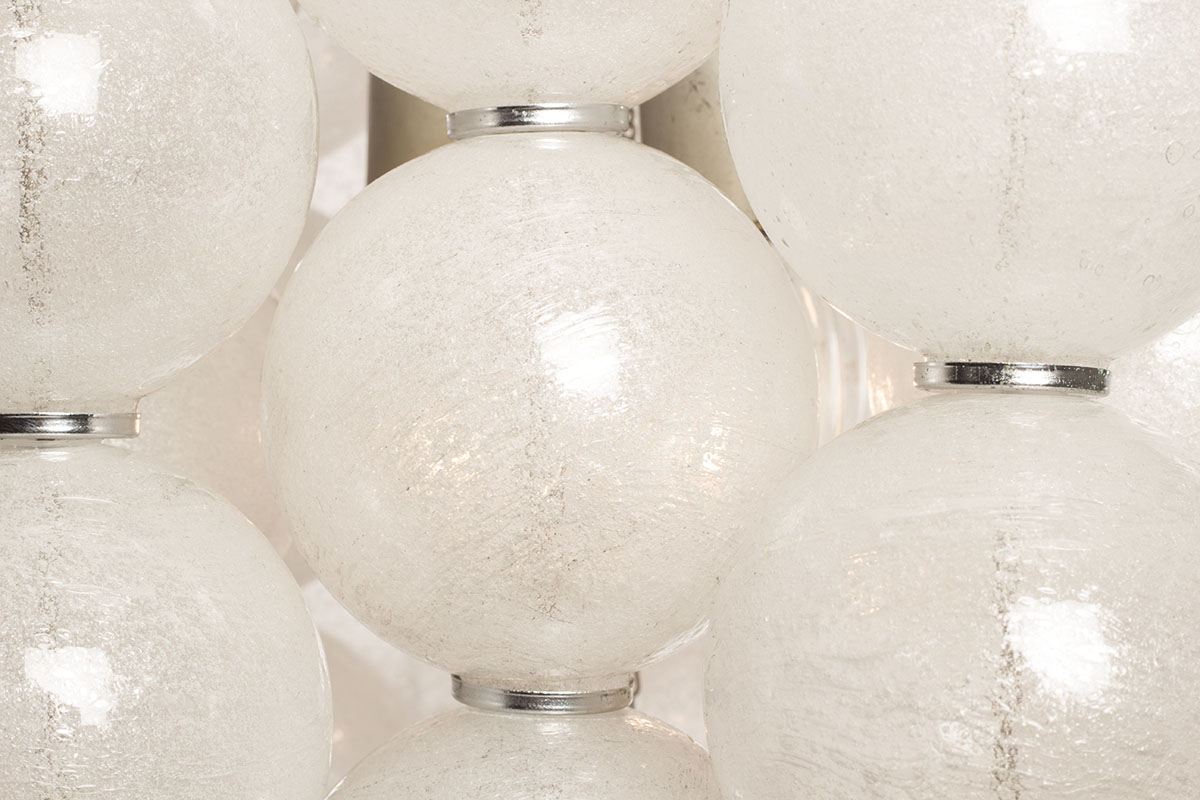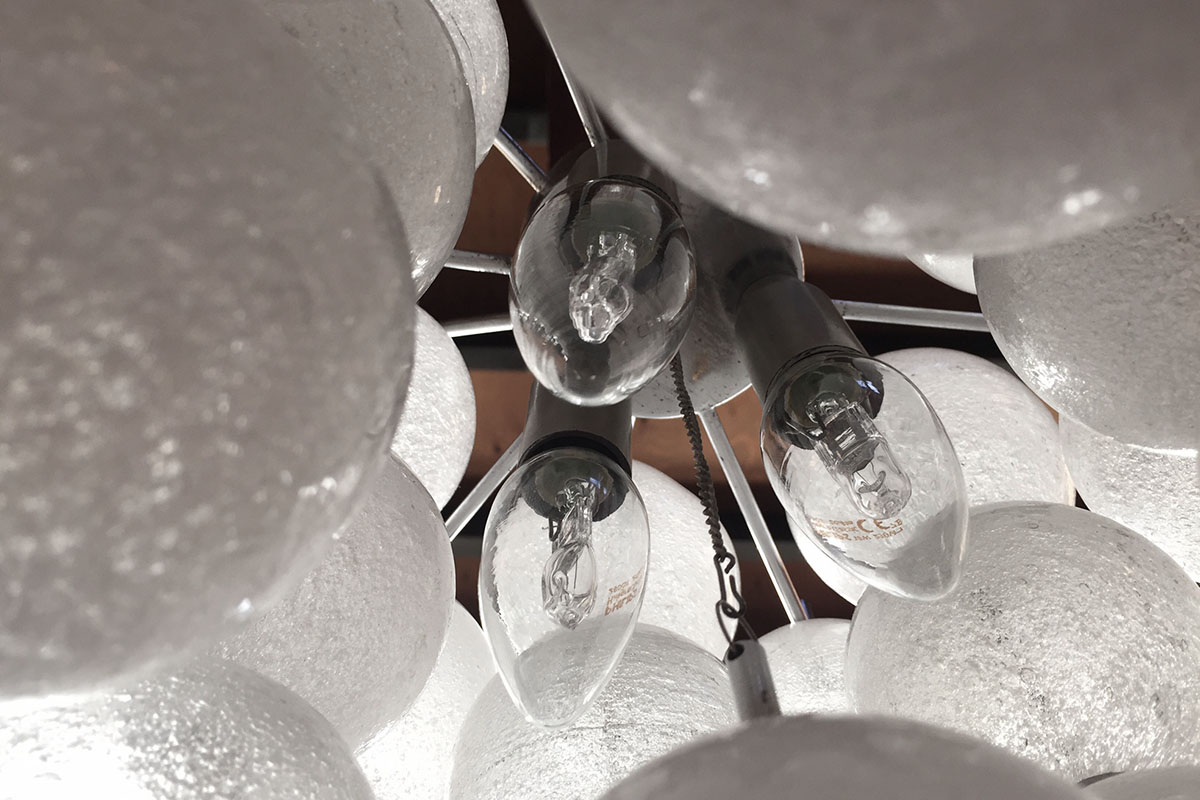 Heb je interesse in deze Italiaanse Murano lamp vul dan onderstaand formulier in en we nemen contact met je op.
Are you interested in this Murano chandelier fill in the contact form below and we will get back to you.