Extremely large illuminated Brutalist metal cross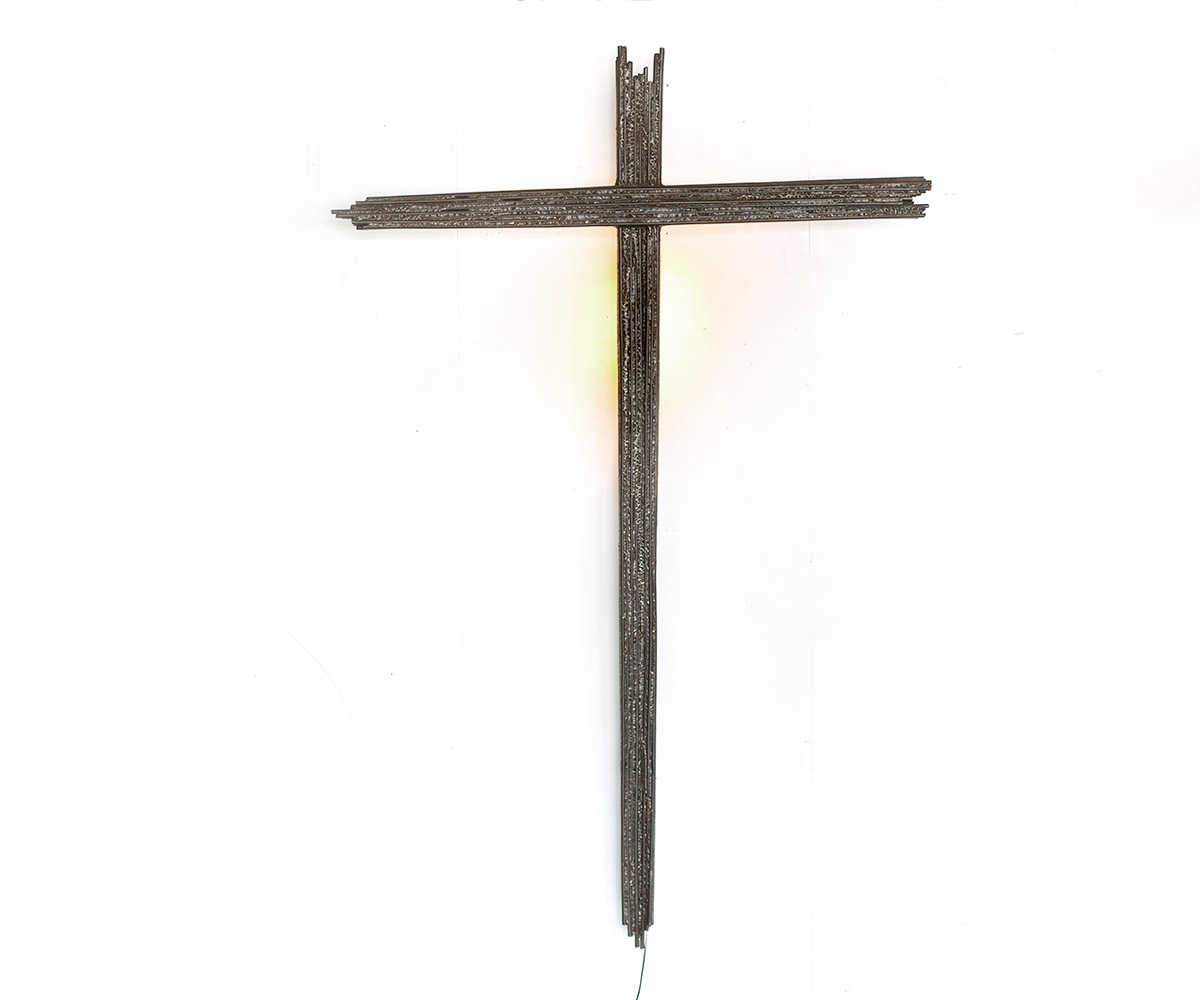 Dit extreem grote brutalistische metalen kruis bracht zijn leven door in een kleine kapel in het centrum van Rotterdam. De kapel bevond zich in een klooster aan de Karel Doormanstraat in een naoorlogs Rotterdams gebouw uit 1966, ontworpen door de Nederlandse architect W.J. Fiolet.
De indrukwekkende grootte van het kruis en het kenmerkende brutalistische karakter met zijn gelaste staven maken het tot een opvallend object. Het kruis is over de gehele lengte lichtjes gewelfd en is gemonteerd op een originele metalen beugel die ook in de kapel werd gebruikt.
Het kruis wordt verlicht vanaf de achterkant met een lange gloeilamp die in het kruis is geplaatst en creëert een mooi warm licht. Dit is echt een uniek object met Rotterdamse geschiedenis bovendien.
Afmetingen: 200 cm hoog, 130 cm breed en 18 cm diep.
De prijs is 450 euro.
This extremely large brutalist metal cross spent its live in a small chapel in the heart of the center of Rotterdam. The chapel was located in a monastery in a post-war Rotterdam building built in 1966 and designed by the Dutch Architect W.J. Fiolet.
The impressive size of the cross sculpture and the distinctive brutalist character with its welded rods make it a striking piece. The cross is slightly curved over the whole length and is mounted on a the original metal bracket that was used in the chapel.
The cross is illuminated from the back with a long lightbulb which is placed inside the cross and creates a nice warm light. A truly unique and one of a kind object.
Dimensions: 200 cm high, 130 cm wide en 18 cm deep.
The price is 450 euro.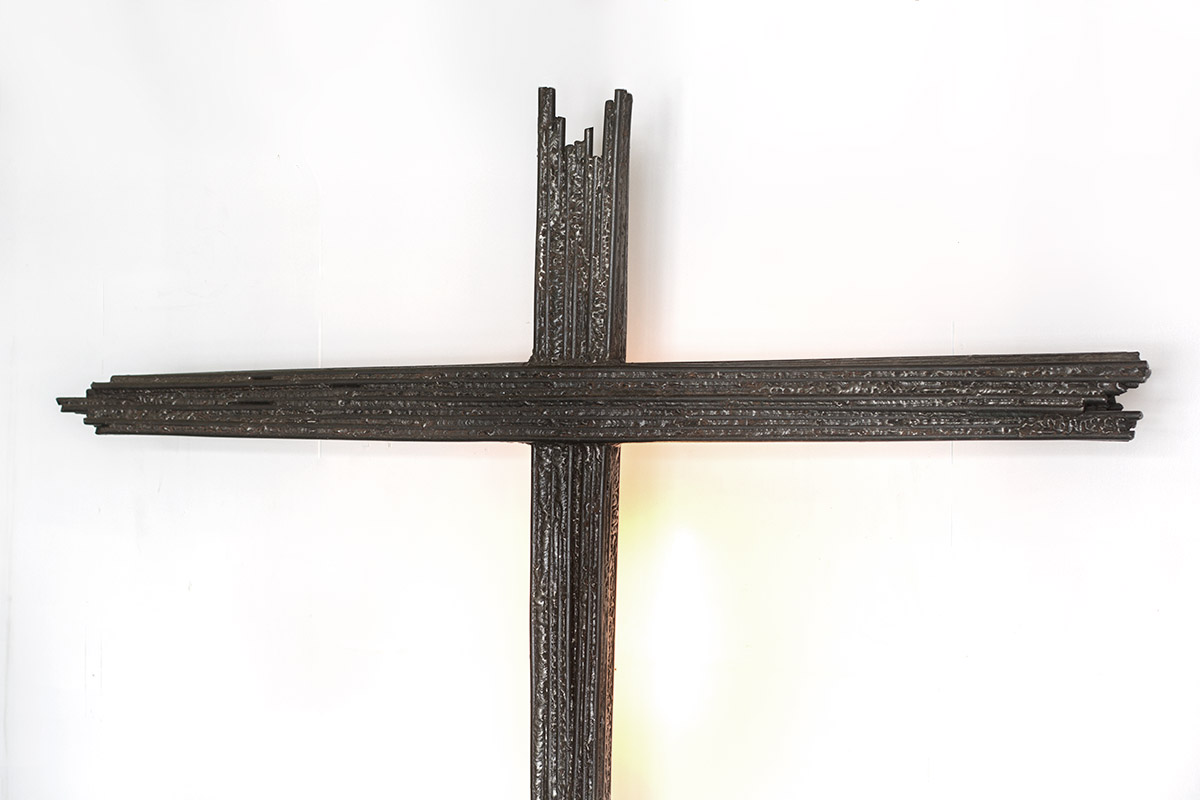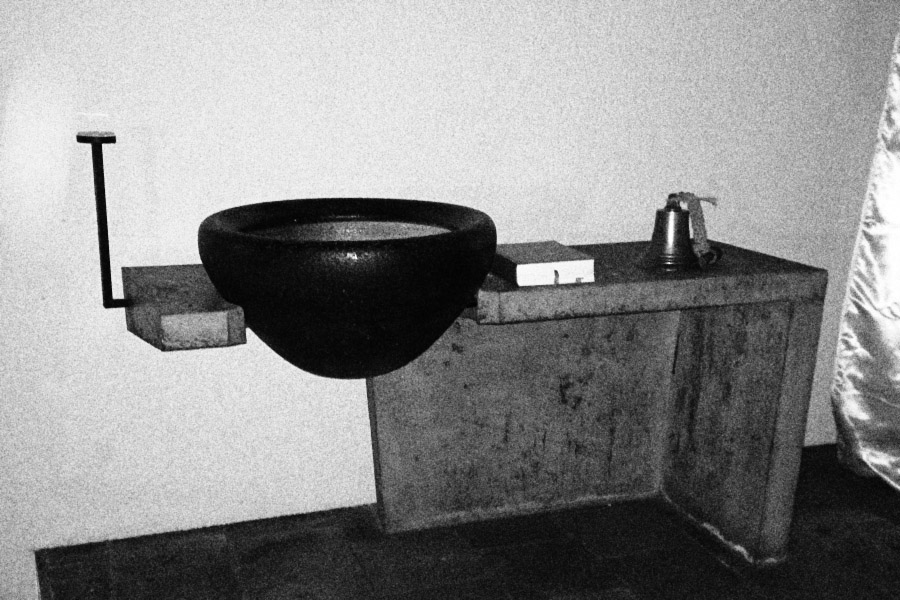 The little altar with font (in the same chapel) which was made out of concrete and cast in the floor.
This Brutalist cross object is brought to you by Vintage Furniture Base and Hoffman Vintage Design Collection.