Frisse set van 4 Erik Ole Jørgensen spijlenstoelen (*sold)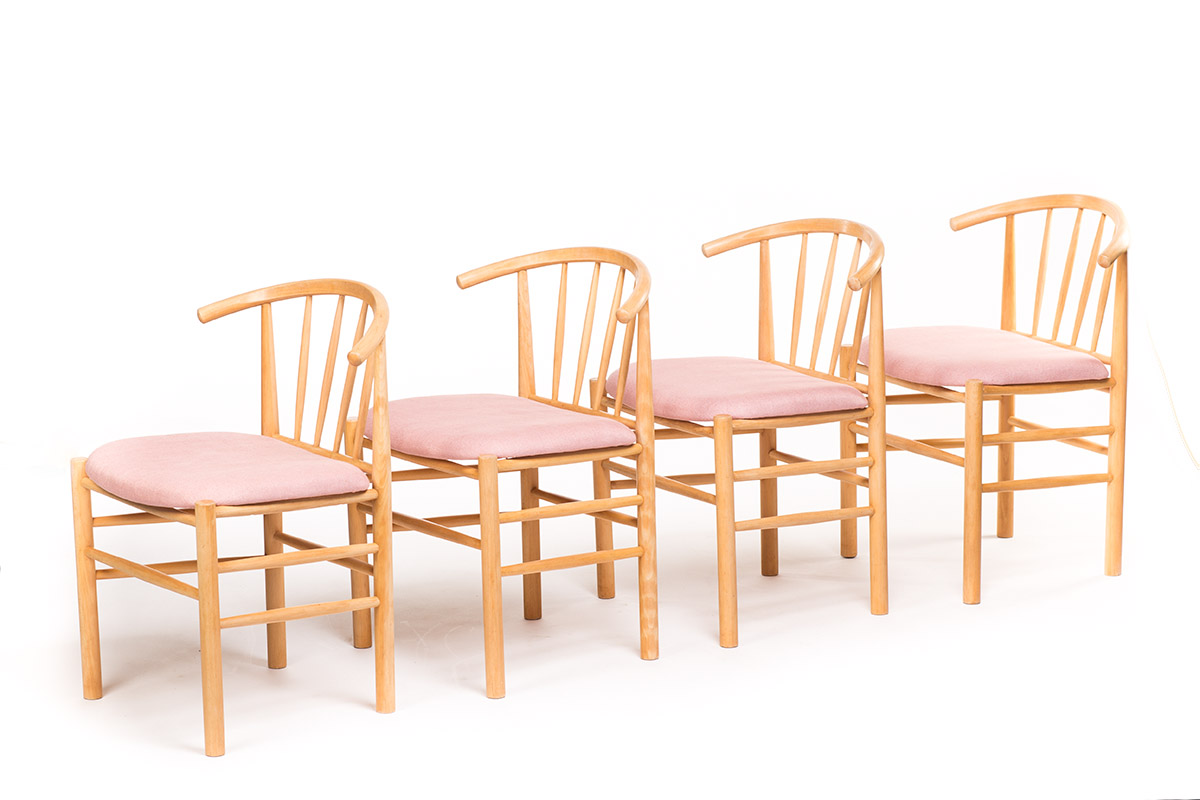 Deze frisse set van vier vintage spijlenstoelen is ontworpen door de gerenommeerde Deense ontwerper Erik Ole Jørgensen, die nauw heeft samengewerkt met Poul M. Volther en Hans J. Wegner. Het design van deze stoelen heeft dan ook wel wat weg van de bekende Wishbone chair van Wegner.
Je ziet deze stoelen vaak in papercord uitvoering, deze set is origineel met gestoffeerde zitting geleverd. De stoelen zijn geheel gerenoveerd en opnieuw bekleed met een frisse zacht roze stof, die goed past bij het lichte beukenhout van de frames. De stoelen zijn afgewerkt met houtzeep, waardoor de lichte uitstraling van het hout behouden blijft.
De afmetingen volgen nog.
De prijs van deze leuke Deense spijlenstoelen is 745 euro.
This beautiful spindle back chairs were designed by the renowned Danish designer Erik Ole Jørgensen, who has worked closely with Poul M. Volther and Hans J. Wegner. The design of these chairs looks a bit like the famous Wishbone Chair of Wegner.
You see these chairs often with papercord seats, these chairs are originally with upholstered seats. The seats have been completely renovated and refurbished with a fresh soft pink fabric, which is complementary with the light beechwood of the frames. The seats are finished with wood soap, which maintains the light appearance of the wood.
The dimensions follow.
The price of this cute Danish set of four seats is 745 euros.