Vintage Danish sofa by Illum Wikkelsø (*sold)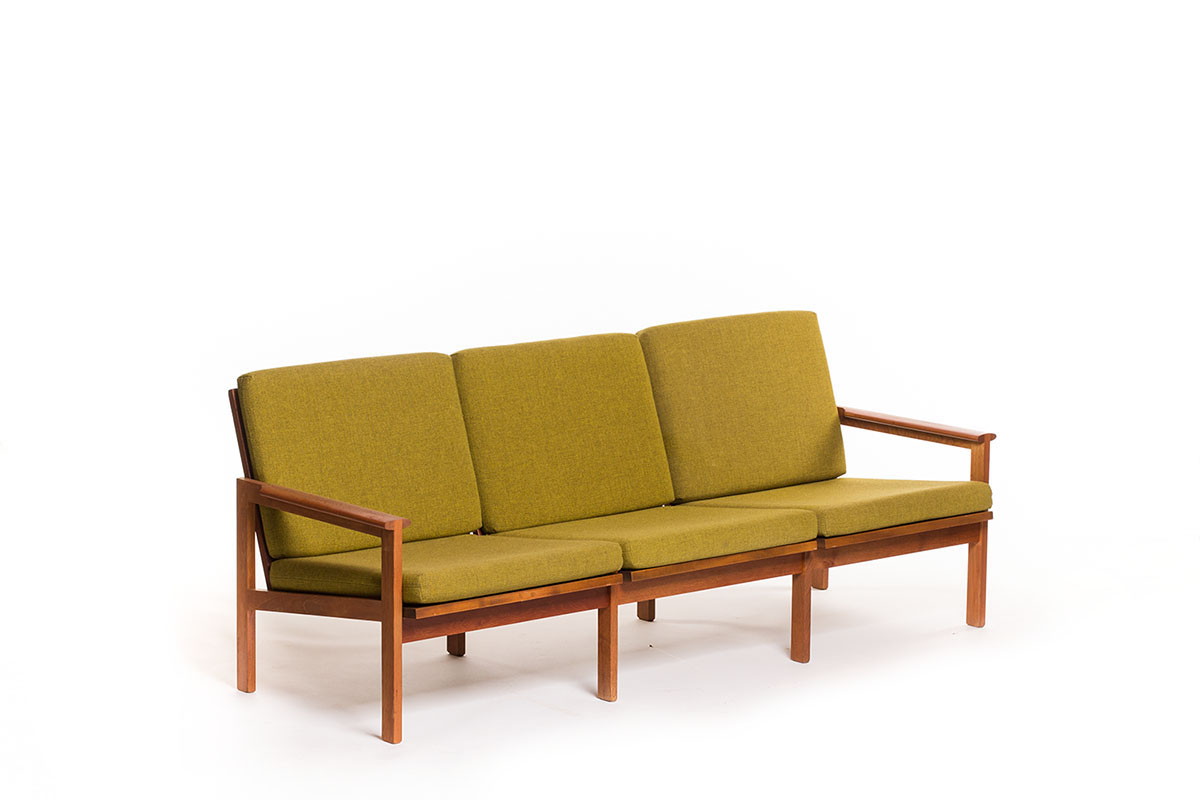 Fraaie frisse Scandinavische bank door de Deense ontwerper Illum Wikkelso en geproduceerd in de jaren zestig door N. Eilersen.
De bank verkeert in een nette staat met lichte sporen van gebruik. De kussens zijn in een mooi geweven wollen stof uitgevoerd en zijn nog helemaal netjes zonder beschadigingen of vlekken.
Het frame frame is ook nog helemaal netjes en de armleuningen zijn opnieuw afgewerkt.
Op de achterkant is er een kleine reparatie uitgevoerd op de bovenkant maar dat valt nauwelijks op (zie detail foto).
Gewoon een erg mooie comfortabele design bank die mijn zijn strakke lijnen en de leuke details in de armleuningen een bijzondere verschijning is.
De kussens hebben een frisse groene kleur.
Afmetingen:
190 lang, 65 cm diep en 72 cm hoog.
Sold
We hebben ook de bijpassende stoel in onze collectie met dezelfde bekleding.
Beautiful vintage Scandinavian teak sofa designed by the Danish designer Illum Wikkelso and produced in the sixties by N. Eilersen.
This sofa is in a good and clean condition with minimal signs of use, without damages or stains in the wool upholstery.
The frame is in clean and sturdy and the armrests have been refinished. On the back of the sofa there is a very small repair to the frame on the top of the backrest (barely visible, see detailed photo).
Very comfy and clean design sofa with its straight lines and the details in the armrests a very nice addition to your vintage or contemporary interior.
The cushions have a nice green color.
Dimensions:
190 cm long, 65 cm deep and 72 cm high.
Sold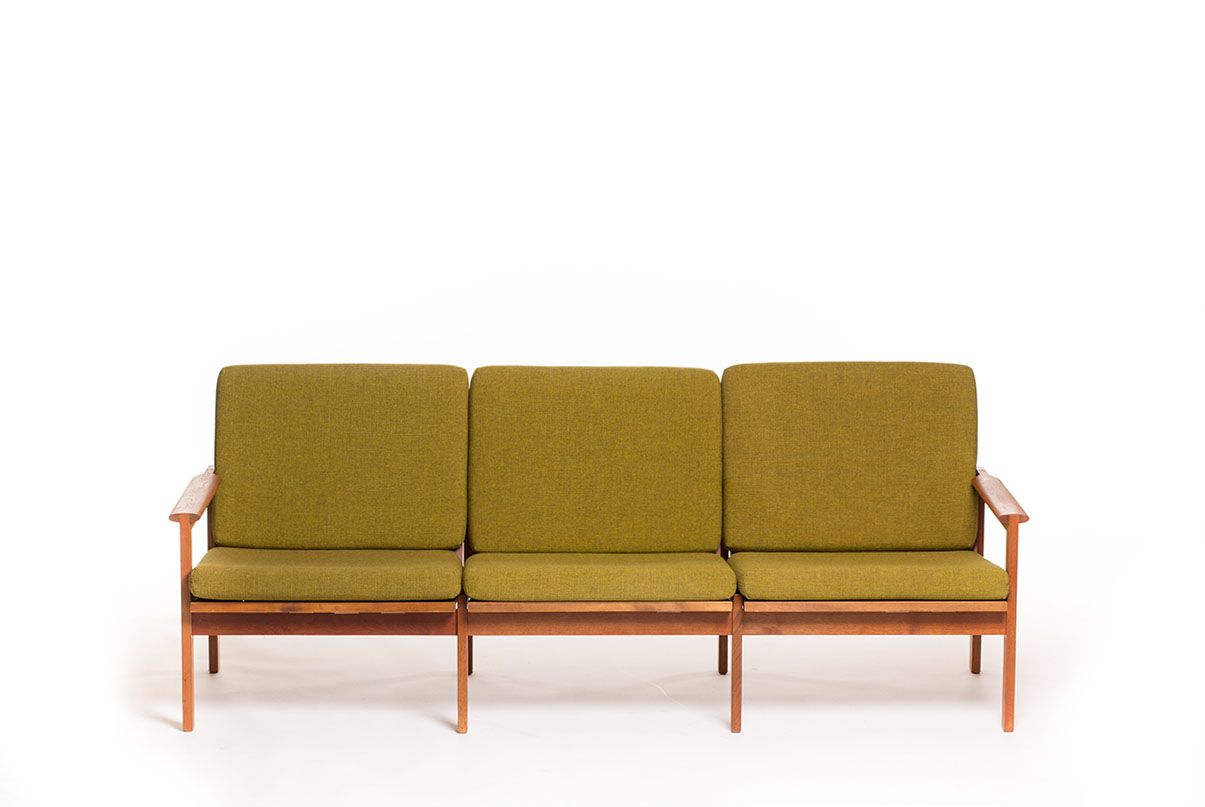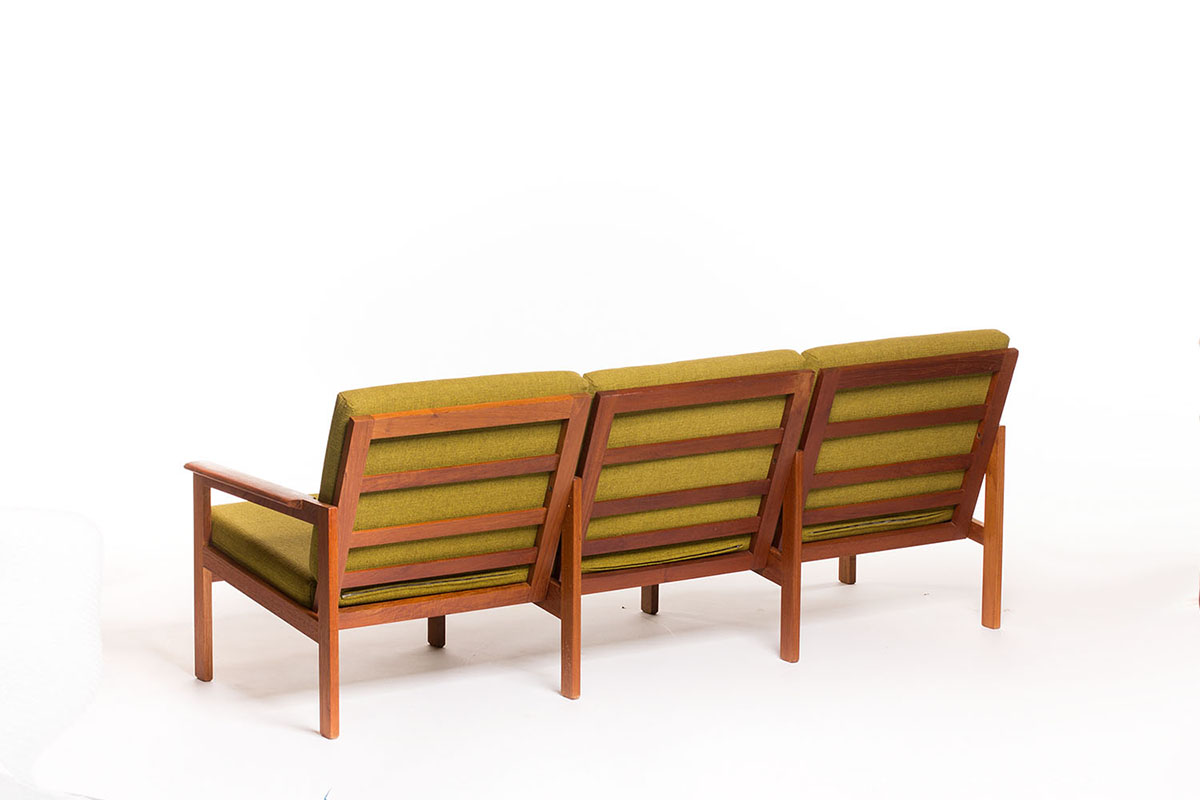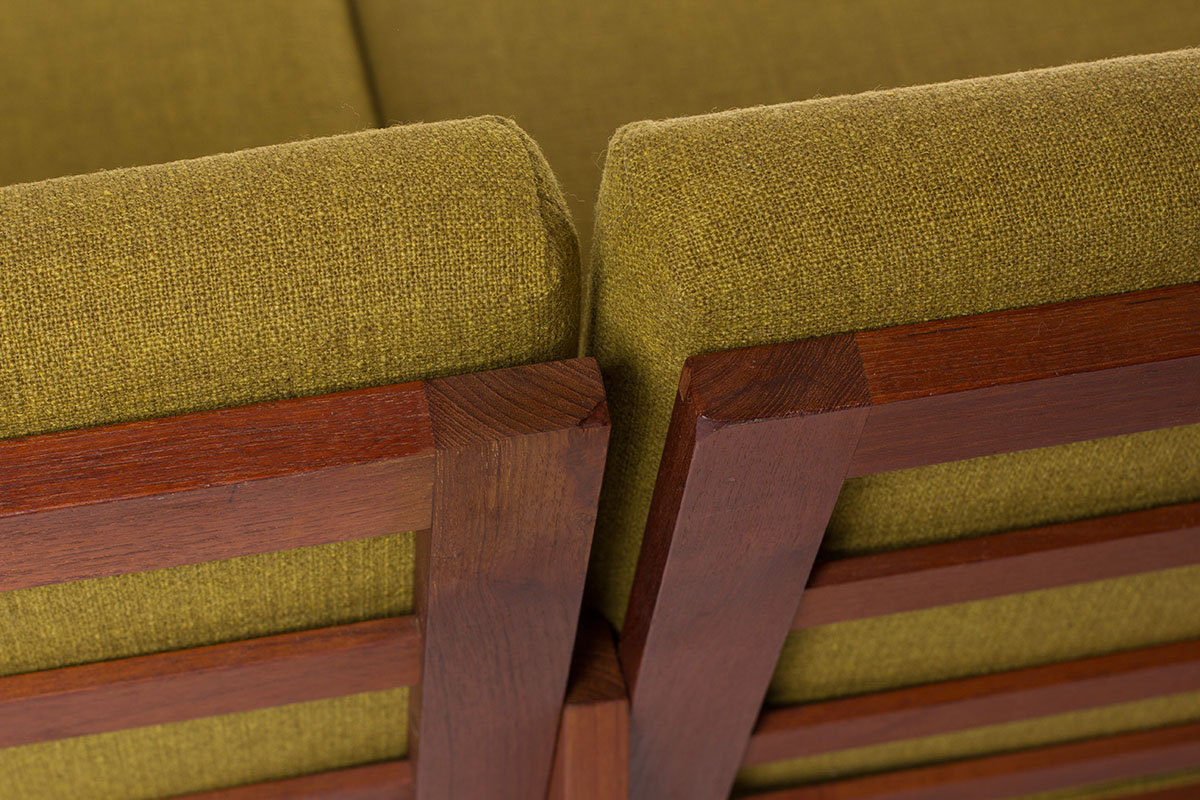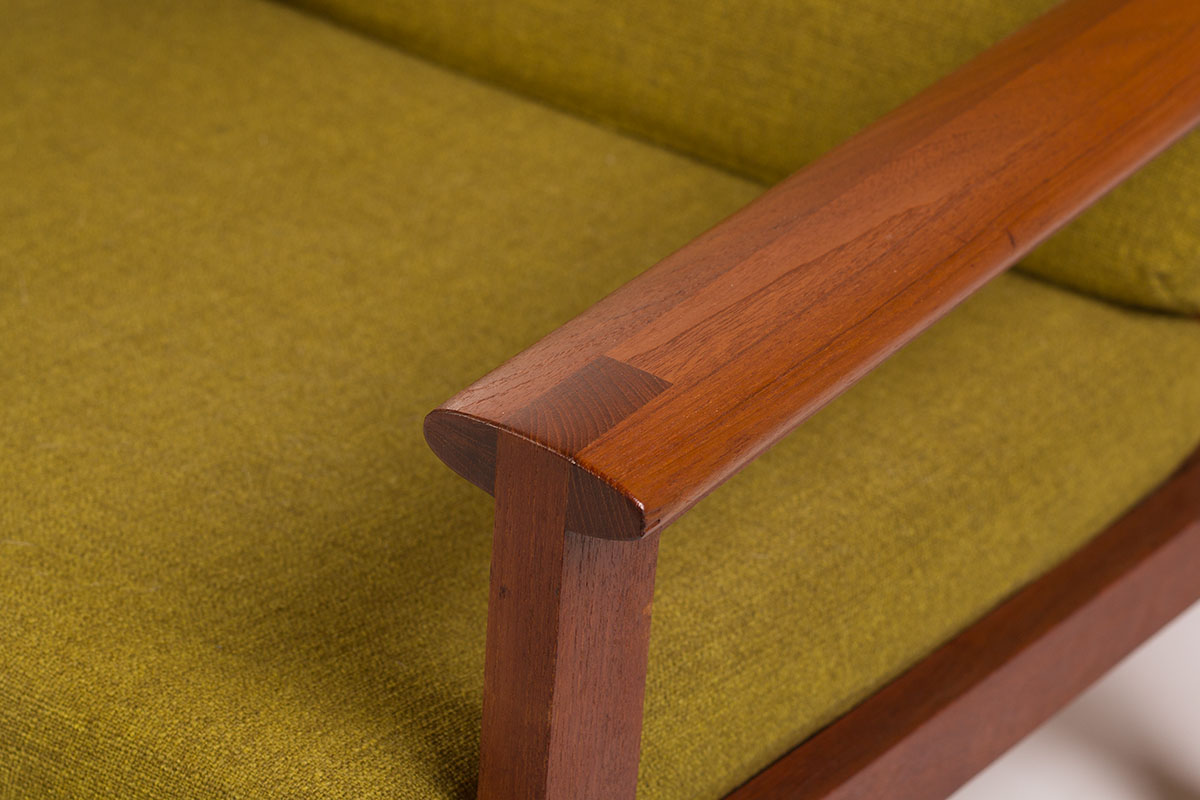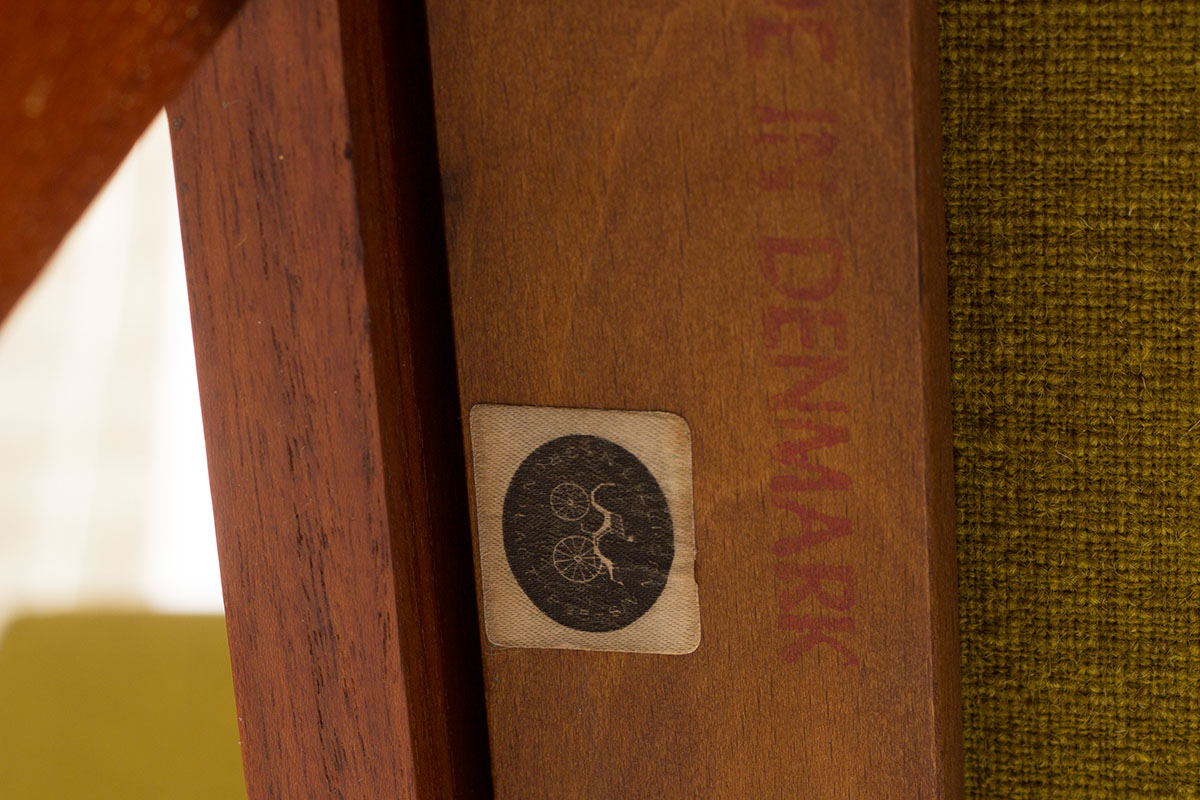 Interested? fill in the contact form below and we will get back to you.