Vintage Hiemstra Evolux Telescope wall lamp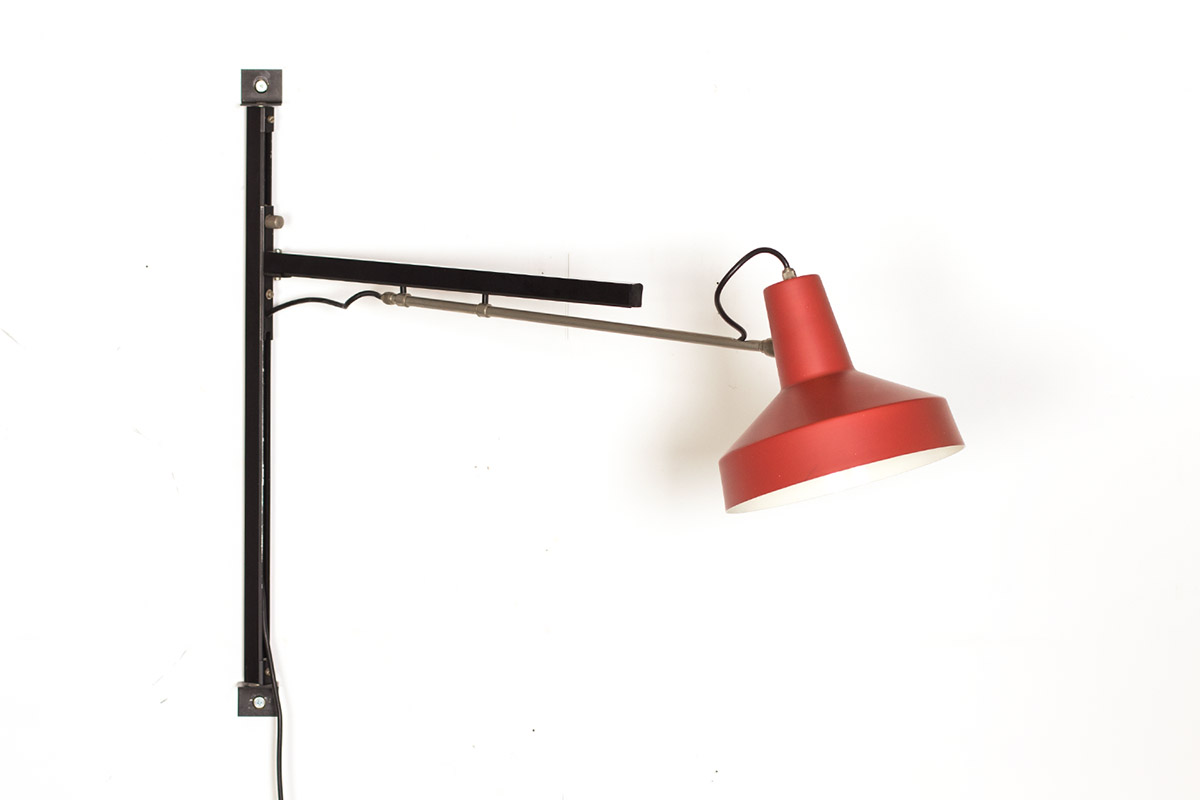 Prachtige Dutch design wandlamp ontworpen door Niek Hiemstra and geproduceerd door Hiemstra Evolux. Deze lamp wordt ook wel de telescoop wand lamp genoemd, de arm waar de kap aan is bevestigd is te verlengen, vandaar de naam 🙂 Daarnaast is de lamp verstelbaar in hoogte en kan de lamp van links naar rechts zwenken. Een bijzonder stuk Dutch design, met een fraaie rode kap een zwart frame en vernikkeld metaal. De lamp verkeert in een zeer nette staat met minimale sporen van gebruik, geen krassen of deukjes. Er zijn enkele kleine chipjes lak verdwenen van de rails waar de lamp doorheen schuift als deze in de hoogte wordt versteld, maar niet storend.
Afmetingen: 63 cm hoog, de lengte van de arm is uit te rekken tot 100 cm en de diameter van de kap is 21,5 cm.
De prijs van deze beauty is 295 euro.
We have found this Dutch design wall lamp designed by Niek Hiemstra and produced by Hiemstra Evolux. It is nicknamed the "telescope" wall lamp, the lamp has a telescopic adjustable arm, hence the name 🙂 The lamp is mounted to the wall and can be adjusted in several different ways. It can be raised and lowered in height on the rail which is attached to the wall and it can swivel from left to right. Just a very versatile and well designed piece with its soft red shade and black frame with nickel plated metal details.
The lamp is in a very good and clean condition, no dents or scratches in the shade (original lacquer), black frame is in a good condition too, a little bit of paint loss on the rail, few small specs missing. No rust on the nickel.
Dimensions: 63 cm high, the length of the arm is adjustable to 100 cm, the diameter of the shade is 21.5 cm.
The price is 295 euro.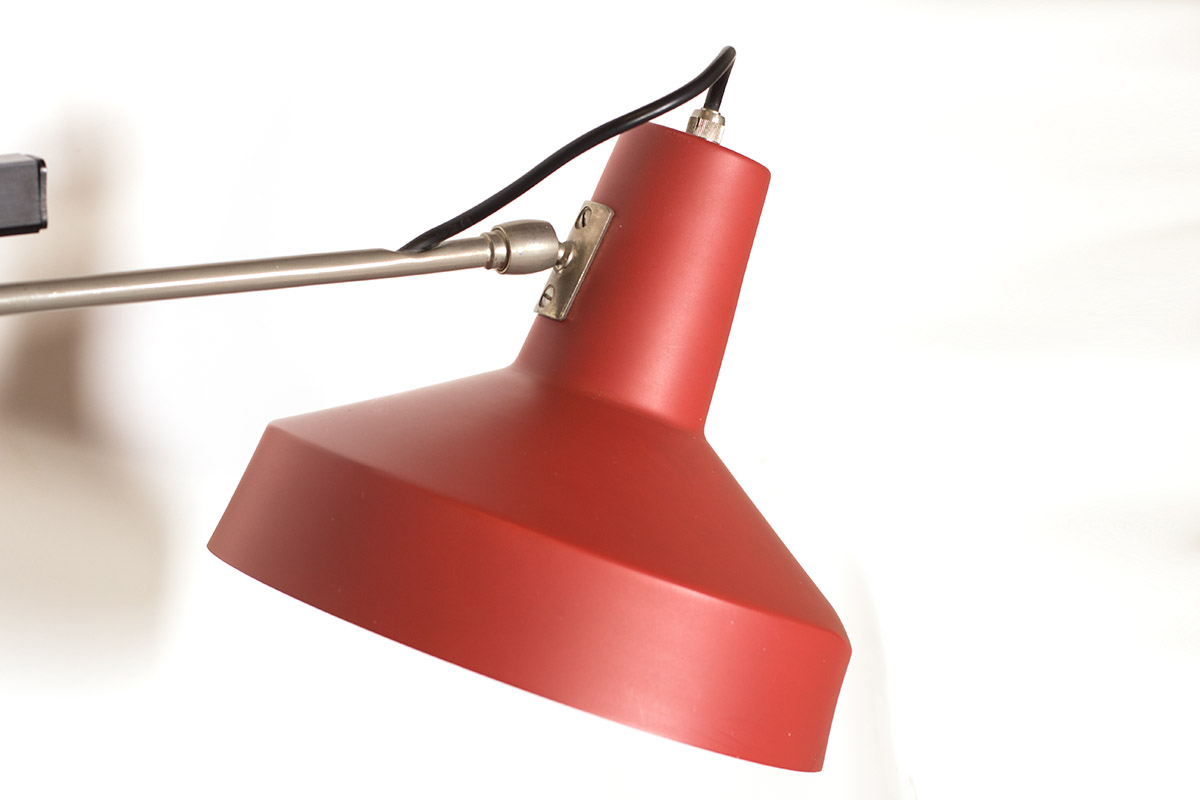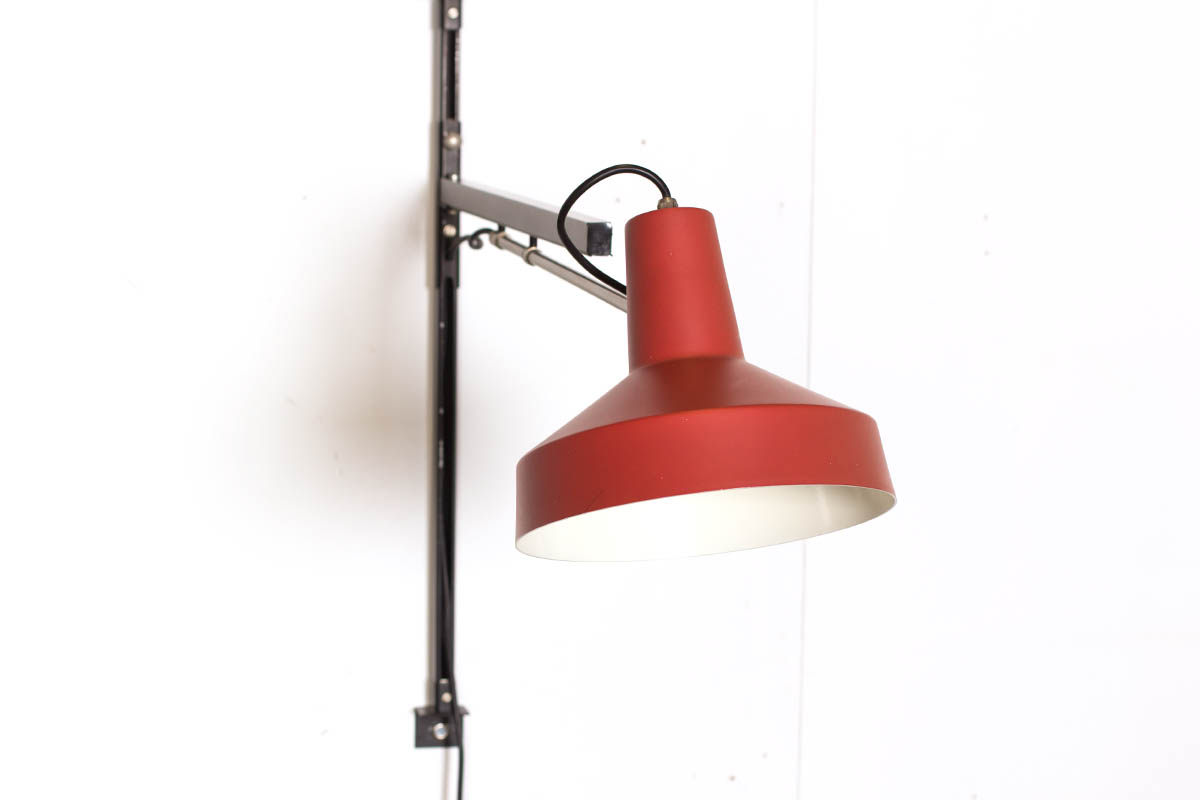 Interested? fill in the contact form below and we will get back to you.