Vintage XL teak String wall system by Nisse & Kajsa Strinning (sold)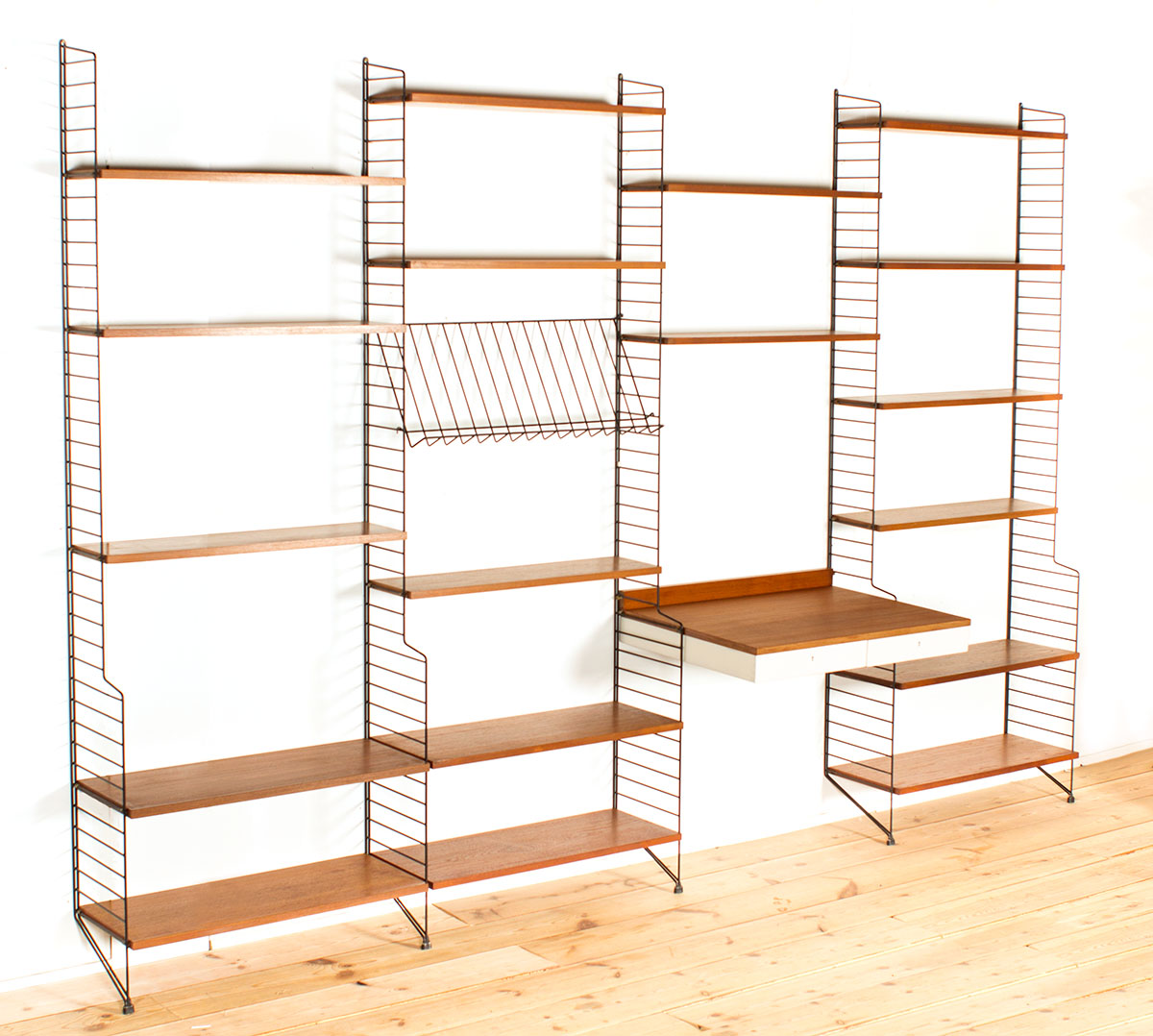 Nisse Strinning ontwierp dit modulair wandsysteem in 1949 voor een ontwerpwedstrijd van een openbare bibliotheek. Een paar jaar later nam hij het ontwerp in productie bij zijn bedrijf String Design AB. Het is een mooi luchtig ontwerp door de open staanders van geplastificeerd draadmetaal.
Dit grote wandsysteem is uitgevoerd in teak en bestaat uit 5 zwarte staanders die onderaan dieper zijn, 12 planken van 20 cm diep en 80 cm breed, 6 planken van 30 cm diep en 80 cm breed, een metalen magazine shelf en een bureau met twee wit gelakte laden (met een origineel sleuteltje) van 58 cm diep en 80 cm breed.
De zwarte metalen dragers staan op de vloer en zitten slechts met 1 schroef bovenaan vast.
Het bureau heeft genoeg werkruimte en twee handige lades er onder met een bijgeleverd sleuteltje.
Het wandsysteem verkeert in een zeer goede staat met minimale sporen van gebruik.
Er zit wat lichte oxidatie op de metalen dragertjes van de planken maar dat is niet gek na 60 jaar gebruik.
Sold
Beautiful large vintage wall unit in teak designed by Nisse & Kajsa Strinning for String Designb AB. This system features 5 floorstanding black metal uprights, 12 x 80 cm wide and 20 cm deep shelves, 6x 80 cm wide and 30 cm deep shelves, a desk shelf with two white lacquered drawers 58 cm deep and 80 cm wide and a black metal magazine shelf.
It is in a very good condition with minimal signs of use, there is a bit of oxidation on the metal clips on the shelfs (not strange after 60 years of use). There are no larger scratches or damages. The original plastic key for the drawers is included.
Sold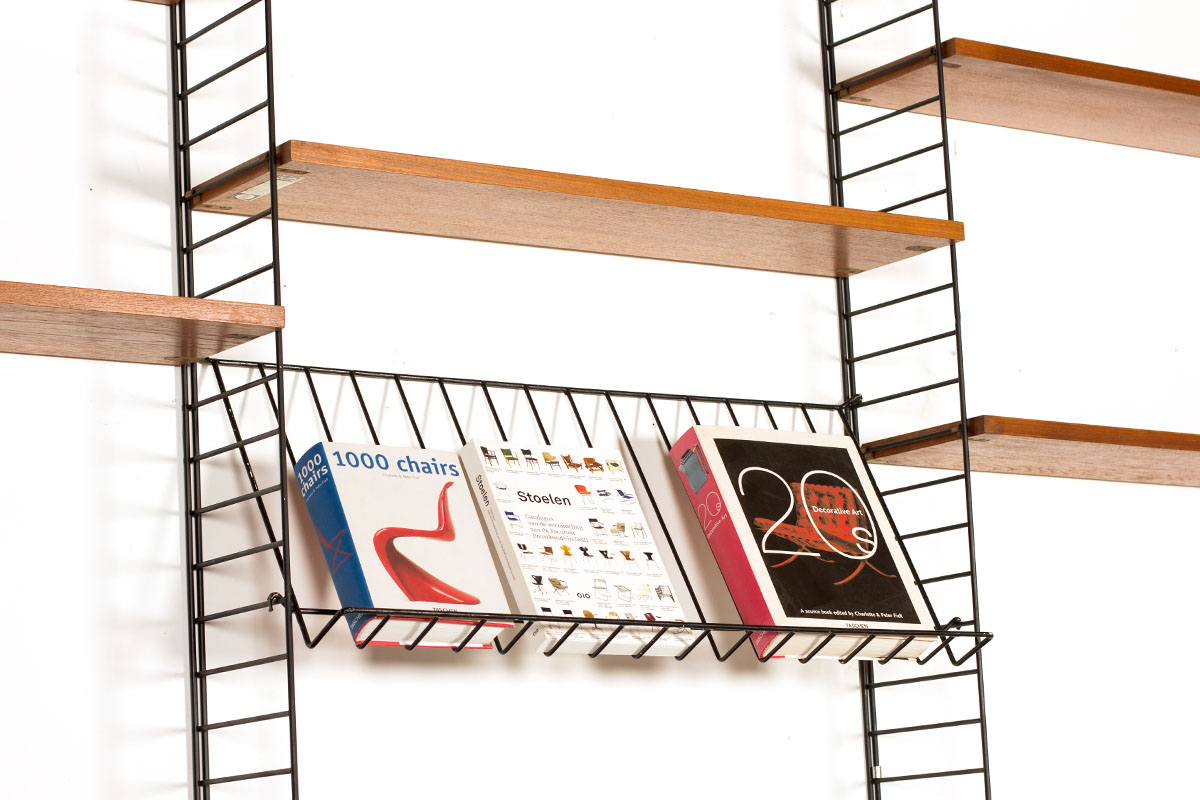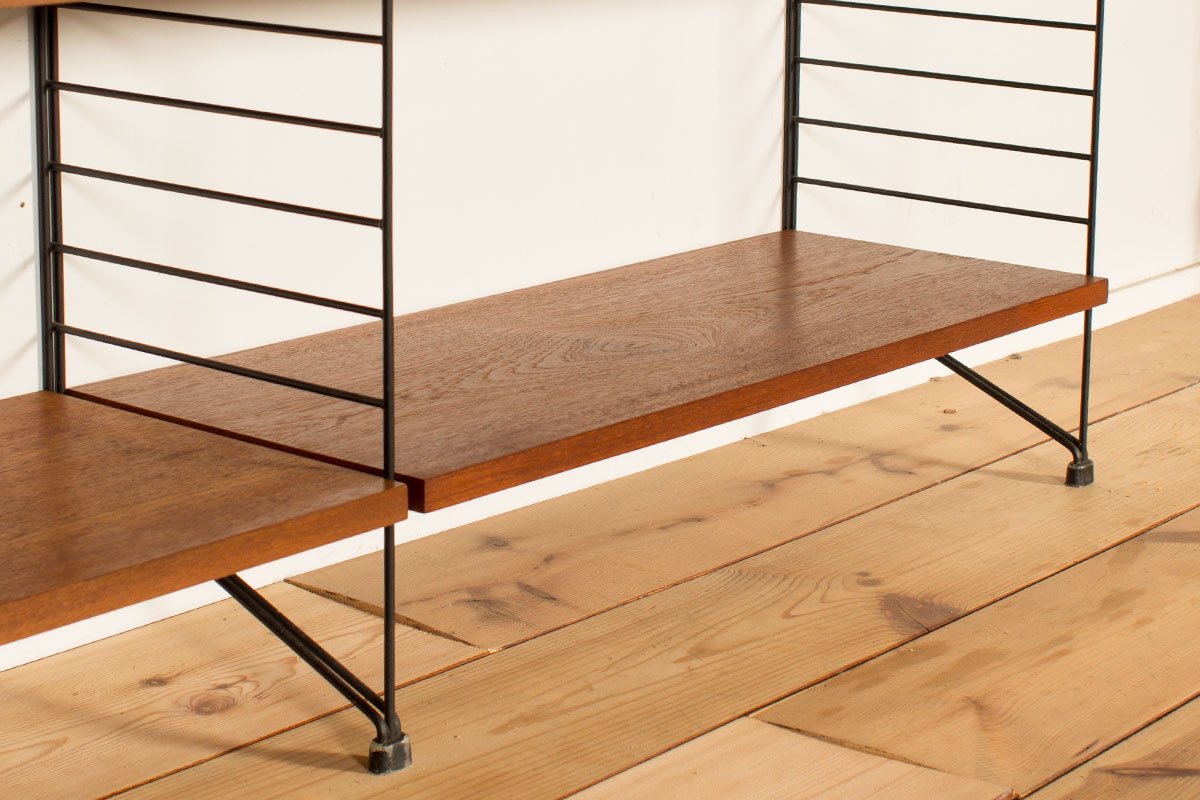 Interested? fill in the contact form below and we will get back to you.