Danish small rosewood Hundevad sideboard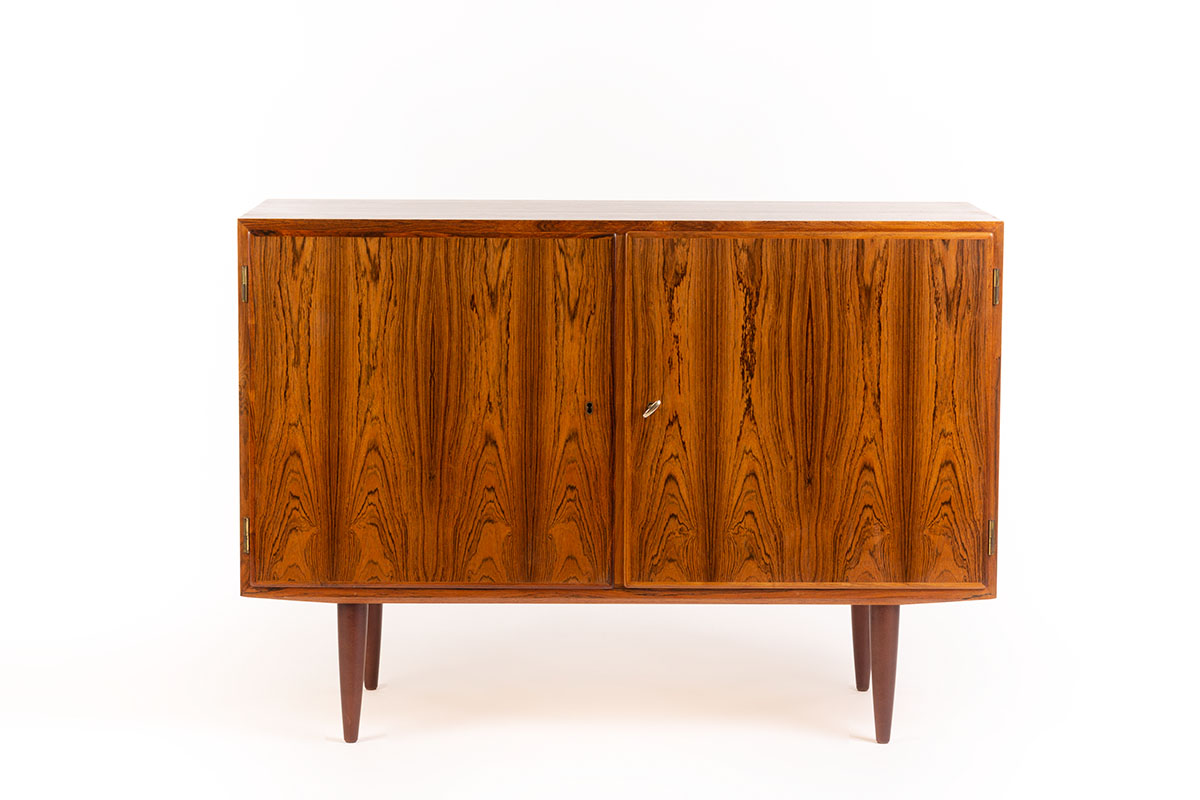 Beautiful vintage Danish rosewood sideboard in a nice small size, designed by Carlo Jensen for Hundevad & Co in the 1960's. This sideboard has two doors with nice grainpatterns in the rosewood veneer and with solid rosewood edges. There are 3 drawers on the left and 2 adjustable shelves on the right. The inside of the doors also have beautiful rosewood veneer.
There are minimal signs of use, it is in a very good and clean condition. Comes with the key that works on both of the locks. The front of the sideboard has become slightly lighter in color over the last couple of decades. The sideboard has got a small repair in the veneer (see detailed photo with the colored arrow).
Dimensions: 108 cm wide, 43 cm deep and 78 cm high.
The price is 995 euro.
Fraai Deens palissander dressoir in een handzame kleine maat, ontworpen in de jaren zestig door Carlo Jensen voor Hundevad & Co. Dit exemplaar met twee openslaande deurtjes heeft een prachtige subtiele tekening in het palissander fineer en verkeert in een nette staat met minimale sporen van gebruik. De randen van de deuren zijn van massief palissander en de deurtjes zijn afgehangen aan messing scharniertjes wat het geheel een chique uitstraling geeft. Ook de binnenkant van de deuren heeft mooi palissander fineer.
Achter het linker deurtje zitten drie lades, aan de rechterkant zitten twee in hoogte verstelbare planken. Het dressoir staat op elegante taps toelopende palissander pootjes. Beide slotjes werken met de bijgeleverde sleutel.
Het dressoir verkeert in een nette staat. De voorkant van het dressoir is wat lichter geworden in de loop der jaren. Er zit een kleine reparatie aan de zijkant, zie de detailfoto met het rode pijltje.
Afmetingen: 108 cm breed, 43 cm diep en 78 cm hoog.
De prijs is 995 euro.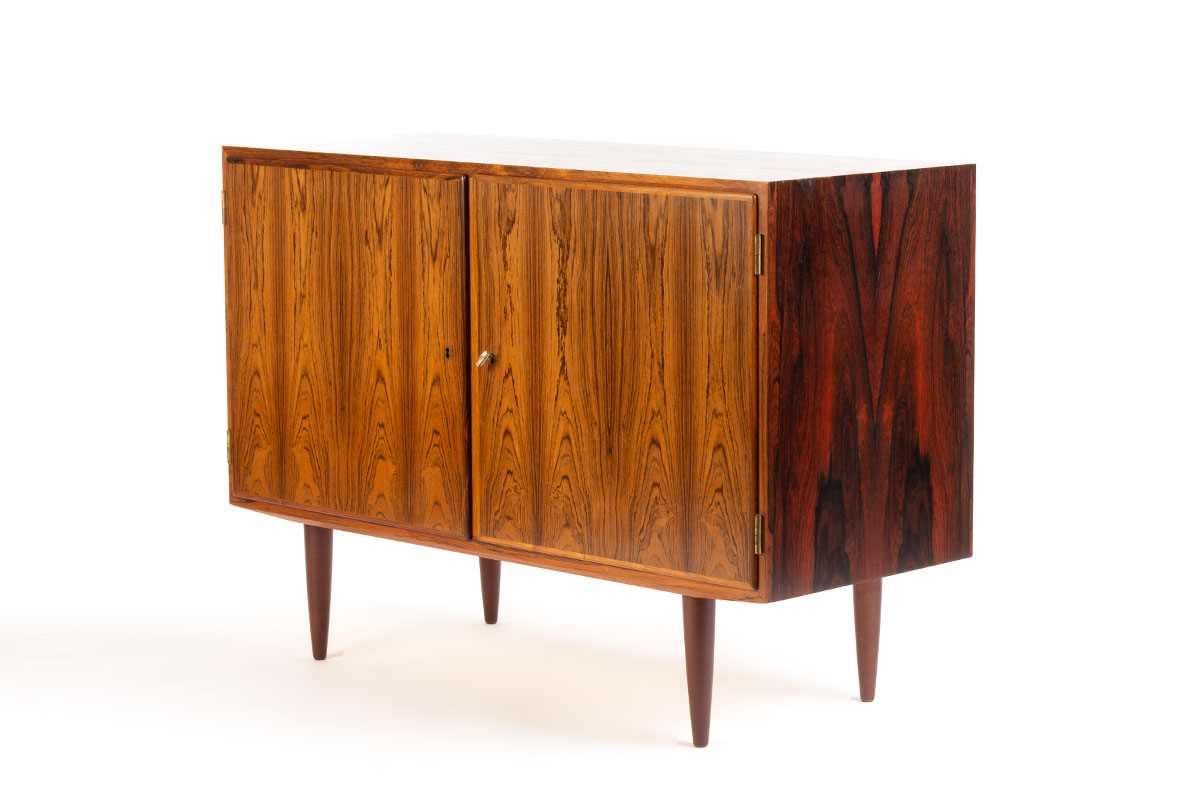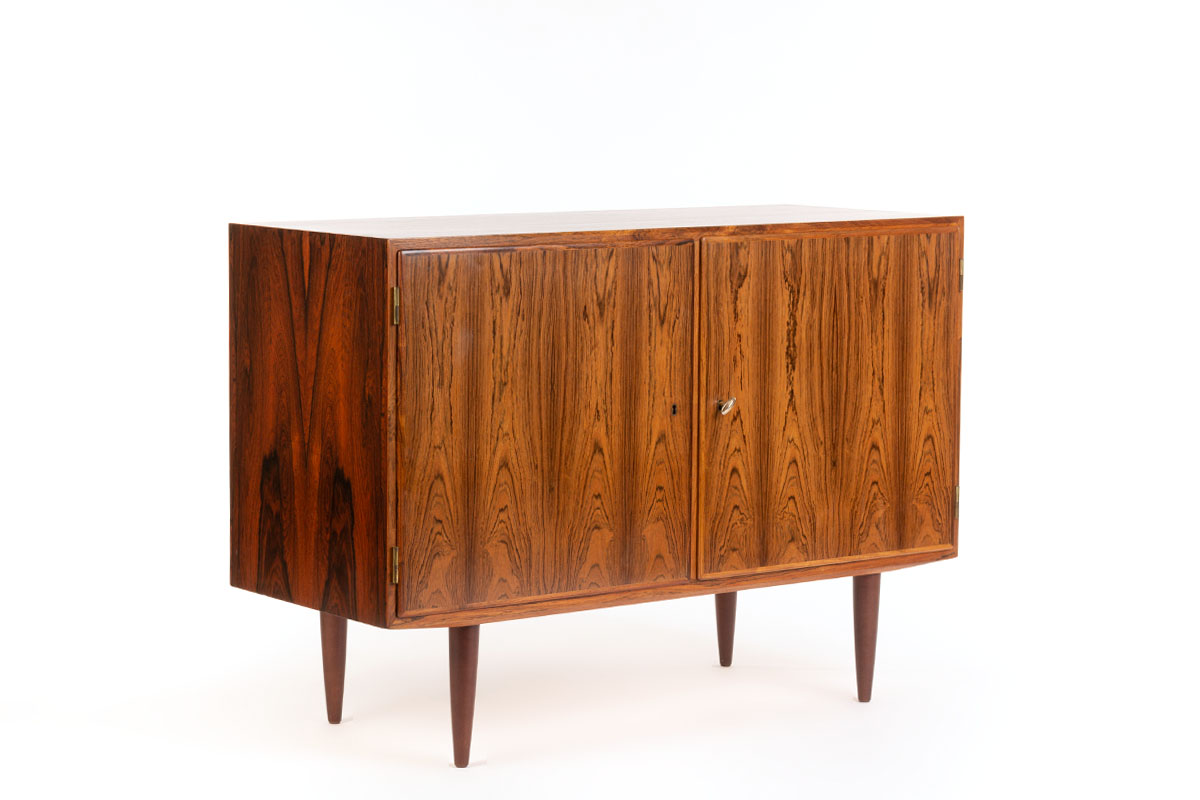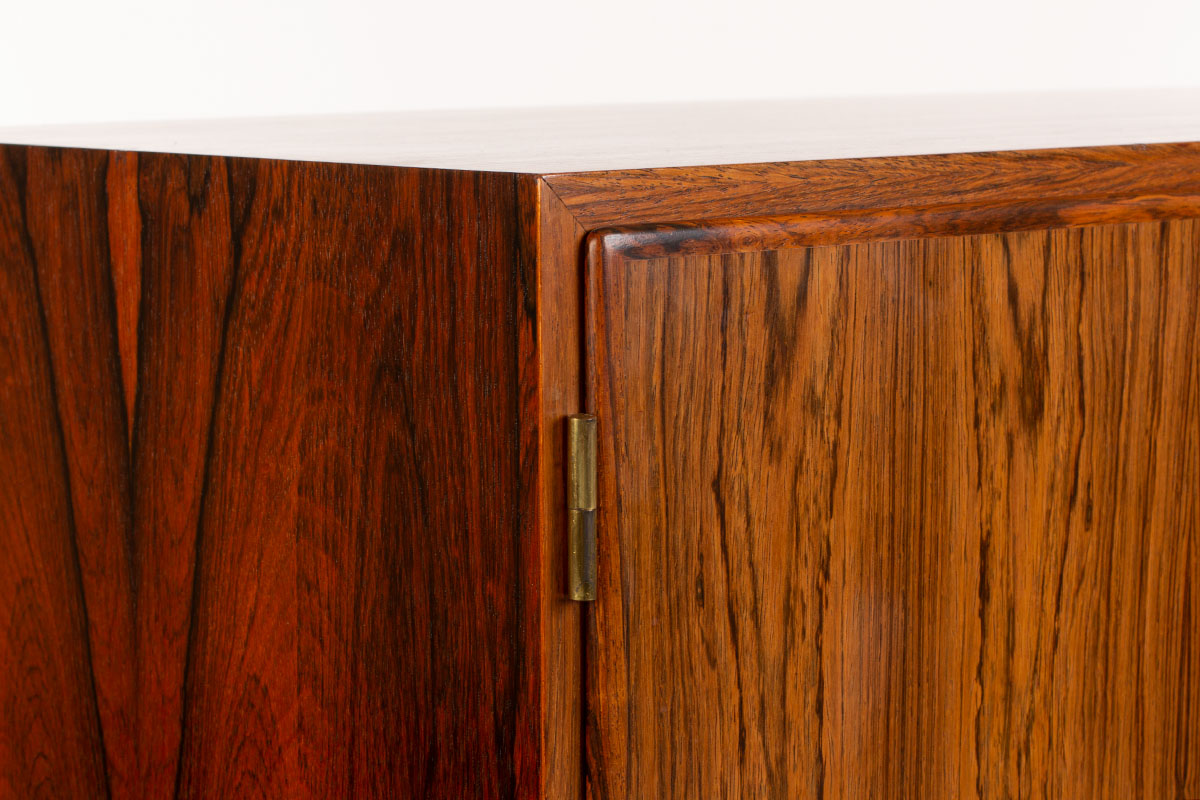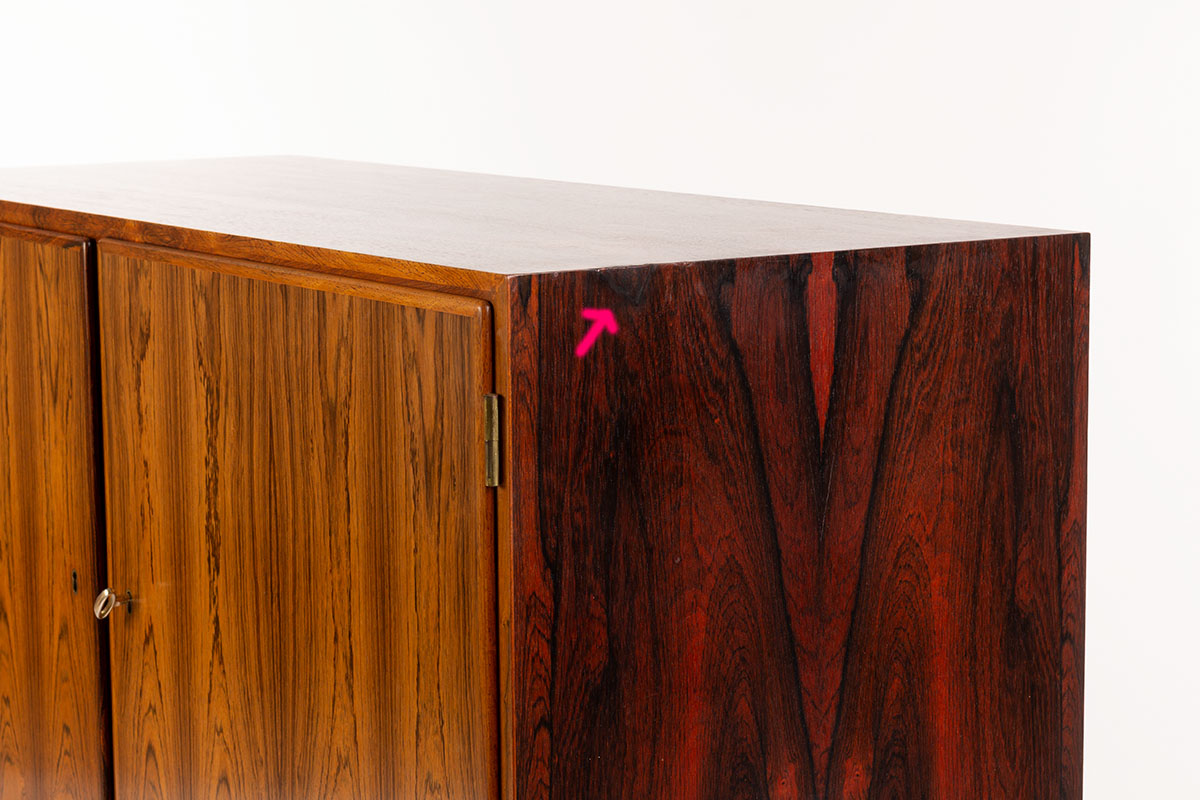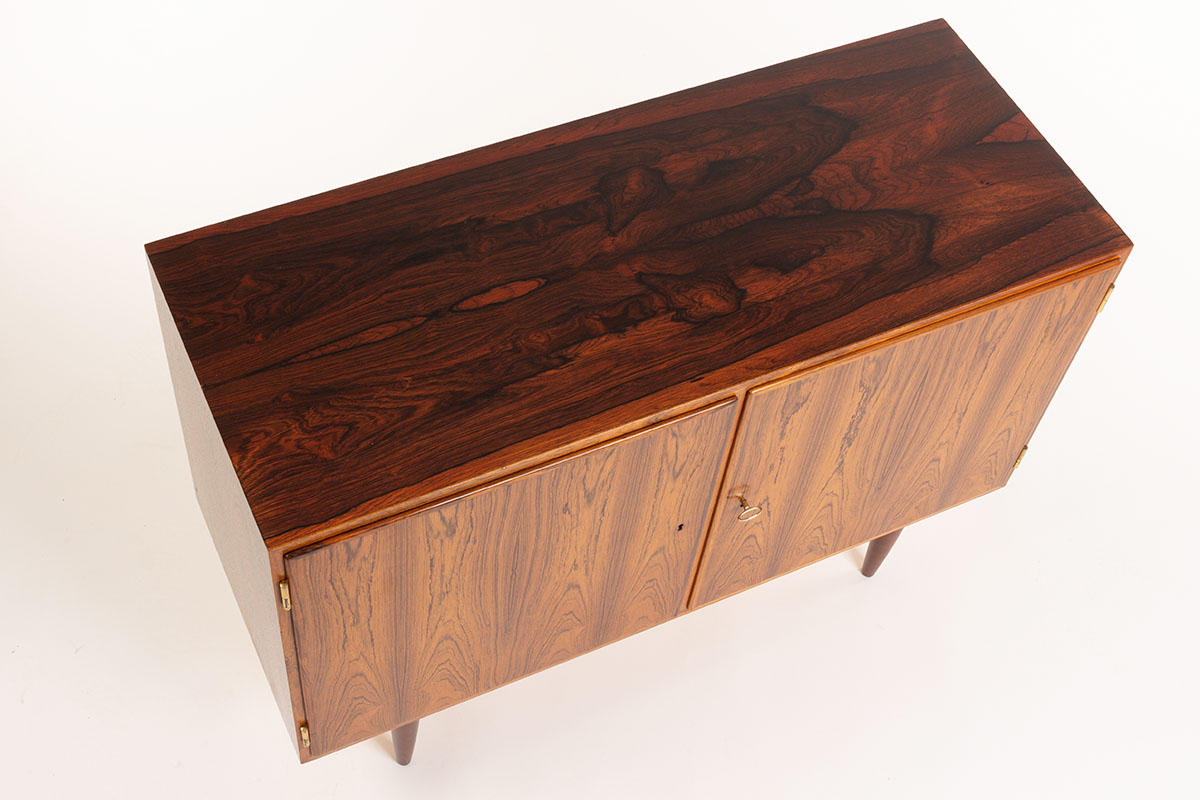 Interested? fill in the contact form below and we will get back to you.