Mid century Fog & Mørup copper Alfa wall lamps (*sold)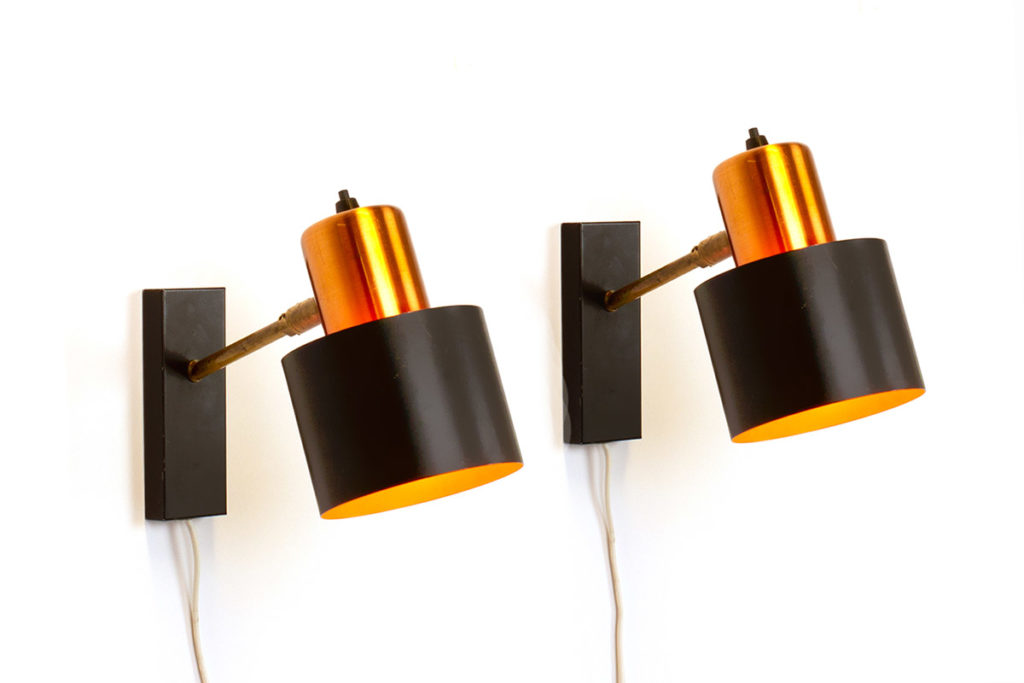 Deze stijlvolle set vintage Alfa wandlampen is ontworpen door Jo Hammerborg voor de Deense lampenproducent Fog & Mørup. De lampjes hebben een zwart kapje met een oranje binnenkant en mooie koperen details en creëren hiermee een chique uitstraling. Karakteristiek voor deze Hammerborg lampjes is dat ze warm en sfeervol licht geven door de oranje binnenkant. De set kan goed dienen als bedlampjes of als leeslampjes naast een bank.
De set is goede vintage staat, een van de lampen heeft een deukje in het koper, maar dat is niet storend. De lichtknopjes en snoeren zijn vervangen.
This nice and bright set of vintage Alfa wall lamps was designed in the sixties by Jo Hammerborg for Fog & Morup. They're composed of copper and black metal and an orange inside, creating a beautiful classic and chic look and can be used as bedside lamps or as reading lamps next to the sofa.
This set is in a good vintage condition, one of the lamps has a small dent in the copper. The light buttons and wires have been renewed.
Dimensions: height 15 cm, diameter 11 cm, depth 23 cm (from the wall).