Mid century teak wall unit by Poul Cadovius (* sold)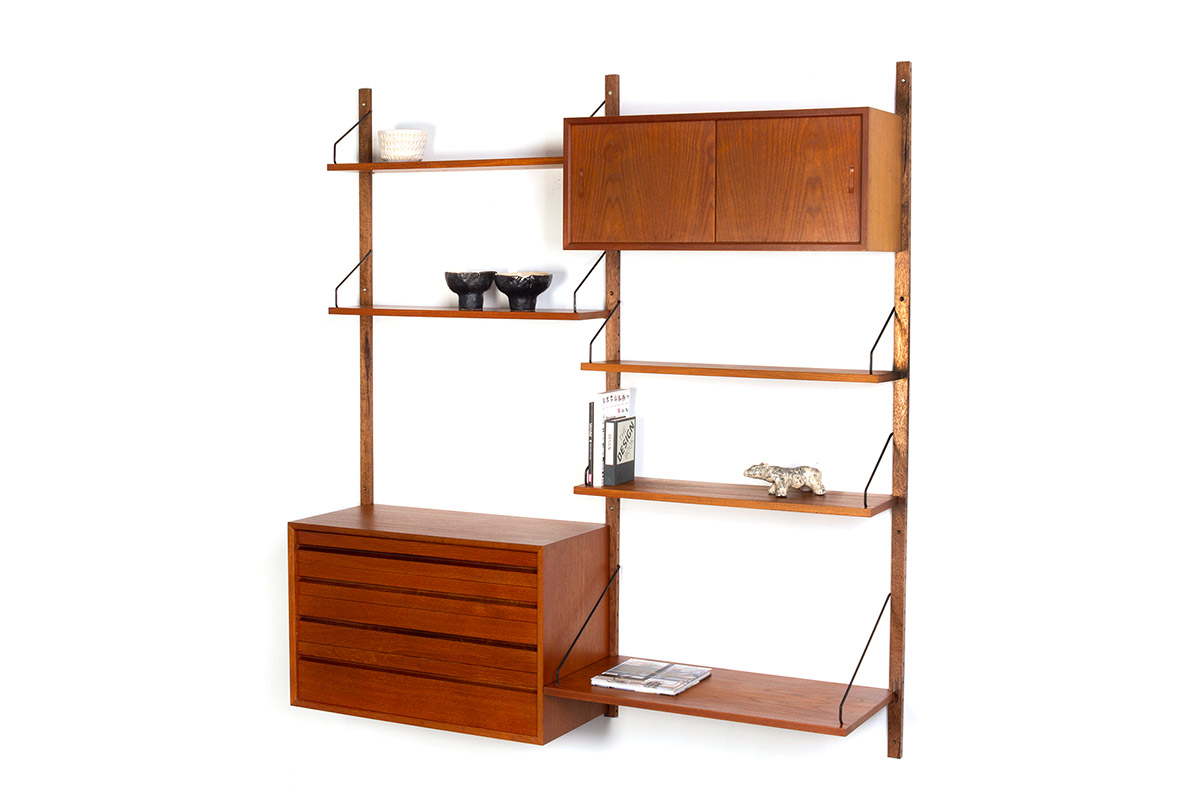 Pretty Danish modular wall unit designed by Poul Cadovius for Cado / Royal System in teak, with two cabinets. This Danish design icon comes with one cabinet with drawers, a nice cabinet with sliding doors and 5 shelves and black shelf holders. This shelving system offers plenty of storage space inside the cabinets and for books and home accessories. Besides it is a stylish addition to any interior.
The wall unit is in a very good and clean condition with minimal signs of use. No staines or damages.
Dimensions:
3 uprights of 175 cm high.
4 shelves of 20 cm deep and 80 cm wide.
1 shelve of 40 cm deep and 80 cm wide.
The chest of drawers is 40 cm deep, 52 cm high and 80 cm wide. The sliding doors cabinet is 28 cm deep and 34 cm high, 80 wide. The total width of the system is 160 cm.
SOLD
Mooi Deens modulair wandmeubel ontworpen door Poul Cadovius voor Cado / Royal System in teak, met twee kasten. Deze Deense design icoon wordt geleverd met een kast met laden, een schuifdeurkast, 5 planken en zwarte plankdragers. Dit wandsysteem biedt veel opbergruimte in de kasten en om boeken en woonaccessoires op uit te stallen. Daarnaast is het gewoon een stijlvolle eyecatcher.
Het wandmeubel verkeert in een zeer goede en nette staat met minimale gebruikssporen. Geen vlekken of beschadigingen.
Afmetingen:
3 wandlatten van 175 cm hoog.
4 planken van 20 cm diep en 80 cm breed.
1 plank van 40 cm diep en 80 cm breed.
De ladekast is 40 cm diep, 52 cm hoog en 80 cm breed. De schuifdeurkast is 28 cm diep en 34 cm hoog, 80 breed. De totale breedte van het systeem is 160 cm.
VERKOCHT
Ceramics by Afkes.
Interested? fill in the contact form below and we will get back to you.