Vintage Danish wall unit by Poul Cadovius (sold)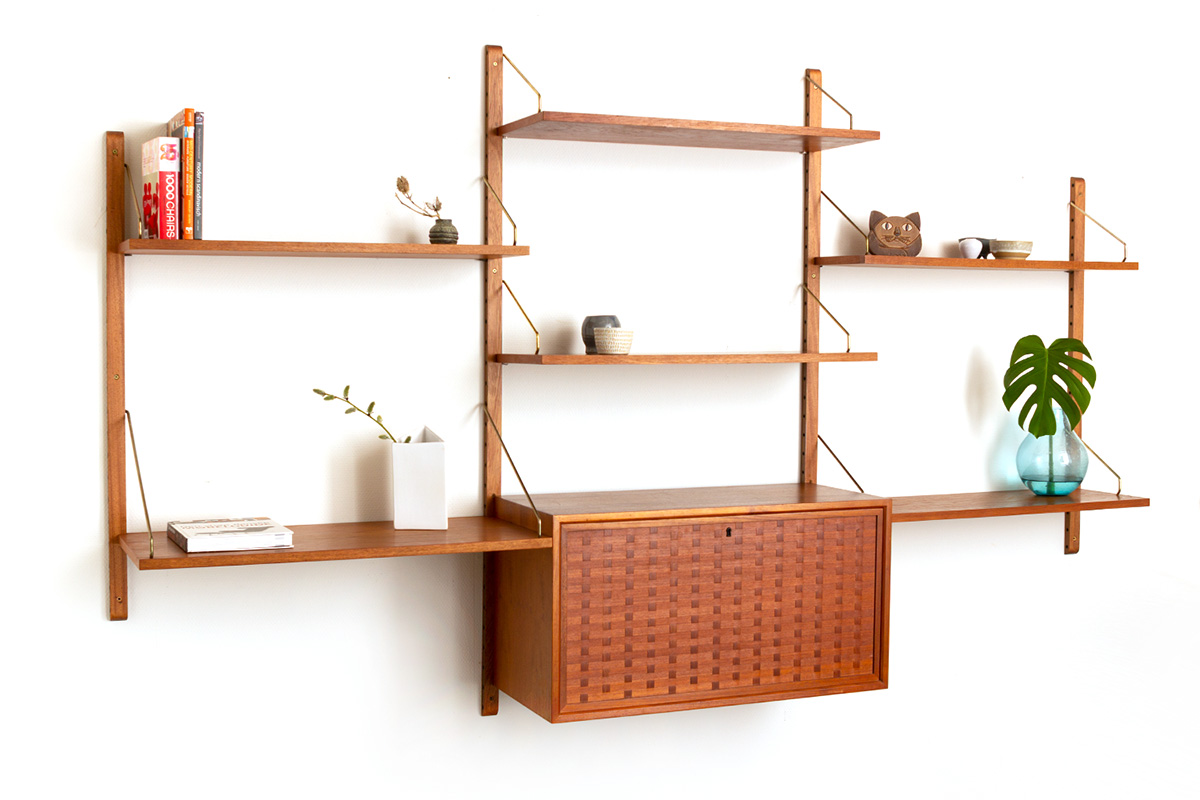 Vintage Scandinavisch wandsysteem ontworpen door de Deense ontwerper Poul Cadovius voor Cado / Royal System. Dit exemplaar met een mooie vlechtkast en diverse planken in verschillende formaten biedt veel opbergruimte voor boeken en woonaccessoires. De vlechtkast is oorspronkelijk ontworpen als audiokast, rechts is er ruimte voor platen en links ruimte voor een kleine stereo. De achterkant van de kast is geperforeerd (dit lijkt origineel te zijn).
De messing plankdragers geven dit wandsysteem een chique uitstraling.
Het systeem verkeert in een zeer nette staat zonder kringen of beschadigingen. Op de kast zitten bovenop enkele hele lichte krasjes maar niet storend.
Afmetingen:
2 wandlatten van 100 cm hoog, 2 wandlatten van 150 cm hoog.
2 planken van 24 cm diep en 80 cm breed.
3 planken van 30 cm diep en 80 cm breed.
1 plank van 37 cm diep en 80 cm breed.
De kast is 37 cm diep, 42 cm hoog en 80 cm breed.
De totale breedte is 242 cm.
Verkocht.
Charming Danish wall unit designed by Poul Cadovius for Cado / Royal System. This elegant wall unit with its cabinet with a braided teak front and brass shelf holders is in a very good and clean condition with minimal signs of use. No staines or damages. On the top of the cabinet there are a vew very small surface scratches, but nothing disturbing. The cabinet was originally designed as a audio cabinet with room for a small stereo system and storage space for vinyl records. It is just a very pretty cabinet with storage space. On the various sized shelves there is enough space for books and accessoires.
Dimensions:
2 uprights of 100 cm high, 2 uprights of 150 cm high.
2 shelves of 24 cm deep and 80 cm wide.
3 shelves of 30 cm deep and 80 cm wide.
1 shelf of 37 cm deep and 80 cm wide.
The cabinet is 37 cm deep, 42 cm high and 80 cm wide.
The total width is 242 cm.
Sold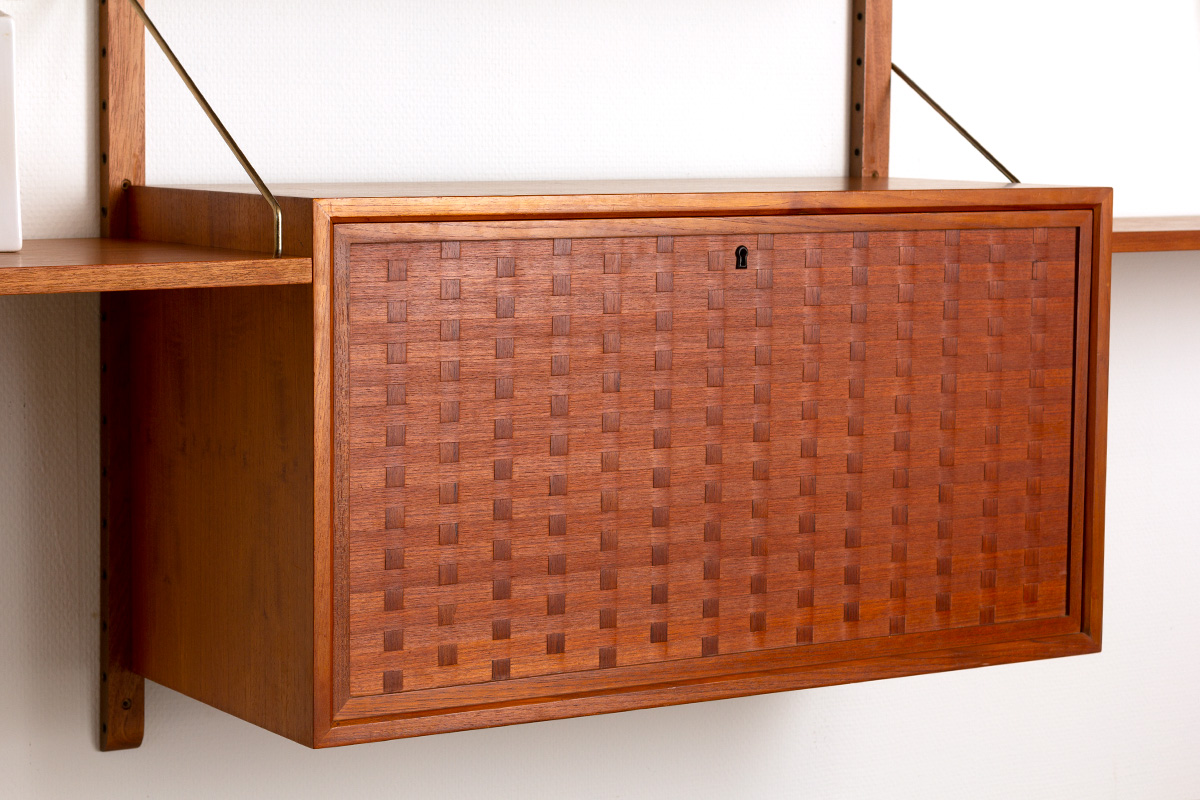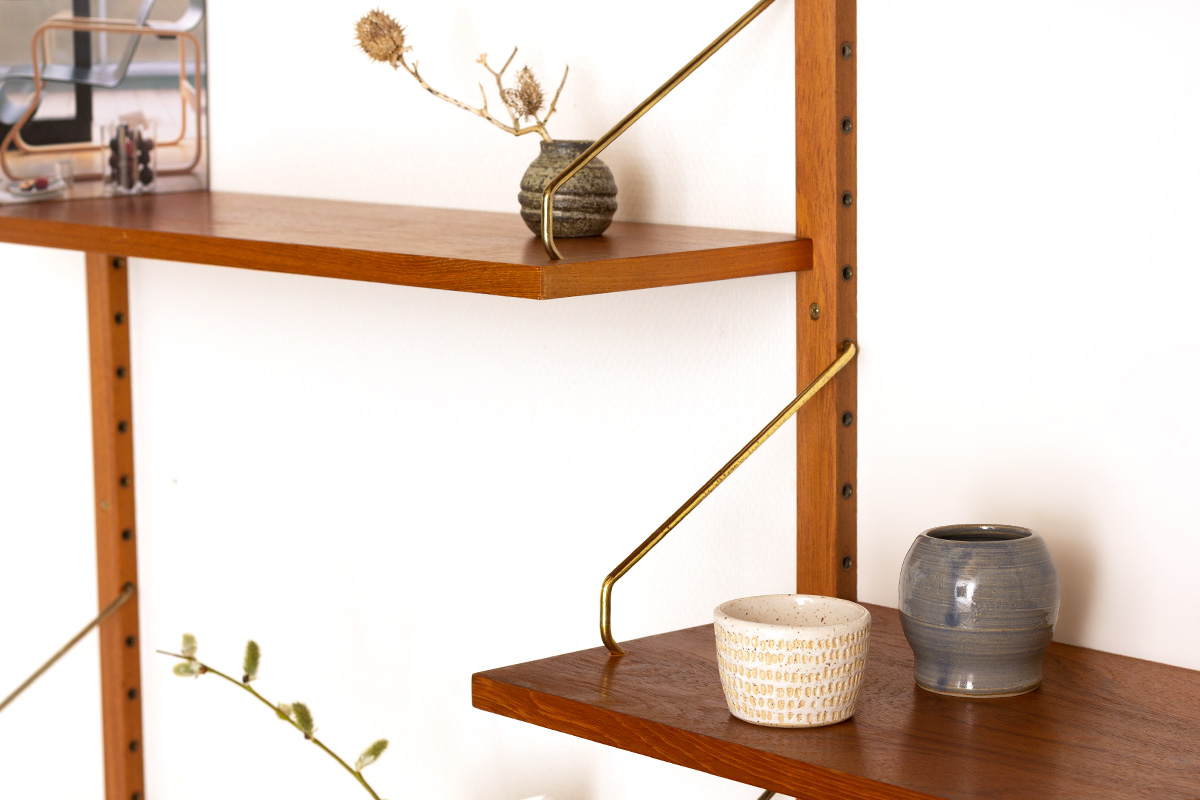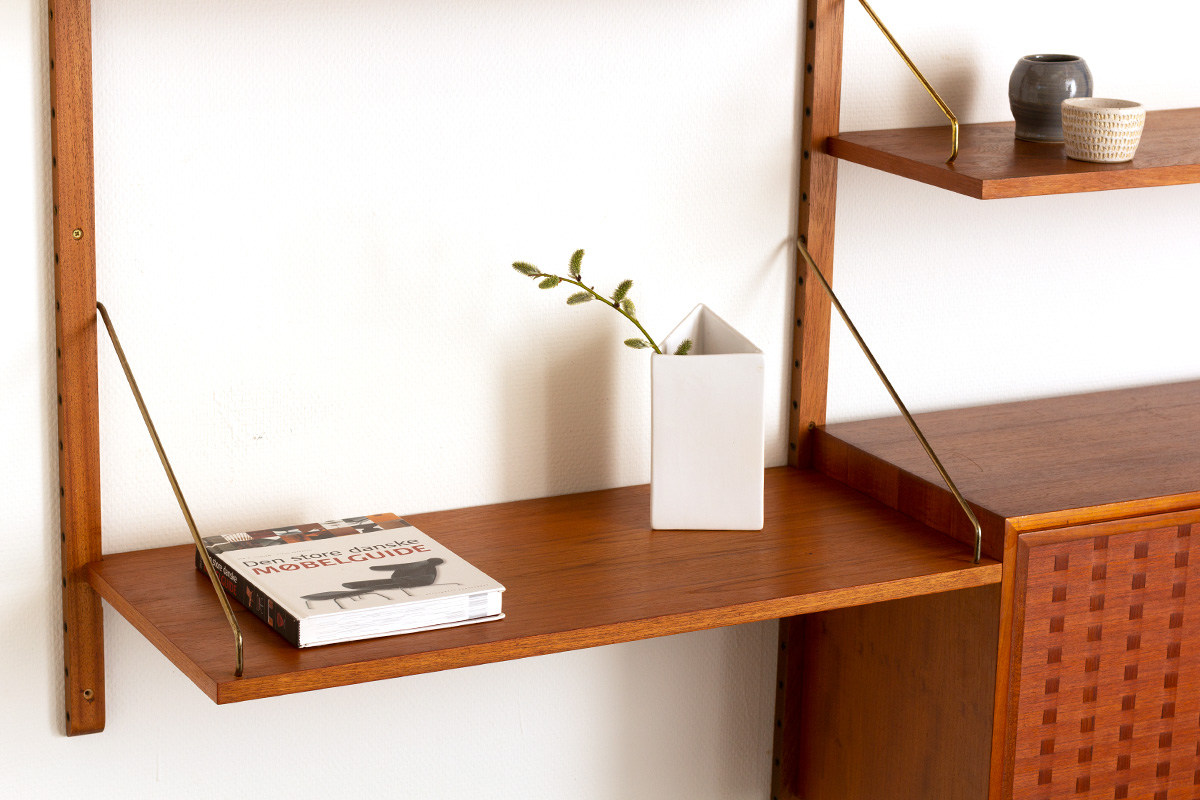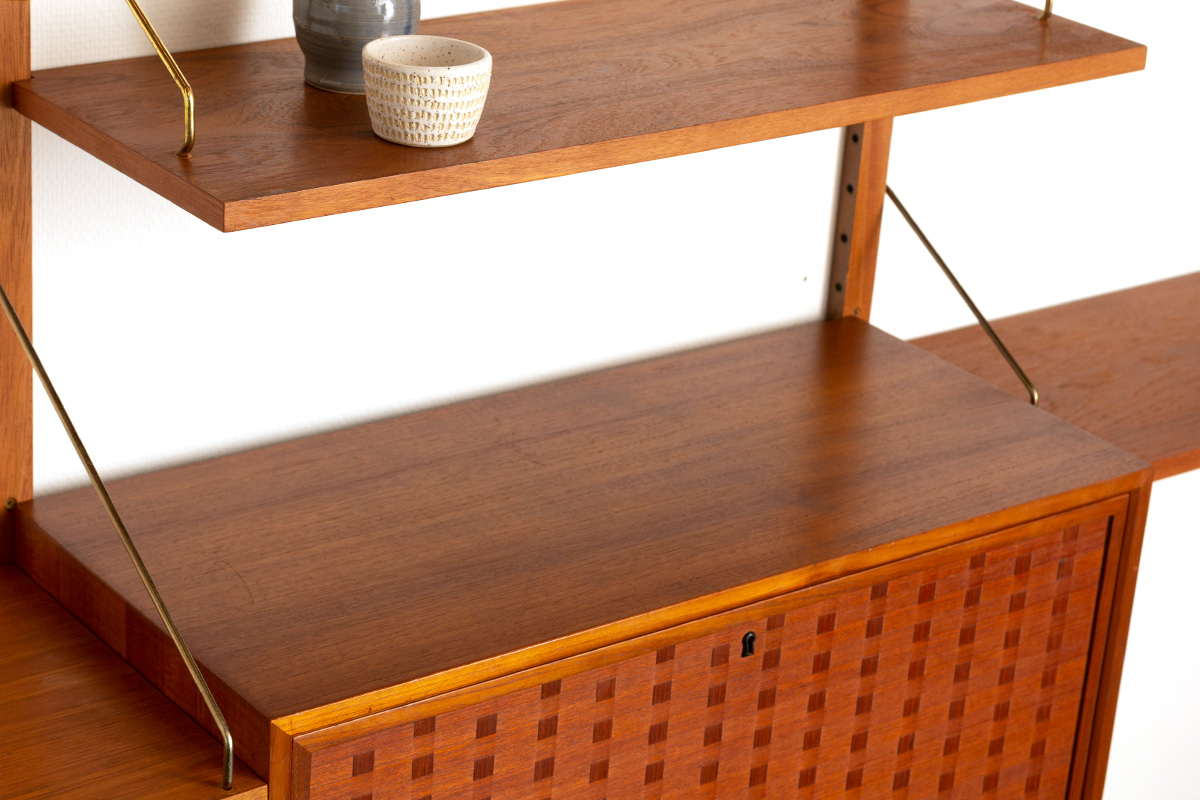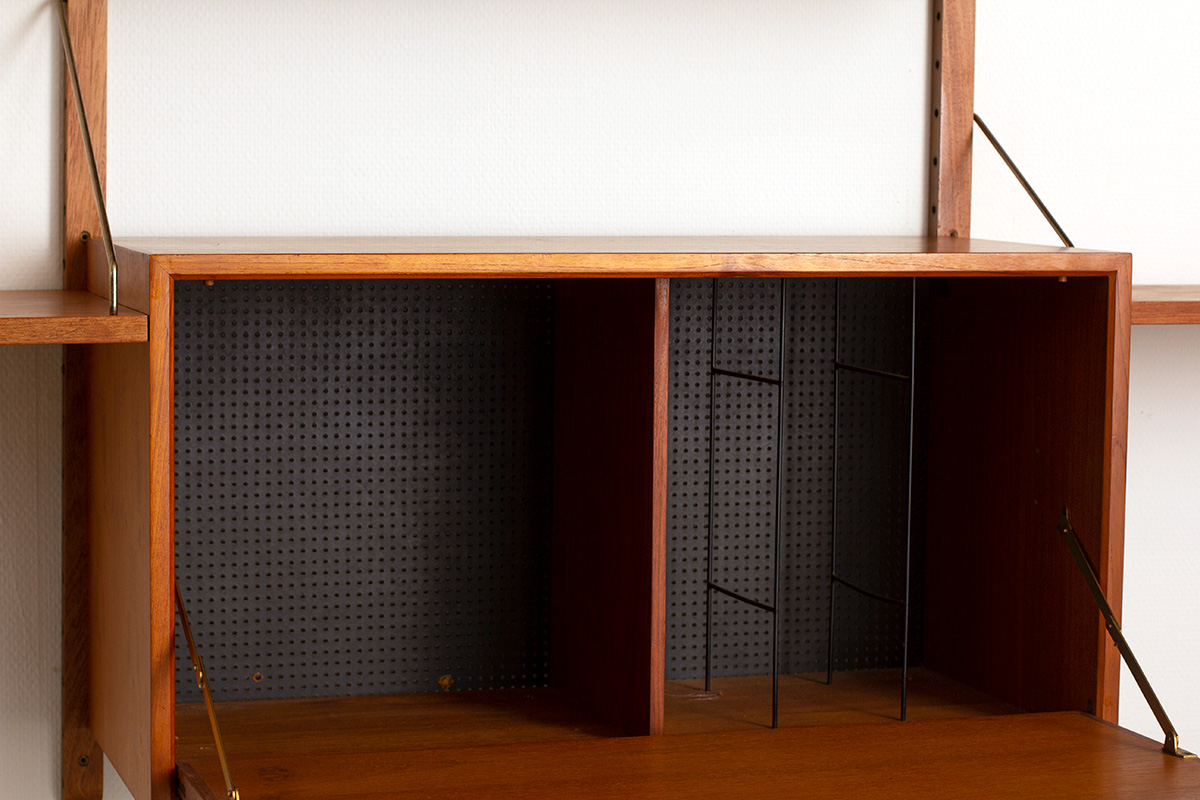 Interested? fill in the contact form below and we will get back to you.