Minimalistic rosewood Poul Cadovius wall system (sold)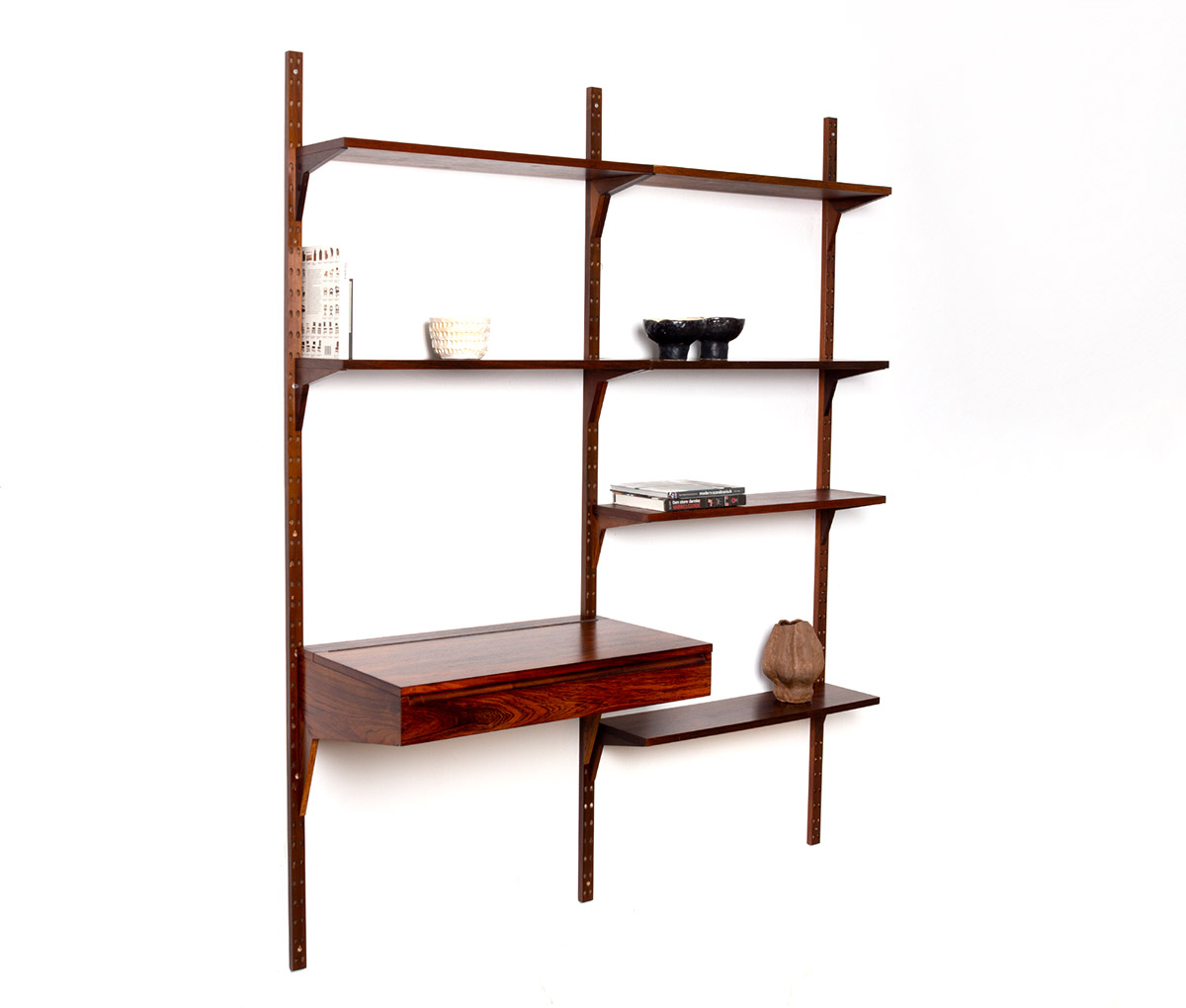 With this vintage minimalist wall system by Poul Cadovius with a beautiful desk, we offer the more rare variant of the well-known Cadovius systems; this wall system is made in a high quality rosewood and has elegant wooden supports.
The Danish designer Poul Cadovius designed the well-known 'Royal System' wall systems in the 1950s, the systems were produced by CADO, that was founded by himself.
It is a modular system, allowing the shelves and desk to be arranged according to your own wishes. Besides the sleek and minimal design, the shelves have a beautiful painting in the rosewood veneer and the shelf supports are made of solid rosewood. The desk has a flap, under which there is storage space.
This Cadovius shelving system is in a very good condition with very minimal traces of use. The system consists of three rosewood wall rails of 202 cm and has a total width of 164 cm, there are 6 shelves of 22 cm deep and the shelves are 80 cm wide. The desk is 46 cm deep and 20 cm high.
Sold
Met dit minimalistische Poul Cadovius wandsysteem met prachtig bureau bieden we de wat meer zeldzame variant van de bekende Cadovius systemen; dit wandsysteem is namelijk uitgevoerd in een hoge kwaliteit palissander en heeft sierlijke houten dragers.
De Deense ontwerper Poul Cadovius ontwierp de bekende 'Royal System' wandsystemen in de jaren vijftig, de systemen werden geproduceerd door het door hem zelf opgerichte CADO.
Het is een modulair systeem, waardoor de planken en het bureau naar eigen inzicht ingedeeld kunnen worden. De planken hebben een prachtige tekening in het palissanderfineer en de plankendragers zijn van massief palissanderhout. Het bureau heeft een klep, waaronder opbergruimte zit.
Dit wandsysteem is in nette staat met zeer lichte sporen van gebruik. Het systeem bestaat uit drie palissander wandlatten van 202 cm en heeft een totale breedte van 164 cm, er zijn 6 planken van 22 cm diep. De planken zijn 80 cm breed. Bureau 46 cm diep en 20 cm hoog.
Verkocht
Interested? fill in the contact form below and we will get back to you.