Mid century Danish rosewood wall unit (*on hold)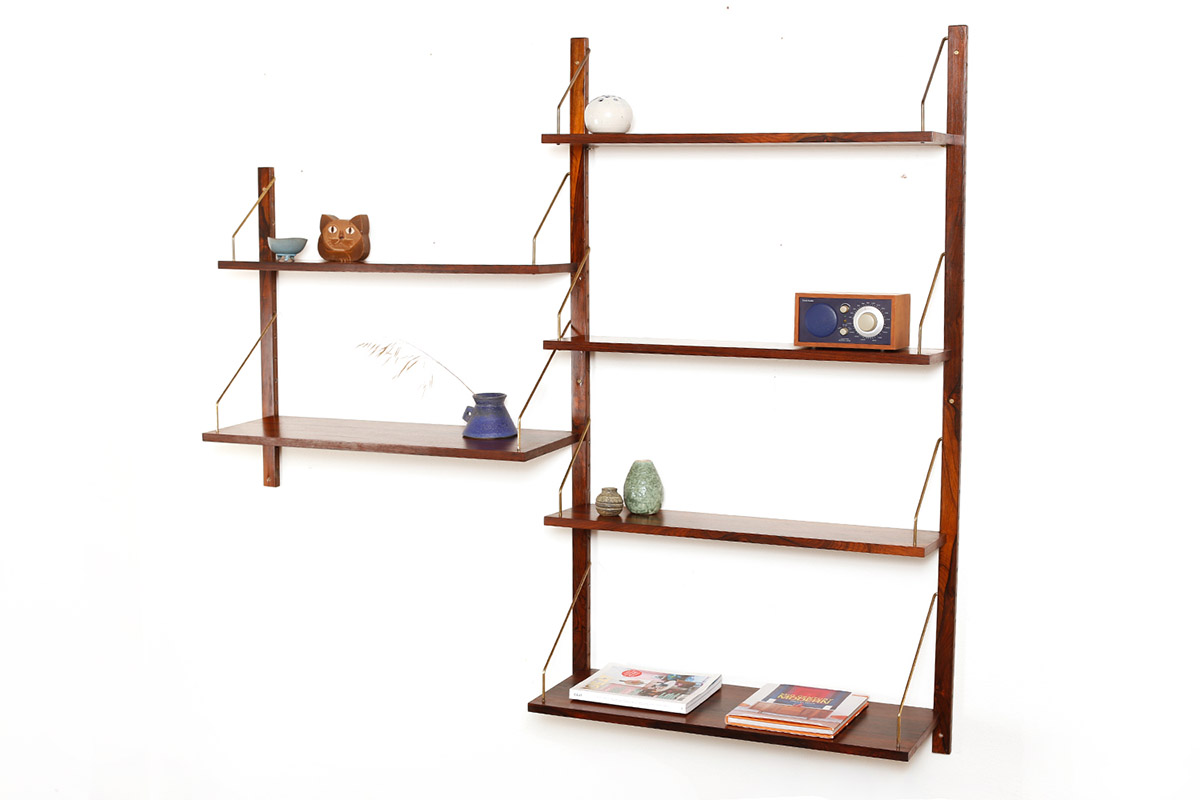 Dit mooie vintage Deens design wandsysteem werd ontworpen in de jaren 50 of 60 en heeft een elegante, chique uitstraling en lijkt op de wandsystemen van Poul Cadovius. Het meubel is uitgevoerd en ontworpen naar de maatstaven van die tijd, dit wandsysteem is namelijk gemaakt van een hoge kwaliteit palissander en heeft stijlvolle messing dragers. Ook de wandlatten van dit wandsysteem zijn van mooi palissander fineer voorzien en hebben daardoor een chique uitstraling.
Dit wandmeubel kan goed gebruikt worden als boekenkast met 6 planken, waarvan twee diepere planken. Het is een modulair systeem, waardoor de planken naar eigen inzicht ingedeeld kunnen worden. De planken hebben een prachtige tekening in het palissander fineer.
Dit Deense wandsysteem is in nette staat met lichte sporen van gebruik, alleen enkele messing beugels zijn wat geoxideerd, wat niet weg gepoetst kan worden, want dan verdwijnt het messing ook.
Het systeem bestaat uit twee palissander wandlatten van 154 cm hoog en één lat van 80 cm hoog en heeft een totale breedte van 173 cm, de planken zijn 85 cm breed, waarvan 4 met een diepte van 21,5 cm en twee van 30cm diep.
De prijs van dit palissander wandsysteem is 695 euro.
This beautiful vintage Danish design wall system was designed in the 50s or 60s and has an elegant and chic look and looks a lot like the designs of Poul Cadovius. It is executed and designed according to the standards of that time, this wall system is made of high quality rosewood and has stylish brass supports.
This wall unit with 6 shelves, of which two deeper shelves, can well be used as a bookcase. It is a modular system, so that the shelves can be arranged according to your own wishes. The shelves have a beautiful pattern in the rosewood veneer and the shelf supports are made of brass.
This Danish wall system is in good condition with minimal traces of use, some of the brackets have some oxidation, which can't be polished away, because the brass layer will be gone too than.
The system consists of two rosewood wall slats of 154 cm high and one slat of 80 cm high and has a total width of 173 cm, the shelves are 85 cm wide, of which 4 with a depth of 21.5 cm and two with a depth of 30 cm.
The price of this mid century rosewood wall unit is 695 euro.
Interested? fill in the contact form below and we will get back to you.