Vintage Staff Leuchten floorlamp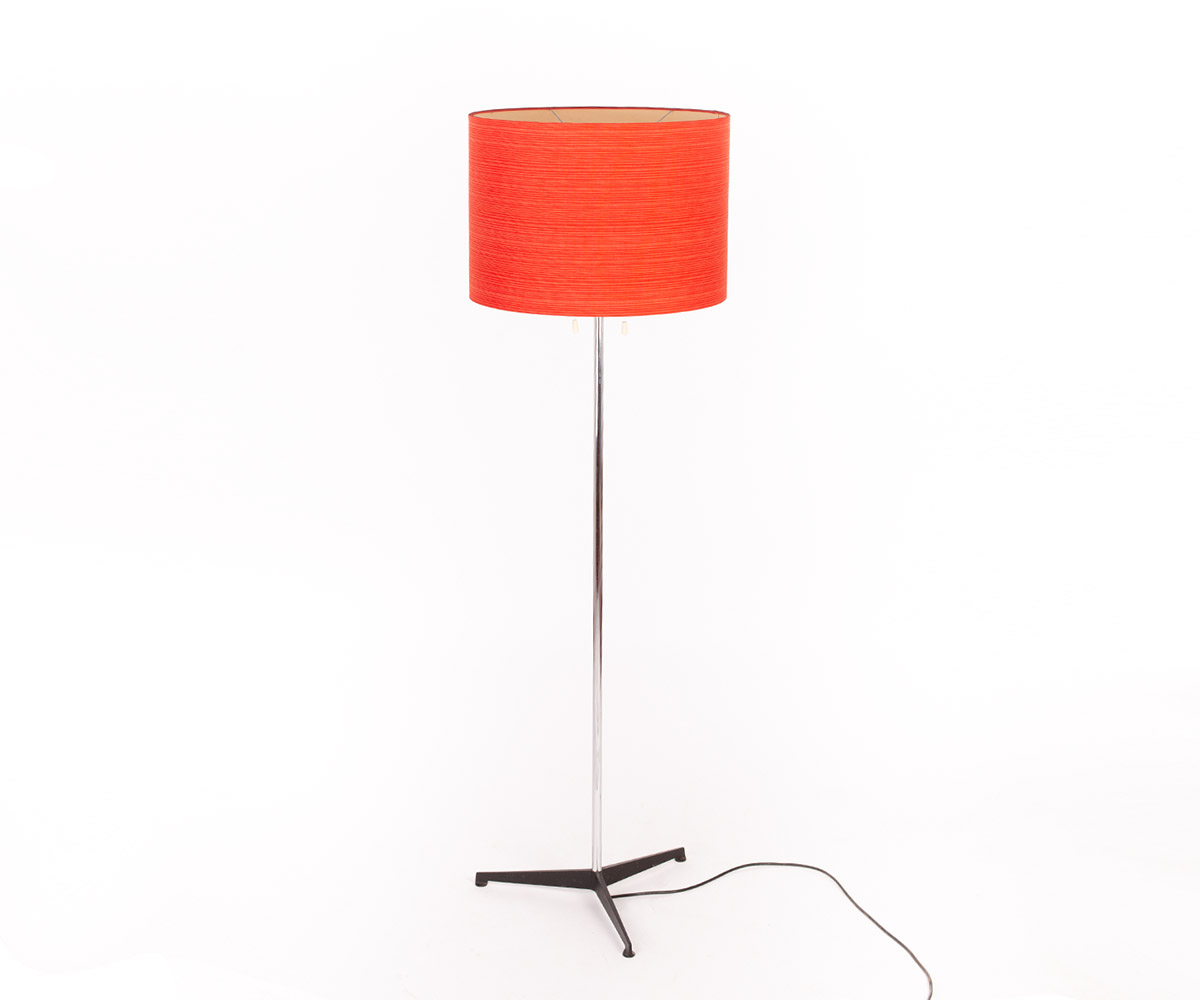 Deze prachtige vintage vloerlamp werd in de jaren '60 geproduceerd door de Duitse lampenproducent Staff Leuchten, een voorloper in de Duitse lichttechnologie, die vele Design Awards won door de jaren heen. Het stijlvolle design van deze vloerlamp springt gelijk in het oog, met de geometrische voet en de royale kap. De kap van deze lamp is echt erg mooi, zowel qua warm rode kleur als qua de textuur van het textiel. De chromen buis maakt het geheel af.
Aan de binnenkant heeft de lamp drie lichtpunten, twee die naar beneden schijnen en een lamp die omhoog schijnt, onder en boven zijn los van elkaar te bedienen. Het geheel is zoals altijd bij Duitse producten degelijk en fraai gemaakt.
De lamp verkeert in nette staat met minimale gebruikssporen, de kap is nog helemaal netjes.
Afmetingen: hoogte 161 cm, diameter kap 50 cm, diepte voet 50 cm.
This beautiful vintage floor lamp was produced in the 1960s by the German lamp manufacturer Staff Leuchten, an innovator in German lighting technology, which has won many Design Awards over the years. The stylish design of this floor lamp immediately catches the eye, with the geometric base and the large shade. The textile shade of this lamp is really beautiful, in a warm red color and with a nice texture. The chrome stam finishes it off completely. 
On the inside, the lamp has three light points, two that shine down and a lamp that shines up, below and above can be operated separately. As always with German products, this floorlamp is solid and beautifully made.
The lamp is in neat condition with minimal signs of wear, the shade is still completely neat.
Dimensions: height 161 cm, diameter shade 50 cm, depth base 50 cm.
Are you interested in this item, fill in the contact form below and we will get back to you.