Vintage Vitra bureaulamp (sold)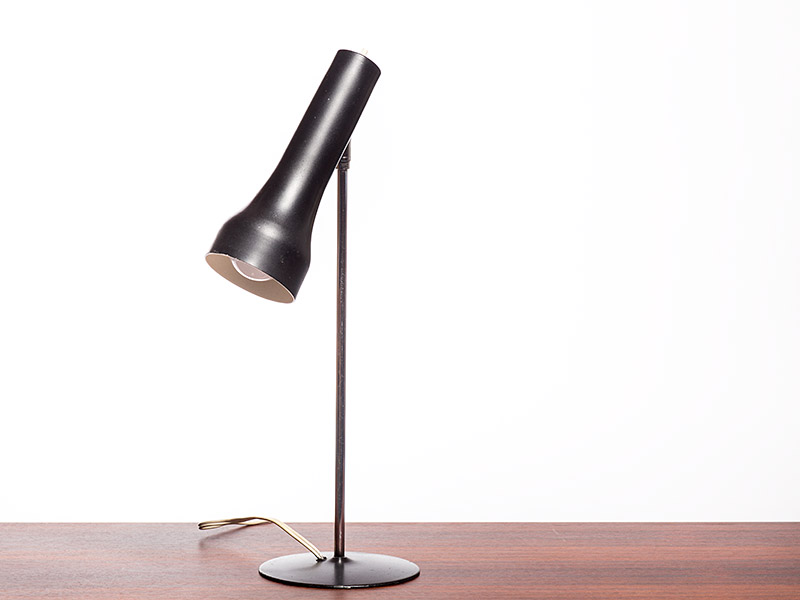 Deze elegante zwarte tafel/bureaulamp uit de jaren zestig is van Vitra Graeter en wordt toegeschreven aan ontwerper Fehlbaum. Het ontwerp van het ranke kapje doet ook een beetje denken aan de Hala Busquet lampen.
De lamp heeft een mooie hoge stang en kan daardoor goed gebruikt worden als bureaulamp en is fijn om bij te werken en te lezen. Hij is in een nette staat zonder deukjes of krassen.
Sold
Afmetingen: totale hoogte van het lampje is ongeveer 50 cm, lengte kapje 24 cm en een doorsnede van 9 cm, de doorsnee van de voet is 15 cm.
This elegant sixties table/desk lamp by Vitra Graeter might be designed by Fehlbaum. The design is also pretty similar to the design of the Hala Busquet designs.
The lamp is a bit taller than the usual desk lights which makes it a good lamp for reading and working on a desk or table.
The lamp is in a good condition without dents or scratches.
Dimensions.
The lamp is approximately 50 cm high, the shade is 24 cm long and has a diameter of 9 cm, the base has a diameter of 15 cm.
Sold