Zeldzame Willem Hagoort wandlamp (sold)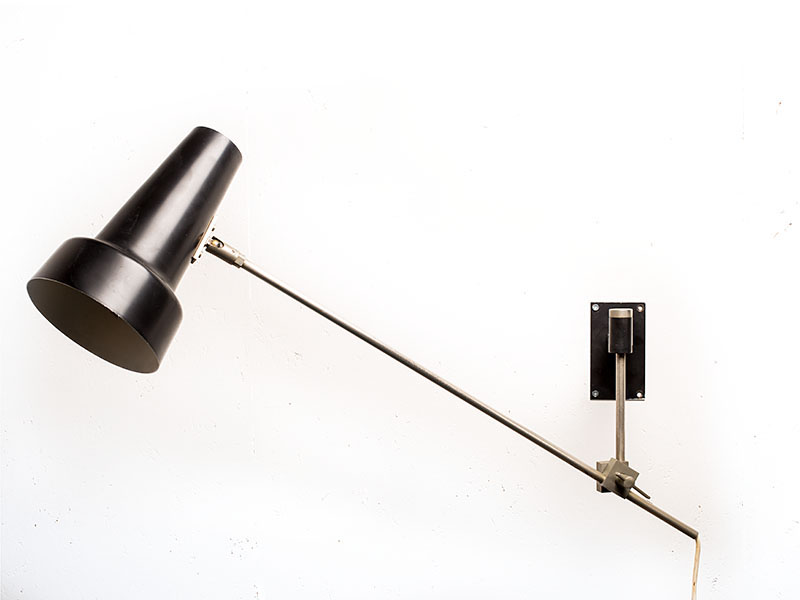 Mooie en zeldzame wandlamp / hengellamp ontworpen door Willem Hagoort voor Hagoort Lightning in de jaren vijftig.
Het is het model 55, te herkennen aan de bijzondere details zoals de metalen blokjes bij de verstelling van de hengel. De lamp verkeert in een nette staat, zonder deuken of krassen. Wel zit er wat lichte oxidatie op het nikkel, bij het scharnier zelf is er op de stang wat nikkel afgesleten. De oxidatie poets je zo weg, maar dan gaat het metaal wel wat meer glimmen. Persoonlijk vind ik het mooier zoals het nu is, het hoort bij een lamp van 60 jaar oud, maar indien gewenst poets ik hem voor je op.
Afmetingen:
24 cm hoog, 62 cm breed en 14 cm diep.
Sold.
Very nice and rare wall lamp designed by Willem Hagoort for Hagoort Lightning in the fifties. This model 55 lamp has an articulated shade, and exquisite design features such as the blocked metal "hinges" which are nickel plated. The lamp is in a good vintage condition, no dents or scratches. Just a little bit of oxidation on the nickel (can be polished easily on your request, I prefer a little bit of age showing).
Dimensions:
24 cm high, 62 cm wide and 14 cm deep.