Vintage Wébé wall unit by Louis van Teeffelen (*sold)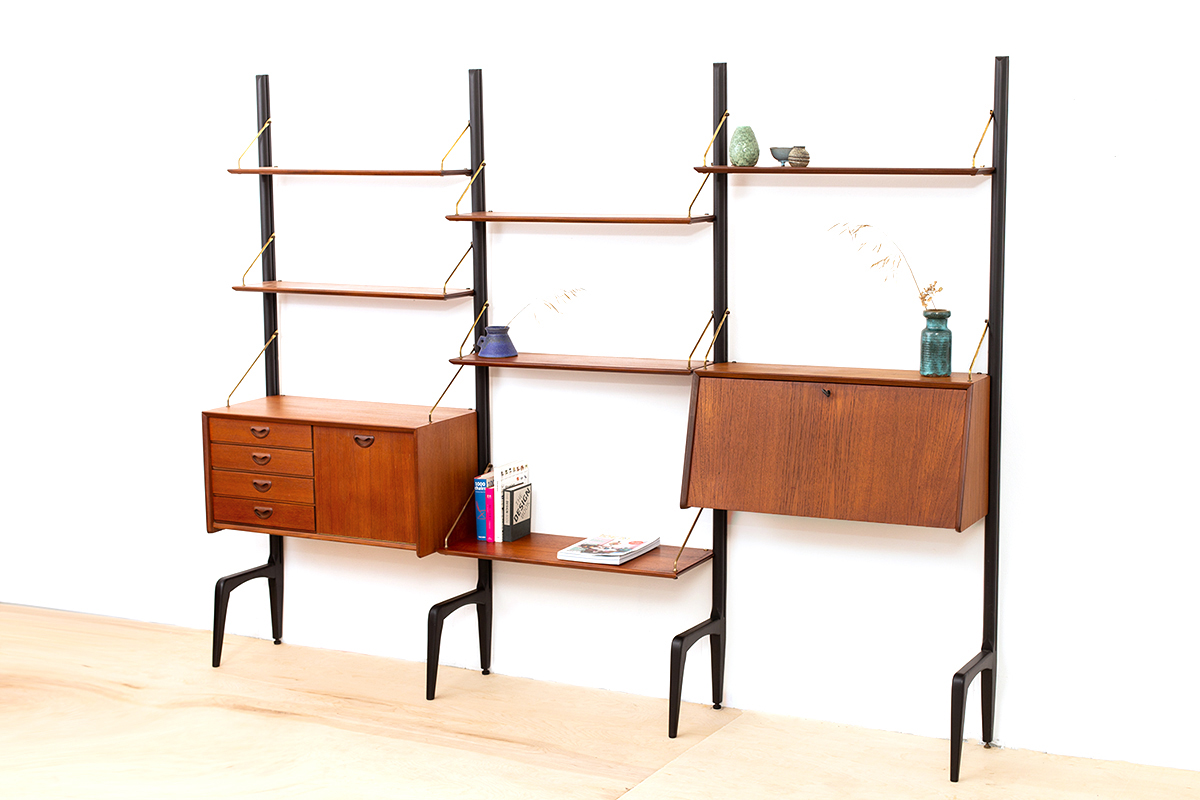 Dit stijlvolle Nederlands design teak wandsysteem uit de 50'er jaren is ontworpen door ontwerper Louis van Teeffelen voor de Nederlandse meubelfabriek Wébé. Het modulaire opbergsysteem bestaat uit vier zwarte staanders en heeft zes teak planken en twee teakhouten kasten, waarvan één secretaire kast. De messing ophangbeugels zijn een elegante aanvulling. Het systeem is modulair en dus heel makkelijk naar eigen smaak in te delen, tevens is het een vrijstaand systeem dat compleet los van de muur kan staan en daarmee ook als room divider kan dienen. Deze mooie design icon is een echte smaakmaker in het interieur.
Het systeem is gerestaureerd en weer helemaal in nette staat met hele lichte sporen van gebruik en licht patina op de messing beugels. De beugels van de brede plank zijn er opnieuw bijgemaakt, dat valt verder niet op. Ook de vloerdopjes zijn vervangen.
Afmetingen: hoogte staanders 2 meter, totale breedte 260 cm, er zijn 5 planken van 85 cm breed en 22 cm diep en 1 plank van 85 cm breed en 32 cm diep, de grote kast is 40 cm diep en 41 cm hoog, de secretaire kast is 31 cm diep en 40 cm hoog.
Op de foto lijkt de linker kast meer oranje,
VERKOCHT
This stylish modular Dutch design teak wall system from the 1950s was designed by designer Louis van Teeffelen for the Dutch furniture producer Wébé. The system consists of four black uprights and has six teak shelves and two teak cabinets, of which one cabinet with drawers and a flap and one secretary cabinet. The system is modular and therefore very easy to organize according to your own taste, it is also completely freestanding from the wall and can also be used as a room divider. This beautiful design icon is a real eye catcher in any interior.
The system has been completely restored and is in neat condition with very light traces of use and light patina on the brass brackets. The brackets of the wide shelve have been made anew, which is not noticeable. The floor caps have also been replaced.
Dimensions: height uprights 2 meters, total width 260 cm, there are 5 shelves of 85 cm wide and 22 cm deep and 1 shelf of 85 cm wide and 32 cm deep, the large cabinet is 40 cm deep and 41 cm high, the secretaire cabinet is 31 cm deep and 40 cm high.
SOLD