Mid century Kai Kristiansen wall unit in teak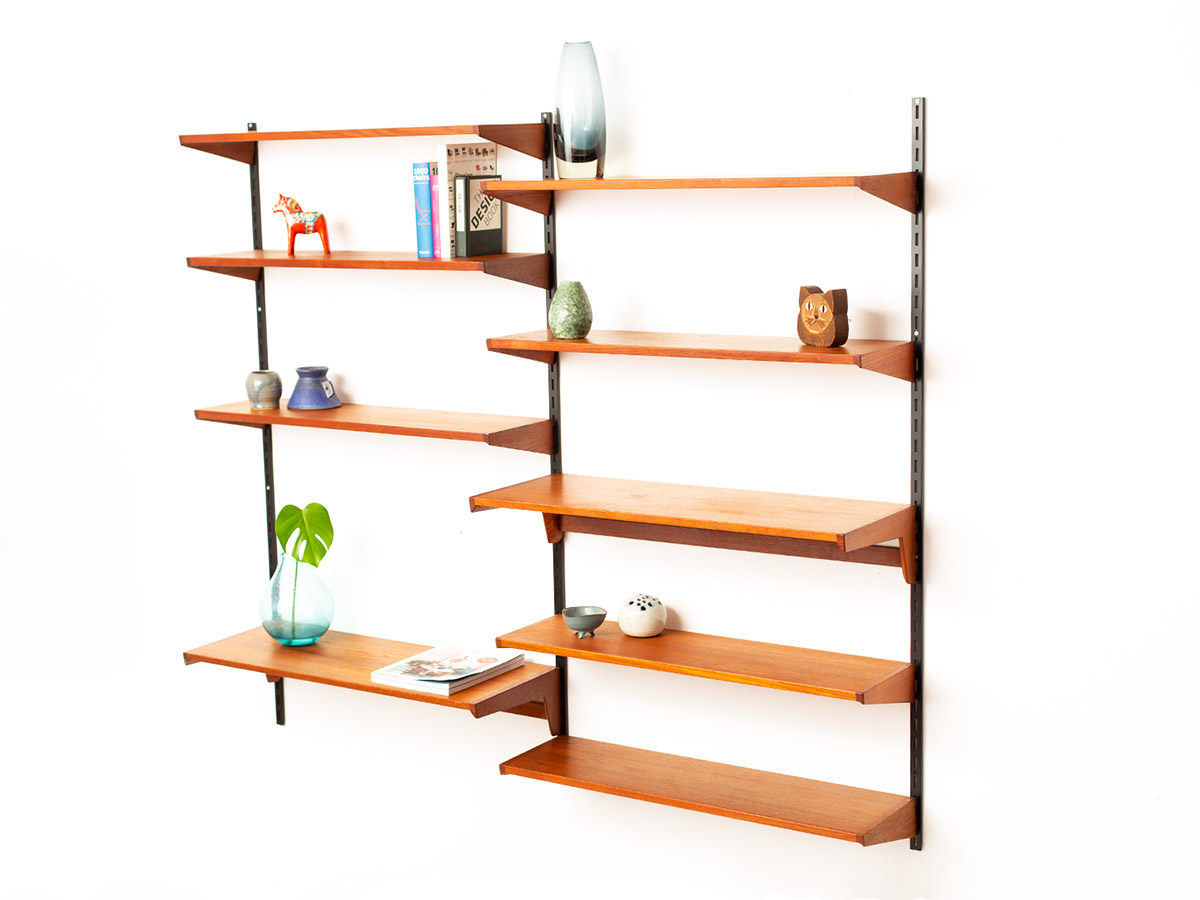 Dit stijlvolle en charmante vintage teak wandsysteem werd in de jaren 60 ontworpen door de Deense ontwerper Kai Kristiansen en geproduceerd door FM Møbler. Het systeem heeft mooie details die kenmerkend zijn voor de ontwerpen van Kai Kristiansen, zoals de fraaie houtverbindingen en de schuine zijkanten aan de planken.
Het systeem heeft negen planken, waarvan twee diepe planken met decoratieve balken onder de plank, en is uitgevoerd in teak fineer. Dit wandmeubel is in goede vintage staat met lichte sporen van gebruik, een plank heeft een kleine barst in de zijkant (te zien op de laatste foto), en de muurlatten zijn een stukje ingekort, dit valt niet op als het systeem aan de muur hangt.
Afmetingen: breedte planken is 86 cm, totale breedte wandsysteem is 175 cm, hoogte 150 cm en zeven planken van 24 cm diep en twee planken van 32 cm diep.
De prijs van dit Deense Kai Kristiansen wandmeubel is 750 euro.
This stylish and charming vintage teak wall system was designed in the 1960s by the Danish designer Kai Kristiansen and produced by FM Møbler. The system has beautiful details that are characteristic of Kai Kristiansen's designs, such as the wood joints and the sloping sides on the planks.
The wall unit has nine shelves, two of which are deep shelves with decorative beams under the shelf, and is made of teak veneer. This wall unit is in good vintage condition with light traces of use, one shelf has a small crack in the side (seen in the last photo), and the wall slats have been shortened a bit, this is not noticeable when the system is on the wall.
Dimensions: shelf width is 86 cm, total wall system width is 175 cm, height 150 cm and seven shelves of 24 cm deep and two shelves of 32 cm deep.
The price of this Danish Kai Kristiansen wall unit is 750 euro.
Interested? fill in the contact form below and we will get back to you.