Floris Fiedeldij M1 desk lamp for Artimeta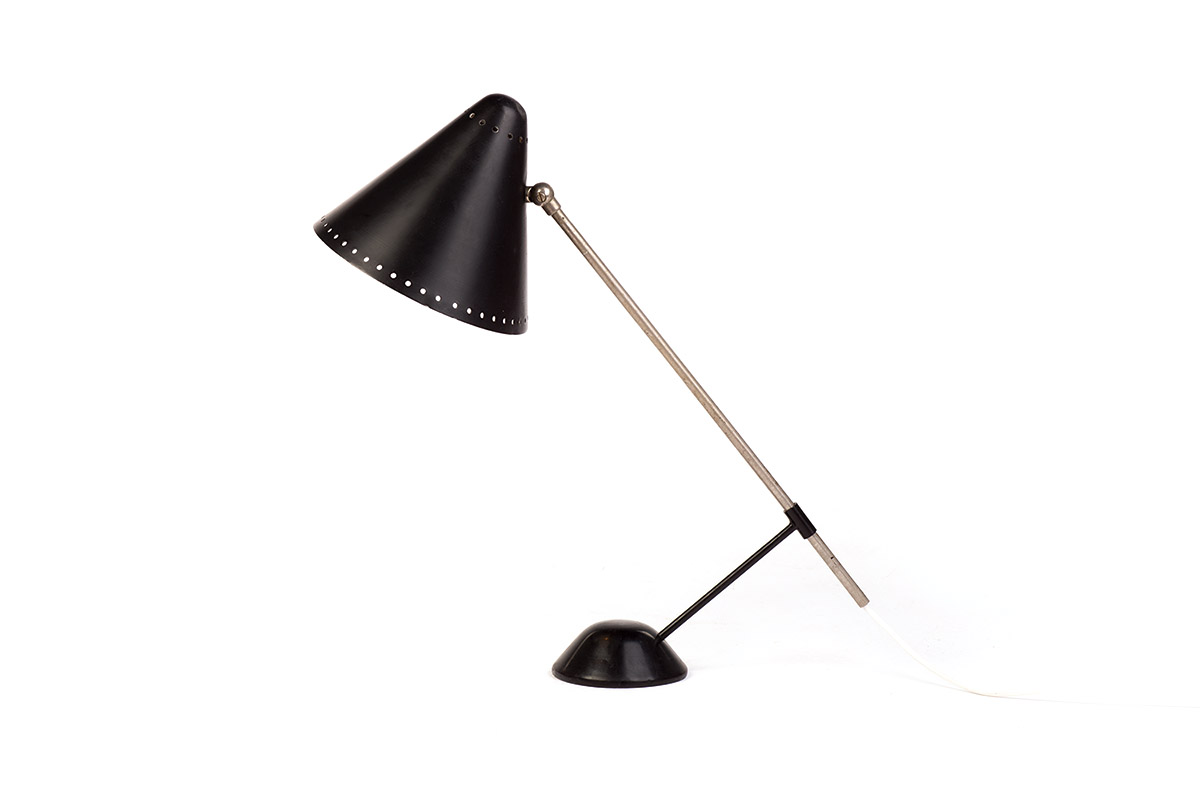 Deze stijlvolle vintage tafellamp is in 1956 ontworpen door de Nederlandse ontwerper Floris Fiedeldij en geproduceerd door Artimeta. Volgens de Artimeta catalogus is dit model M1. Deze lamp is slechts korte tijd in productie geweest en daarmee een zeldzame lamp.
Het is een ingenieus ontwerp met een verzwaarde voet en een in hoogte verstelbare metalen arm. De fraaie draaibare zwarte kap heeft decoratieve perforaties aan de rand. Kan ook goed gebruikt worden als bureaulamp.
De lamp is in originele vintage staat met de originele zwarte lak. De kap heeft hier en daar wat sporen van gebruik, zoals enkele minimale deukjes in de kap, wij vinden dit zelf juist de charme van de lamp. Het snoer en de schakelaar zijn vervangen.
Afmetingen: diameter kap 19 cm, diepte 45 cm, breedte 19 cm, hoogte 45-50 cm (verstelbaar).
De prijs van deze Artimeta lamp is 495 euro.
This stylish table lamp was designed in 1956 by the Dutch designer Floris Fiedeldij and produced by Artimeta. According to the Artimeta catalog, this model is M1. This lamp has only been in production for a short time and is therefore a rare lamp.
It is an ingenious design with a weighted base and a height-adjustable metal arm. The beautiful rotating black shade has decorative perforations. Can also be used well as a desk lamp.
The lamp is in original vintage condition with the original black lacquer. The shade has some traces of use, such as some minimal dents in the shade, we think this is the charm of the lamp. The cord and switch have been replaced.

Dimensions: diameter shade 19 cm, depth 45 cm, width 19 cm, height 45-50 cm (adjustable).
The price of this Artimeta lamp is 495 euro.
Are you interested in this item, fill in the contact form below and we will get back to you.