Vintage William Watting teak wall unit (Sold)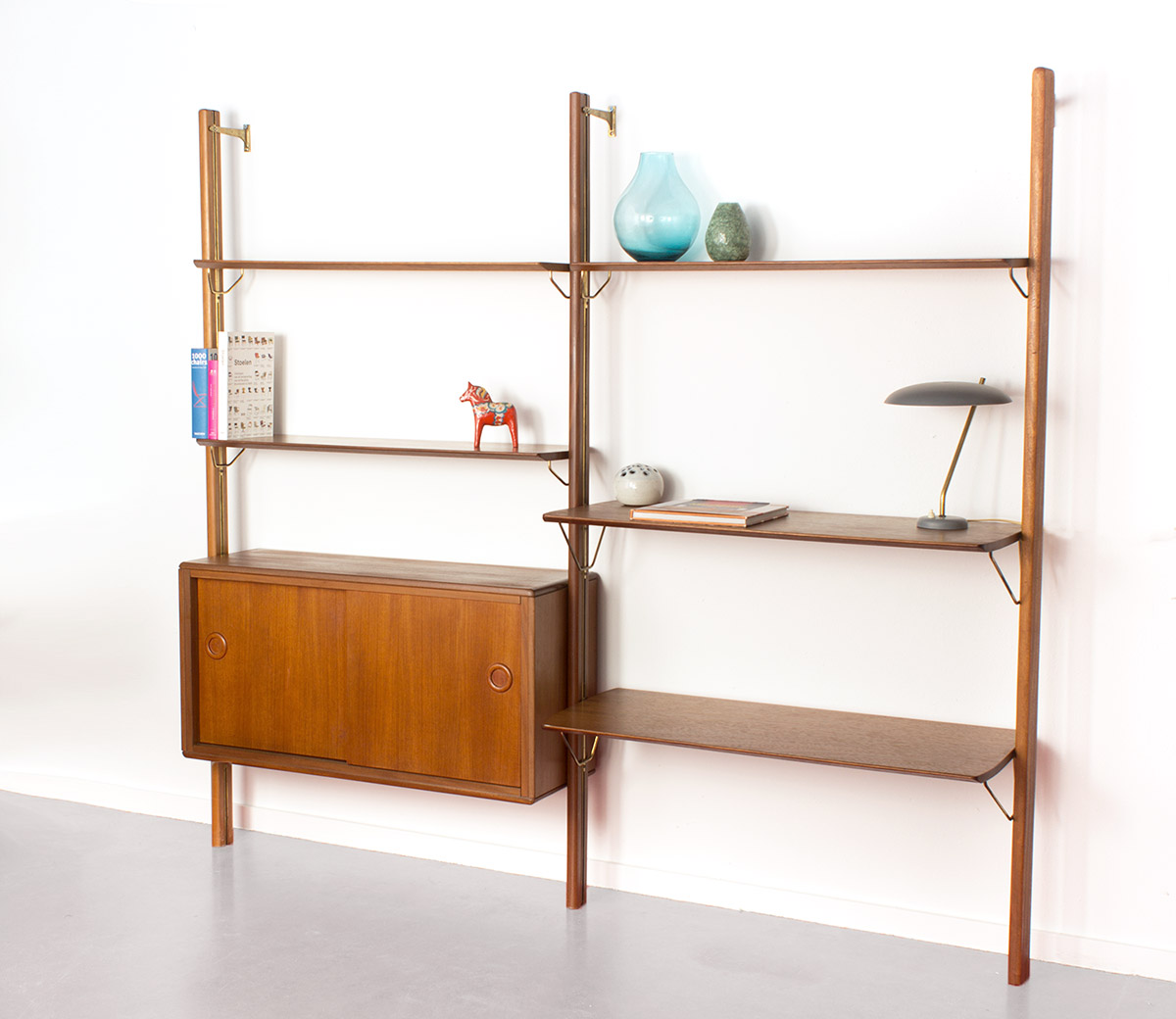 Charmant vintage wandmeubel ontworpen door William Watting voor Fristho met mooie diepe planken en een fraaie teak kast met schuifdeurtjes. De planken zijn uitgevoerd in massief teakhout die worden gedragen door mooie messing houders die in een messing rail aan de binnenkant van de staanders schuiven. De staanders worden aan de muur bevestigd met 3 messing beugels.
Zeer mooi luchtig en stijlvol wandmeubel dat kan worden gebruikt als een boekenkast of gewoon om mooie spullen op te zetten.
In een zeer goede en nette staat met kleine gebruikssporen. Op een deurtje van de kast zitten wat lichte krasjes door het schuiven van de deuren. Afmetingen:  Totale breedte 190 cm breed, 170 cm hoog. Er zijn 3 planken van 24,5 cm diep en 2 planken van 37 cm diep. Het kastje is 29,5 cm diep.
Verkocht
Charming vintage teak wall unit designed by William Watting for Fristho with nice deep shelves and a beautiful cabinet with sliding doors. The shelves are executed in solid teak and are supported by brass holders which slide in to a brass rail on the inside of the uprights. The uprights are mounted to the wall with 3 brass brackets.
Very stylish airy wall unit which can be used as a bookcase or display cabinet.
In a very good and clean condition with only small signs of use. On a door of the cabinet there are some minor scratches due to the sliding of the doors. Dimensions: Total width 190 cm wide, 170 cm high. There are 3 shelves of 24.5 cm deep and 2 shelves of 37 cm deep. The cabinet is 29.5 cm deep.
SOLD
Heb je interesse in dit Fristho wandsysteem vul dan onderstaand formulier in en we nemen contact met je op.
Are you interested in this wall unit fill in the contact form below and we will get back to you.