Double Trava floor lamp by Carl Thore, 60s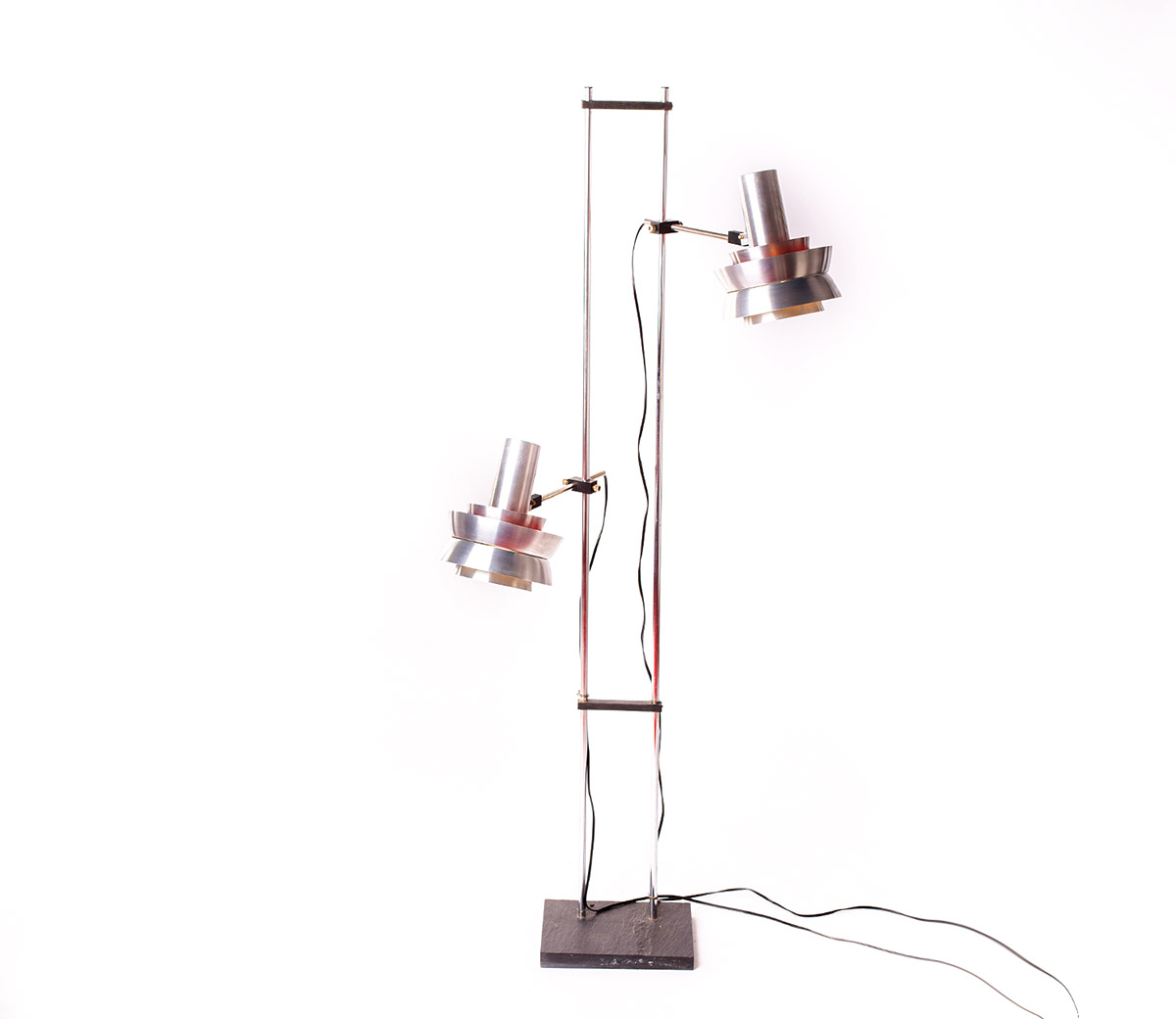 Fraaie en zeldzame vintage Scandinavische dubbele vloerlamp ontworpen door de Zweedse ontwerper Carl Thore en geproduceerd door de Zweedse lampenproducent Granhaga Metallindustri. Deze lamp komt uit de zogenoemde "Trava" serie, een serie lampen bestaande uit op elkaar gestapelde schalen in diverse kleuren.
Dit exemplaar heeft twee karakteristieke zilverkleurige aluminium kappen, met een rode en witte binnenkant. De kappen zijn verstelbaar in hoogte op de chromen stangen en de lamp heeft een stevige natuurstenen voet.
De lamp geeft sfeervol en warm licht en verkeert in een nette vintage staat met minimale gebruikssporen en zeer lichte sporen van oxidatie en is opnieuw bedraad met zwarte snoeren, inclusief nieuwe schakelaars. Afmetingen:  141 cm hoog, 50 cm breed, 40 cm diep, diameter van de kapjes 17 cm diameter.
De prijs van deze mid-century modern Scandinavische lamp is 550 euro.
Beautiful and rare vintage Scandinavian double-headed Trava floor lamp designed by the Swedish designer Carl Thore and produced by the Swedish lamp manufacturer Granhaga Metallindustri. This lamp is part of the so-called "Trava" series, a series of lamps consisting of stacked shades in various colors.
This edition has two characteristic silver coloured aluminum shades, with a red and white lacquered interior. The shades are adjustable in height on the chrome stams and the lamp has a sturdy natural stone base.
The lamp provides atmospheric and warm light and is in a neat vintage condition with minimal traces of use and some minor oxidation. The lamp has been rewired with black wires and got new switches. Dimensions: 141 cm high, 50 cm wide, 40 cm deep, diameter of the shades 17 cm diameter.
The price of this mid-century modern Scandinavian floor lamp is 550 euro.
Interested? fill in the contact form below and we will get back to you.