Pastoe Japanse serie secretaire CU07 (*sold)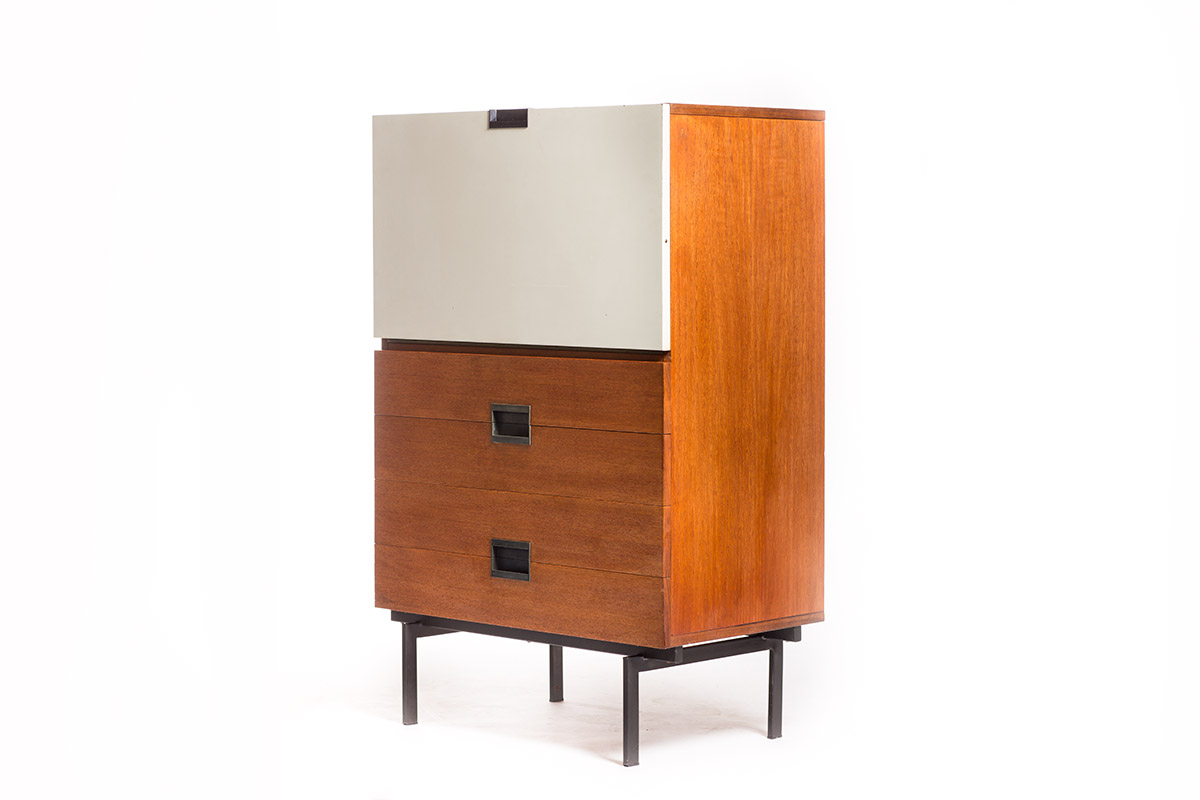 Strakke kast ontworpen door Cees Braakman voor Pastoe. Deze CU07 kast komt uit de zogenoemde "Japanse Serie" die Braakman ontwierp in de jaren vijftig.
Je ziet dit exemplaar zelden voorbij komen, met een klep aan de bovenkant en 4 laden er onder.
Kenmerkend voor de kasten uit de Japanse serie zijn het ranke metalen onderstel, de verdiepte zwarte plastic handgrepen en de gebogen plywood "stofvrije" laden.
Functionele kast die veel opbergruimte heeft maar dus ook te gebruiken is als secretaire. Achter de witte klep zit een plank met een klein postvakje en een blauwe kleine lade.
De secretaire verkeert in een zeer goede staat, alleen op de rand van de witte klep zit wat zichtbare slijtage, de klep is zelf in de loop van de tijd wat verkleurd en is niet spierwit meer maar off-white. De onderste greepjes zijn door de ouderdom wat verkleurd.
Afmetingen:
117,5 cm hoog, 75 cm breed en 45 cm diep
sold
Modern cabinet designed by Cees Braakman for Pastoe. This cabinet is from the "Japanse serie", designed in the fifties.
This is a rare cabinet which doesn't come by often, with its 4 drawers at the bottom and the big white door above.
The slim black metal frame and the black grips are reminiscent to the designs from the Japanese serie, as are the plywood so called "dust free drawers".
This cabinet is useful in storage space, but it can also be used as a desk / secretaire.
Inside there is a nice shelve with space for envelops and such and a small blue drawers, great details.
The cabinet is a very good conditions with some small signs of wear consistent with its age.
On the edges of the white door there is some where visible, the door itself is off-white (it used to be bright but the color faded over the years), the black grips on the bottom are faded in color as well.
Dimensions:
117,5 cm high, 75 cm wide en 45 cm deep.
sold