Zeldzame Japanse serie CU03 Pastoe kast (*sold)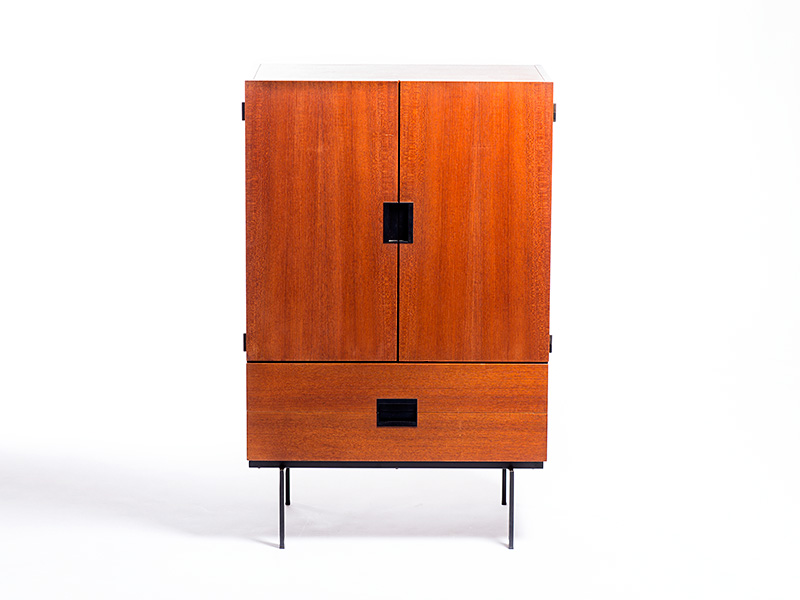 Deze zeldzame kast werd in 1958 ontworpen door Cees Braakman en is uit de zogenoemde Japanse serie. Het dunne metalen onderstel, de verdiepte handgrepen en de "stofvrije" laden zijn de belangrijkste kenmerken uit deze serie geproduceerd door UMS Pastoe.
De kast is gemaakt van teak fineer, achter de twee deuren zitten twee planken met daaronder twee laden.
De kast verkeert in een goede staat met lichte sporen van gebruik. Er is een reparatie uitgevoerd aan een hoekje van de linker deur onderaan, valt nauwelijks op.
Afmetingen:
118 cm hoog, 75 cm breed en 45 cm diep.
Sold
This very nice and rare cabinet was designed by Cees Braakman in 1958 for UMS Pastoe. It is from the so called Japanse serie. The black lacquered frame, "dust free drawers", warm teak veneer and black plastic recessed handles are distinctive for the cabinets and sideboards of this serie.
Behind the two doors there are 2 shelves, underneath are 2 drawers.
The cabinet is in a good condition with small traces of use. One bottomcorner of the left door has a small repair to the veneer, it is done by a restorer and it is barely noticeable.
Dimensions:
118 cm high, 75 cm wide and 45 cm deep.
Sold