Vintage AJ Royal pendant Arne Jacobsen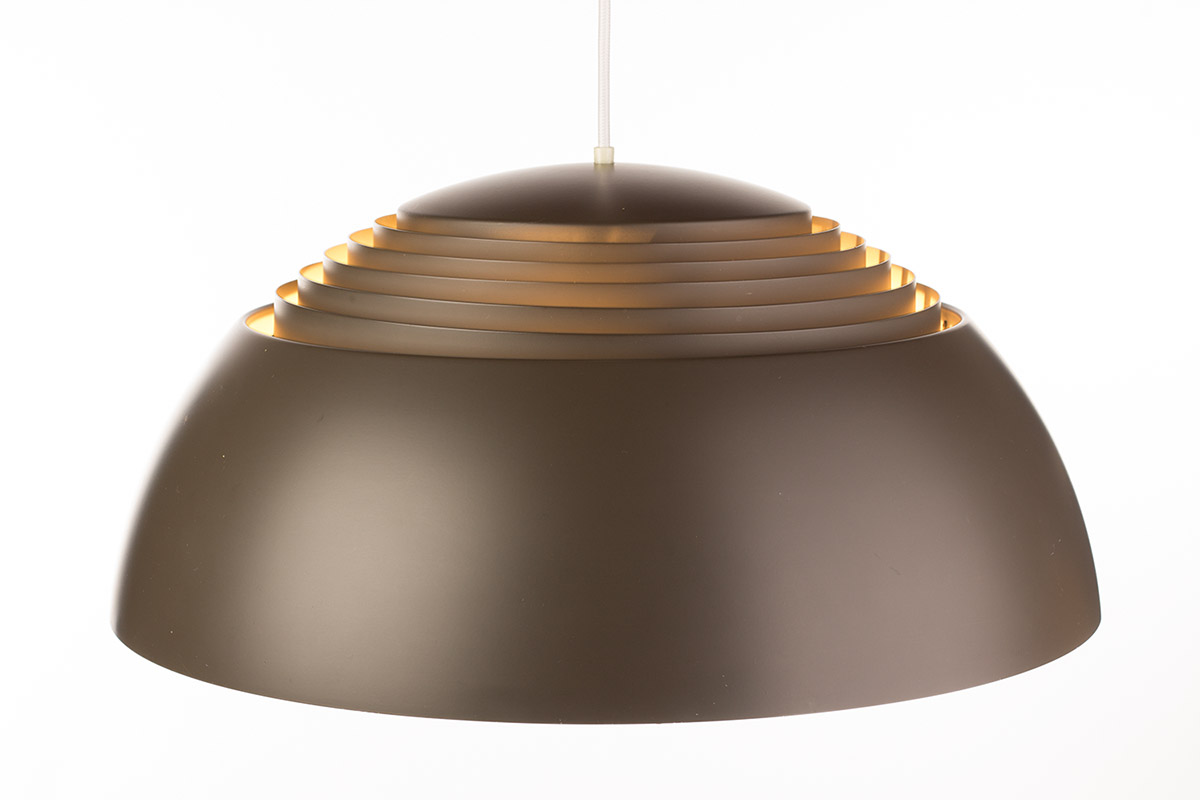 Deze moderne designklassieker, de AJ Royal hanglamp, is in 1957 ontworpen door Arne Jacobsen en geproduceerd door Louis Poulsen. Jacobsen ontwierp rond 1957 het SAS Royal hotel in Kopenhagen voor de vliegmaatschappij SAS. Hij ontwierp niet alleen het hotel, maar ook de inrichting van het hotel, zoals de beroemde Egg- en Swan chairs, en dus ook deze AJ Royal lamp.
Deze metalen lamp heeft een stijlvolle taupe/ grijs bruine metalen kap en lamellen, voor een karakteristieke Deense uitstraling. De ring aan de binnenkant bestaat uit gegoten aluminium. De lamp heeft vier lichtpunten en geeft mooi licht naar beneden, maar ook door de lamellen schijnt warm licht subtiel naar buiten.
De lamp is in nette staat met minimale sporen van gebruik. Deze taupe kleur wordt niet meer geproduceerd en is dus veel zeldzamer dan zijn witte broertjes. Afmetingen: 50 cm diameter en hoogte 22,5 cm.
Sold
This modern design classic, the AJ Royal hanging lamp, was designed in 1957 by Arne Jacobsen and produced by Louis Poulsen. Jacobsen designed the SAS Royal hotel in Copenhagen around 1957 for airline SAS. He not only designed the hotel, but also the interior of the hotel, such as the famous Egg and Swan chairs, and therefore also this AJ Royal lamp.
This metal lamp has a stylish taupe / gray-brown metal shade and rings, for a characteristic Danish look. The shade on the inside consists of cast aluminum. The lamp has four light points and gives nice light downwards, but warm light also subtly shines through the rings.
The lamp is in good condition with minimal traces of use. This taupe color is no longer produced and is therefore much rarer than the white variants. Diameter: 50 cm height: 22,5 cm
Interested? fill in the contact form below and we will get back to you.