Vintage Martin Visser BZ 53 sofa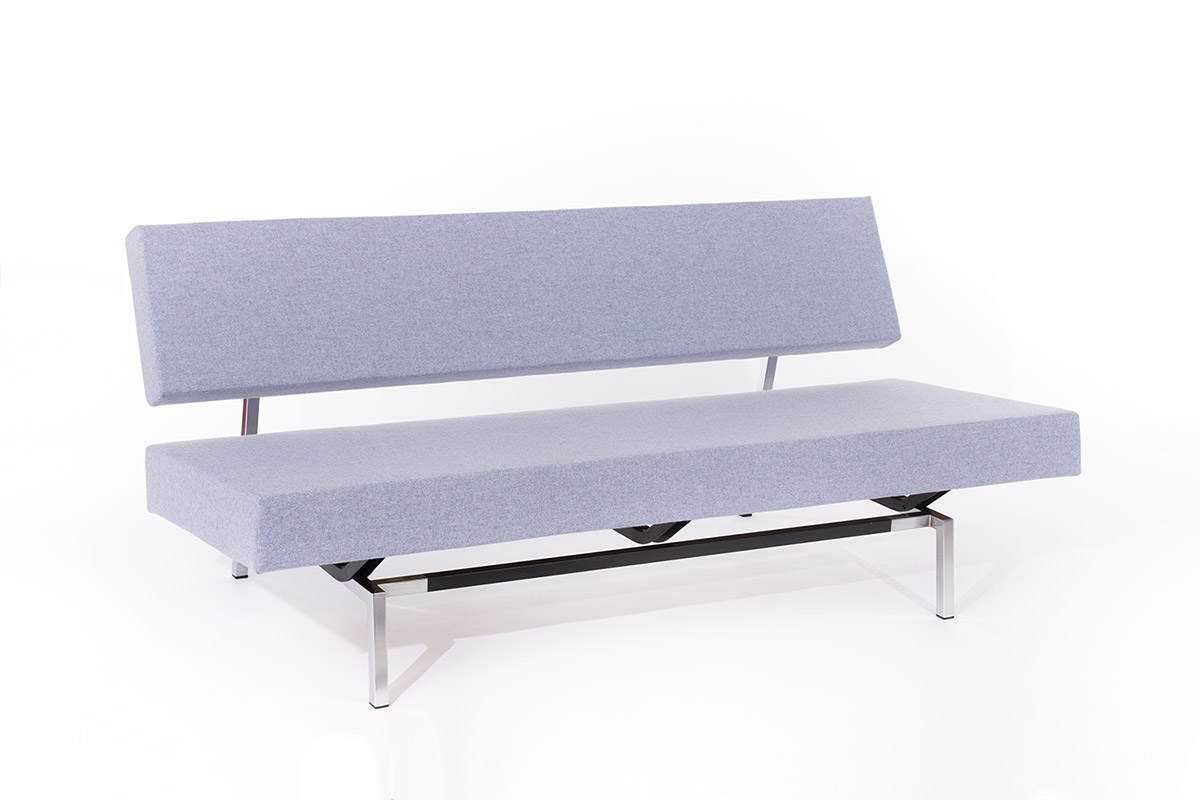 Deze helemaal opnieuw gestoffeerde BZ 53 bank werd door Martin Visser ontworpen in de 60'er jaren en geproduceerd door 't Spectrum. Dit BZ 53 model is de kleine variant van de BR02 slaapbank van Martin Visser en is niet uitklapbaar. De bank heeft de bekende Martin Visser kenmerken; strak, hoekig en rechte lijnen, zowel in de zitting en leuning als in het frame van chroom en zwart.
De afmeting van deze bank is 160 cm breed en is daarmee erg geschikt voor een klein appartement. We hebben de bank opnieuw gestoffeerd met een mooie gemêleerde lichtblauwe wollen stof (vilt), ook het schuim is vervangen door hoogwaardig nieuw schuim, waardoor de bank weer comfortabel en stevig zit. De bank is gelabeld door 't Spectrum.
Het frame is in goede staat, met lichte sporen van oxidatie en bij een poot is er een chipje van het chrome af, maar dat is niet storend.
Afmetingen: breedte 160 cm, diepte 81 cm, hoogte 69 cm en zithoogte 35 cm.
De prijs van deze strakke en moderne Martin Visser bank is 1395 euro.
This completely reupholstered BZ 53 sofa was designed by Dutch designer Martin Visser in the 60's and produced by 't Spectrum in The Netherlands. This BZ 53 model is the small version of the BR02 sofa bed from Martin Visser and is not foldable. The bank has the well-known Martin Visser characteristics; clean, angular and straight lines, both in the seat and backrest and in the frame of chrome and black.
The size of this sofa is 160 cm wide and is therefore very suitable for a small apartment. We have reupholstered the sofa again with a beautiful mixed light blue woolen fabric (felt), the foam has also been replaced by high-quality new foam, which makes the sofa comfortable and sturdy again. The sofa is labeled by 't Spectrum.
The frame is in good condition, with slight traces of oxidation and at one leg there is a chip off the chrome, not disturbing.
Dimensions: width 160 cm, depth 81 cm, height 69 cm and seat height 35 cm.
The price of this sleek and modern Martin Visser sofa is 1395 euro.
Heb je interesse in deze Martin Visser bank vul dan onderstaand formulier in en we nemen contact met je op.
Are you interested in this Martin Visser sofa fill in the contact form below and we will get back to you.