Vintage Cadovius wall unit in rosewood with magazine shelf (*sold)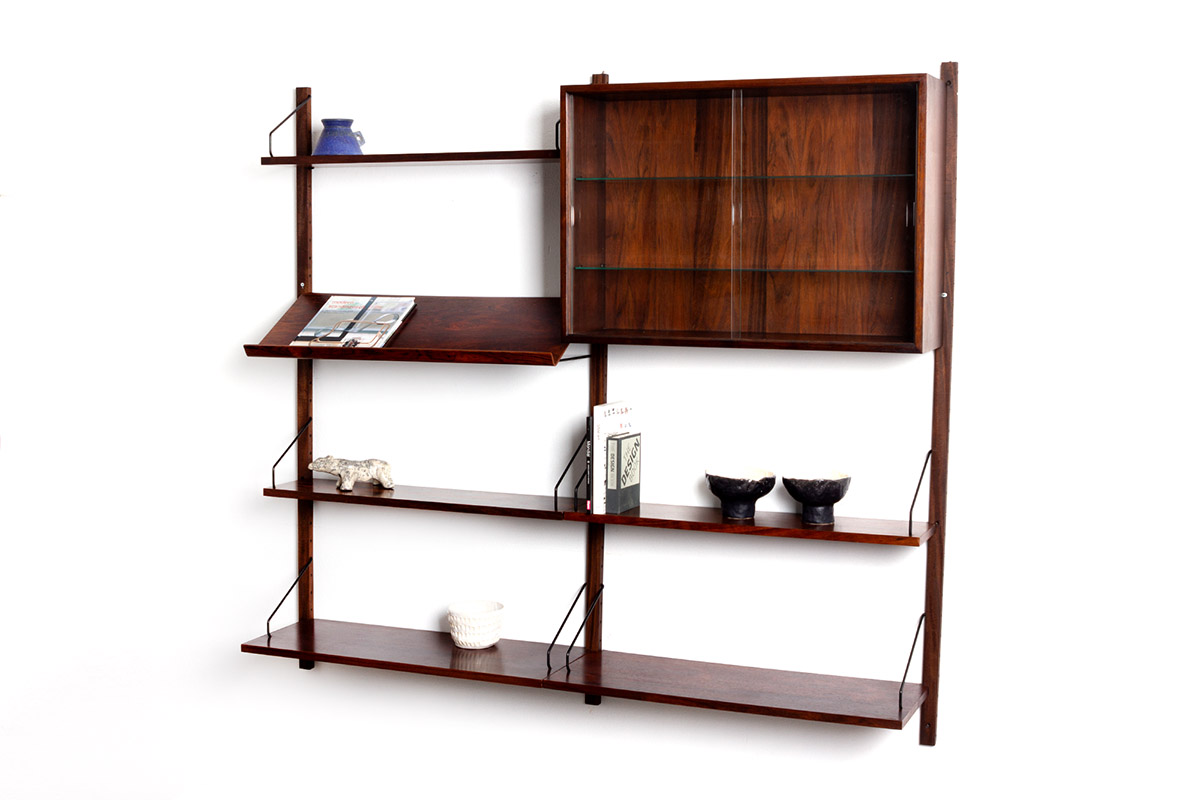 Beautiful Danish rosewood modular wall system designed in the fifties by Poul Cadovius for Cado. This good-looking wall unit has a magazine shelf and a display cabinet, so enough space to display magazines and accessories. In addition, there are five shelves, two of which are a bit deeper. The rosewood has a beautiful drawing in the veneer and thus distinguishes itself in a stylish way from the much more common teak wall systems from Cadovius.
The wall system is in a very neat condition with minimal traces of use.
Dimensions: Total width of the system is 164 cm (shelf width 80 cm), height 150 cm, 3 shelves of 20 cm deep and 2 shelves of 30 cm deep, display cabinet is 24.5 cm deep and 56 cm high.
SOLD
Prachtig Deens palissander modulair wandsysteem ontworpen in de jaren vijftig door Poul Cadovius voor Cado. Dit fraaie wandmeubel heeft een leesplank en een vitrinekast, genoeg ruimte dus om magazines en accessoires uit te stallen. Daarnaast zijn er vijf planken, waarvan twee wat dieper zijn. Het palissanderhout heeft een fraaie tekening en onderscheidt zich hiermee op een stijlvolle manier van de veel meer voorkomende teak wandsystemen van Cadovius.
Het wandsysteem verkeert in een zeer nette staat met minimale sporen van gebruik. 
Afmetingen: Totale breedte van het systeem is 164 cm (breedte planken 80 cm), hoogte 150 cm, 3 planken van 20 cm diep en 2 planken van 30 cm diep, vitrinekast is 24,5 cm diep en 56 cm hoog.
VERKOCHT
Interested? fill in the contact form below and we will get back to you.