Vintage Danish Poul Cadovius wall system (sold)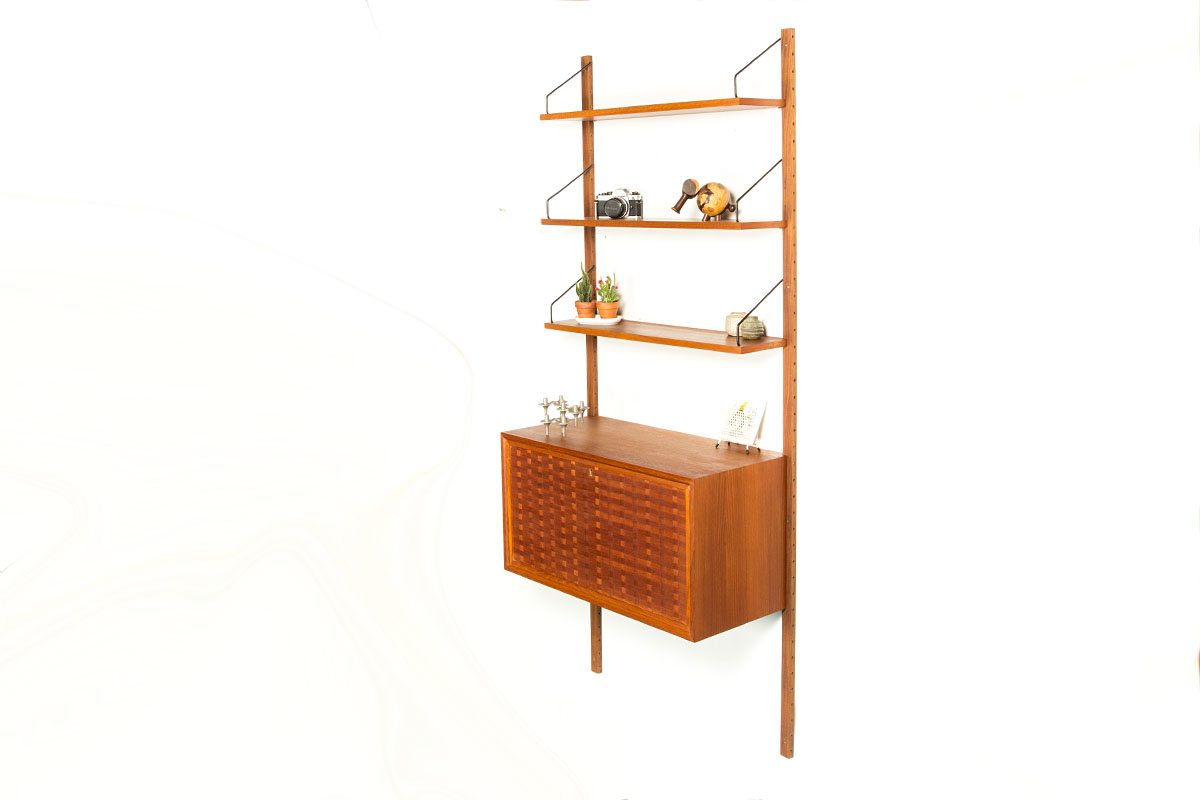 Mooi Deens vintage wandsysteem ontworpen door Poul Cadovius. Dit is een fraai  exemplaar met drie planken en een klepkast met een gevlochten klep die ook te gebruiken is als secretaire. Het teakfineer heeft een mooie tekening en het kastje zie je niet zo vaak in Nederland.
De planken zijn helemaal netjes, het kastje ook alleen zit er een kras op de bovenkant (zie foto) en wat lichte sporen van gebruik, niet vreemd na 60 jaar in gebruik te zijn geweest.
Dit wandsysteem hebben we meegenomen uit Denemarken, de staanders zijn net iets anders dan de staanders zoals ze geleverd werden in Nederland. Deze staanders hebben geen afgeronde hoeken aan de boven- en onderkant en geen metalen busjes (dit is wel origineel Cadovius).
Afmetingen:
De staanders zijn 2 meter lang.
De planken zijn 20 cm diep en 80 cm breed.
Het kastje is 38 cm diep, 80 cm breed en 42 cm hoog.
Poul Cadovius wall system with 3 shelves and a very nice cabinet with a teak veneer braided front which can be used as a small secretaire.
The shelves are in a very good condition, the cabinet is also in a very good condition and has some small signs of use, one larger scratch in the veneer (see the detailed photo).
We imported this Cadovius wall system from Denmark where the uprights are a little bit different then the ones we see in Germany and the Netherlands, the top and bottom ends are not rounded of and there are no metal bushes (its original like that).
Dimensions:
The uprights are 2 meters high.
The shelves are 20 cm deep and 80 cm wide.
The cabinet is 38 cm deep, 80 cm wide and 42 cm high.