Vintage Cadovius wall system (sold)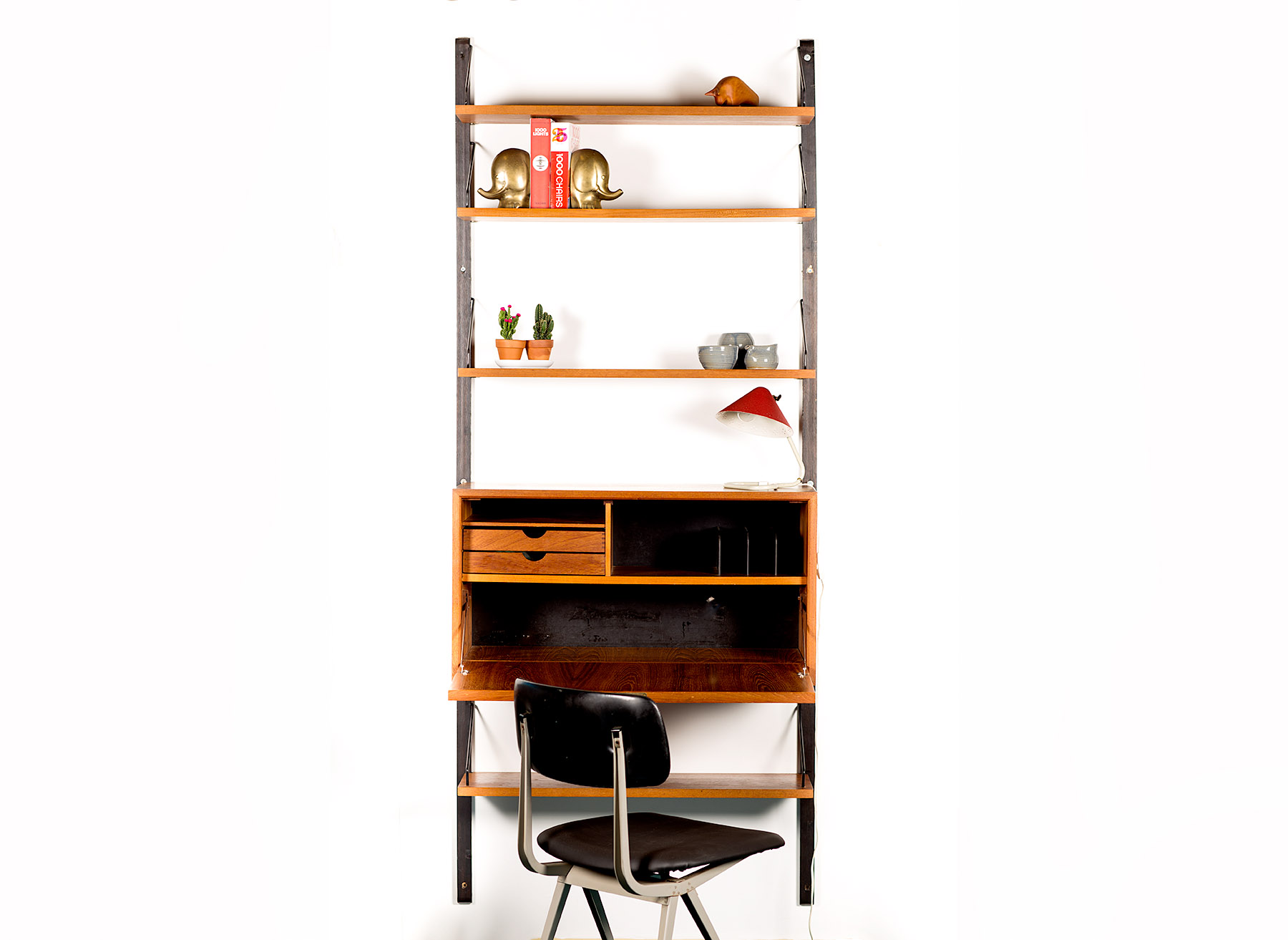 Ruimte voor je boeken en woonaccessoires èn een compacte werkplek voor je laptop.
Dat biedt dit mooie teakhouten wandsysteem van Poul Cadovius. Naast de 4 planken zit er bij dit wandsysteem ook een praktische secretaire met twee lades en een kleine vakverdeling voor enveloppen etc.
Het systeem verkeert nog in een zeer nette staat, de planken en secretaire zijn vrij van krassen en kringen. Van de secretaire is een klein stukje hout van een hoekje af aan de linkeronderkant maar dat valt nauwelijks op.
Cadovius ontwierp dit wandsysteem met oog voor detail. De planken zijn vernuftig opgehangen aan gebogen metalen haken die in openingen in de planken hangen en het kastje is hoogwaardig afgewerkt.
Voor de foto hangt er nu een plankje onder de secretaire, maar die kan, als je de wandlatten iets hoger aan de muur bevestigd, ook makkelijk bovenin hangen.
Al met al een mooi en praktisch wandsysteem door de planken en de klepkast die ontworpen is als bruikbaar bureautje.
Afmetingen:
Hoogte van de staanders is 2 meter
De planken zijn 80 cm breed en 20 cm diep.
Het kastje is 80 cm breed, 37,5 diep en 42,5 cm hoog.
Sold
Very nice Cadovius wall system with 4 shelves for books and accessories and a secretaire with a smart interior with drawers.
The wall system is in a very clean condition, no scratches or other blemishes just a small chip of wood missing on the left bottom corner of the cabinet.
Dimensions:
The height of the wall rails is 2 meter.
The shelves are 80 cm wide and 20 cm deep.
The cabinet is 80 cm wide, 37.5 cm deep and 42.5 cm high.
Sold