Vintage Gispen 1401 fauteuil (sold)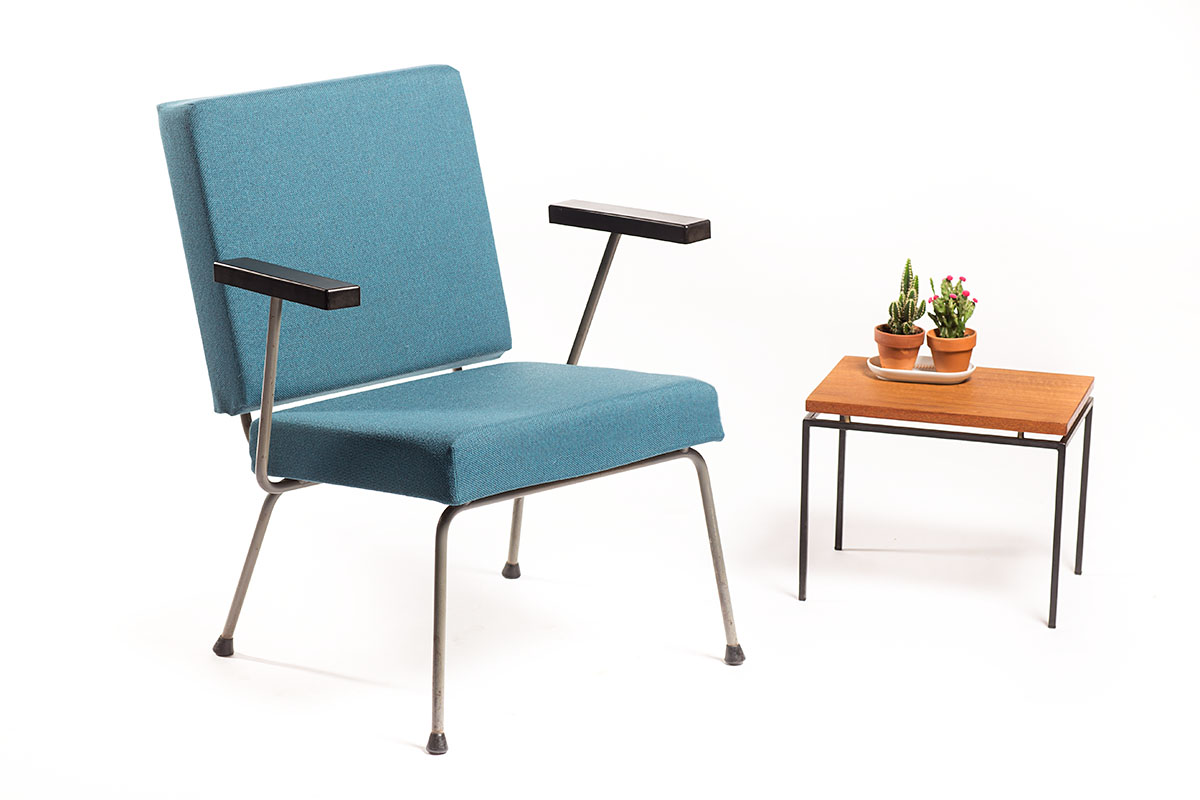 Fraaie fauteuil ontworpen door Wim Rietveld voor Gispen.
"Fauteuil no. 415 / 1401 behoorde tot een serie 'meubelen voor het eenvoudige interieur', die in het midden van de jaren vijftig werd geïntroduceerd. De fauteuil werd voor het eerst getoond op de 10de Triënnale van Milaan (1954) en werd daar onderscheiden met een gouden medaille (dank u stichting Gispen collectie)."
Dit exemplaar is opnieuw bekleed met een mooie petrol blauwe stof waarbij ook het schuim werd vervangen. Het grijze frame toont zijn leeftijd, het misstaat deze fauteuil die ruim 60 jaar oud is zeker niet.
Bijzondere en strak vormgegeven fauteuil met leuke details zoals de bakelieten armleggers en de vrij gelaten plaatstalen achterkant.
Afmetingen:
69 cm hoog, 65 cm diep en 62 cm breed, 36 cm zithoogte
Sold
Great small easychair designed by Wim Rietveld for Gispen.
"the easychair no.415/401 was part of the "furniture for the modest interior" which was introduced in the mid fifties. This design was first shown at the 10th Triennale of Milan (1954) and was rewarded with a gold medaille for best design. (info from the website of the Stichting Gispen collectie).
This particular easy chair is re-upholstered with a petrol blue fabric and the foam has been renewed as well. The grey frame shows its age, which is obvious being a sixty year old chair.
The chair has some nice features such as the bakelite armrests and the platesteel back.
Dimensions:
69 cm high, 65 cm deep, 62 cm wide, 36 cm seat-height.
Sold