Vintage Hallway set by Kai Kristiansen (sold)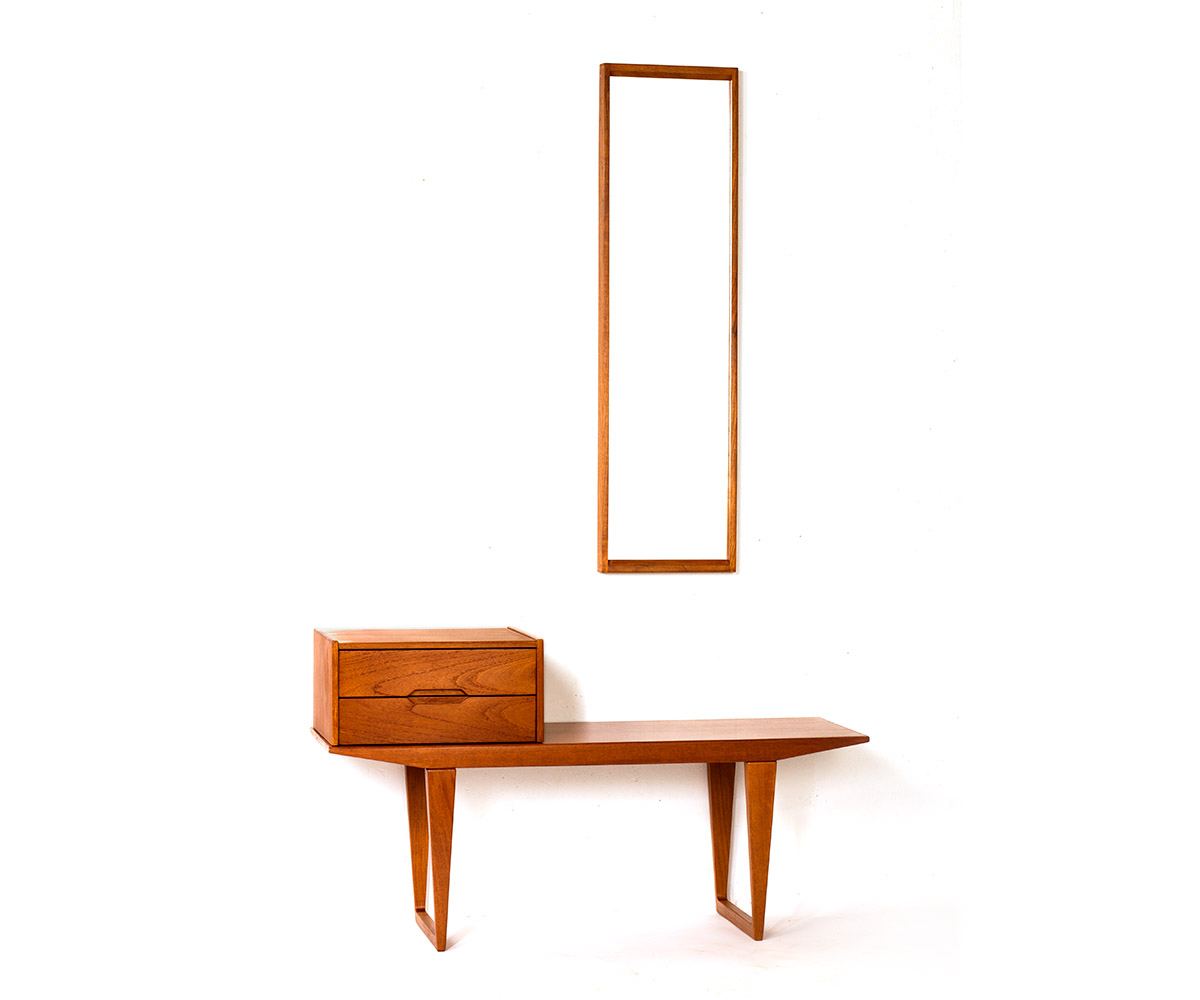 Dit zeer stijlvolle hal- en gangmeubel in teak is in de jaren zestig ontworpen door de Deense ontwerper Kai Kristiansen en geproduceerd door Aksel Kjersgaard. De set bestaat uit drie delen, een tafeltje, een los ladenblokje en een spiegel. Echt een toonbeeld van Deens design met de strakke lijnen, de elegante verdiepte handgrepen en de kleine details als de houtverbindingen in het frame van de spiegel. Dese set is echt een eyecatcher en erg praktisch bovendien.
De set is in zeer goede staat, helemaal gerenoveerd.  Er is heel licht nog de rand van een oude kring zichtbaar, maar die zit onder het ladeblokje.
Afmetingen: tafeltje: 106 cm breed, 40 cm hoog en 34 cm diep. Kastje: 40 cm breed, 20 cm hoog en 31 cm diep. Spiegel: 29 cm breed, 103 cm hoog en 3 cm diep.
Sold
This very stylish teak hallway set was designed in the sixties by the Danish designer Kai Kristiansen and produced by Aksel Kjersgaard. The set consists of three parts, a table, a drawer unit and a mirror. A true example of Danish design with the clean lines, the elegant deepened handles and the small details such as the wood connections in the frame of the mirror. This set is really an eye catcher and very practical as well.
The set is in very good condition, completely renovated.  There is a very faint outline of an old stain visible on the top but that is situated underneath the chest of drawers.
Dimensions: table: 106 cm wide, 40 cm high and 34 cm deep. Cabinet: 40 cm wide, 20 cm high and 31 cm deep. Mirror: 29 cm wide, 103 cm high and 3 cm deep.
Deze Kai Kristiansen set is een samenwerking tussen Vintage Furniture Base en Hoffman Vintage Design Collection.
Interested? fill in the contact form below and we will get back to you.