Vintage Anvia J.J.M Hoogervorst wandlamp (sold)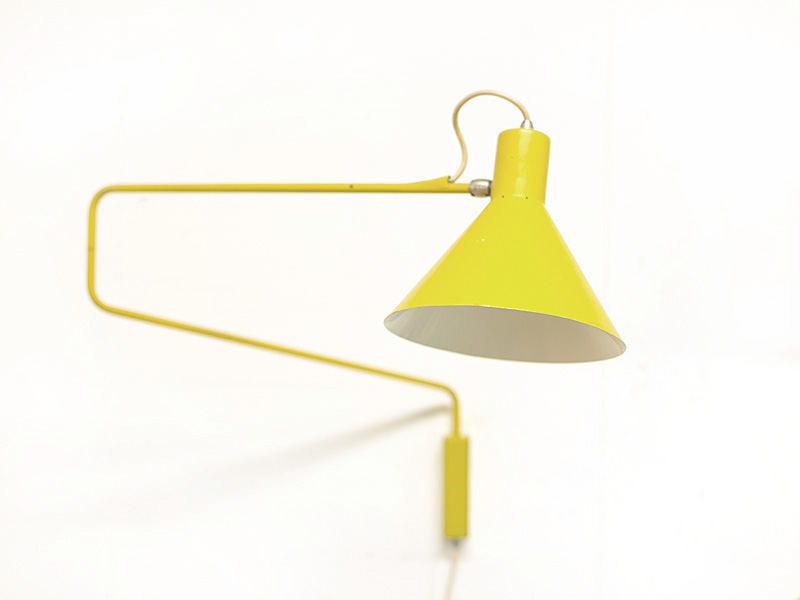 In de jaren vijftig ontwierp J.J.M Hoogervorst deze wandlamp voor Anvia Almelo. Het is een mooie ranke elegante wandlamp die ook wel de Paperclip lamp of Elbow lamp wordt genoemd.
Deze versie is origineel helemaal geel, de originele wandbevestiging zit er nog bij (die zit er 9 van de 10 keer niet meer bij).
De lamp verkeert in een goede vintage staat met enkele kleine gebruikssporen. Er zit een minideukje in de kap maar die krijg ik niet op de foto, ongeveer een halve cm doorsnee.
Vanwege de draaiende arm kun je de lamp op veel manieren verstellen, de kap is ook verstelbaar.
De kleur is geel, maar niet knalgeel, het is een zachte kleur geel.
Afmetingen:
100 cm lang, diameter kap 20 cm, totale hoogte 40 cm.
In the early fifties J.J.M Hoogervorst designed this design classic for Anvia Almelo. Its nickname is the Paperclip or Elbow lamp. The lamp is totally original and it comes with the wall mount which is often missing.
The color is a nice soft yellow, which is the original color as well.
There are some small user marks but overall the lamp is in a very good vintage condition.
One very small dent but it won't stick on the photo, it's about 0.5 cm in diameter, but barely noticeable.
Dimensions:
100 cm long, 20 cm diameter and approx 40 cm high.