Vintage rosewood nesting tables by Severin Hansen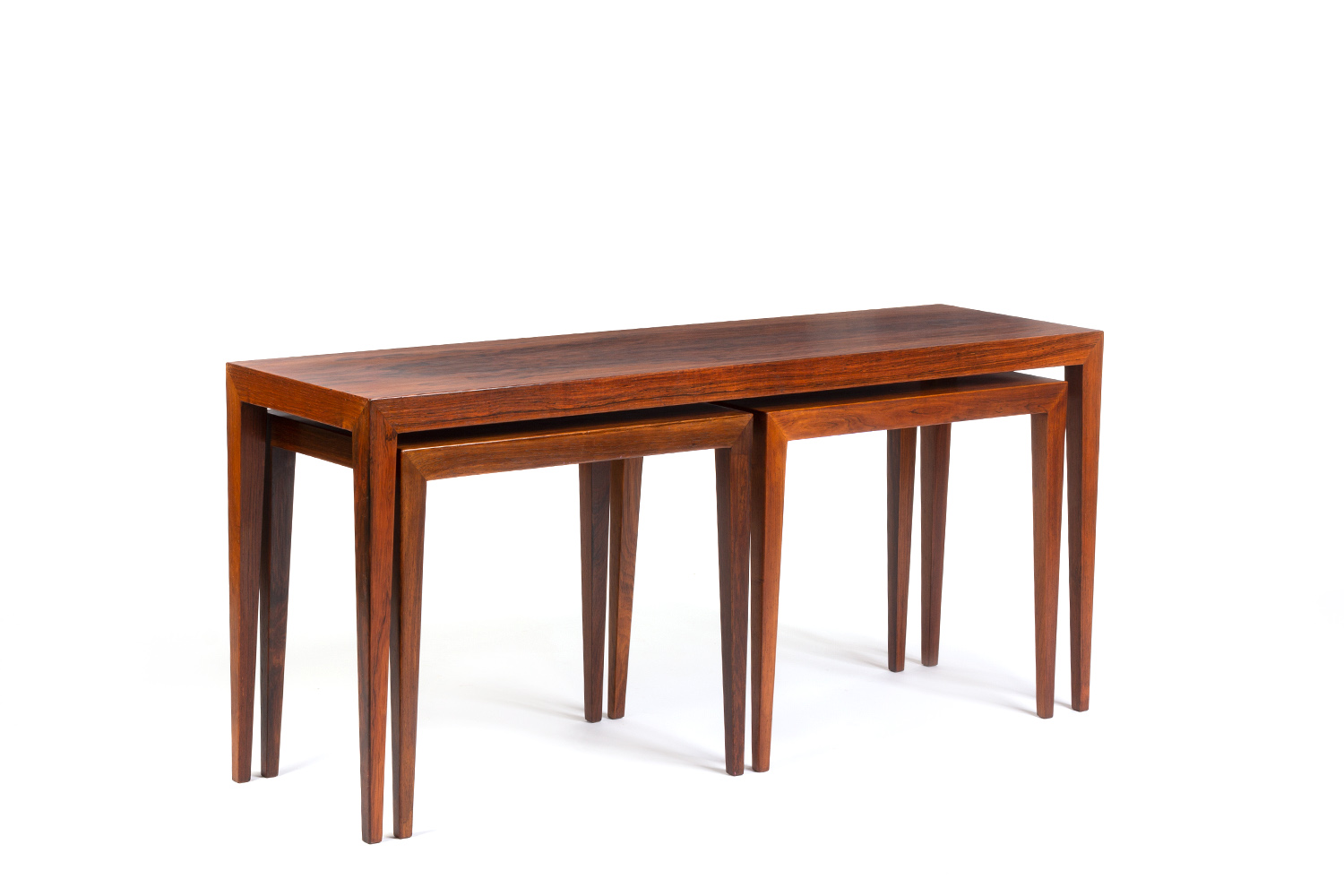 Very stylish set off three nesting tables executed in rosewood and designed by Danish designer Severin Hansen, for Haslev Møbelsnedkeri in the sixties. This very nice and clean set consists of one larger side-table with two smaller tables that fit right underneath the large table.
Severin Hansen's designs are characterized by the sleek wood joints and geometric tapered legs. This set is originally a matching set, as can be seen from the rosewood veneer, which is cut from the same wood and has the same pattern on all tables.
This set is in neat condition, the tops have been restored and are back in neat condition with minimal signs of use.
Dimensions: large side table: 110 cm wide, 32 cm deep and 50 cm high. Small side tables: 49 cm wide, 32 deep and 44 cm high.
The price of this mid century modern set is 1275 euro.
Zeer stijlvolle set van drie vintage bijzettafels uitgevoerd in palissander en ontworpen door de Deense ontwerper Severin Hansen, voor Haslev Møbelsnedkeri in de jaren zestig. Deze zeer mooie en strakke set bestaat uit één grotere bijzettafel met twee kleinere tafels die precies onder de grote tafel passen.
De ontwerpen van Severin Hansen worden gekenmerkt door strakke houtverbindingen en geometrisch taps toelopende poten. Dit is een van origine bij elkaar passende set, te zien aan het palissander fineer, dat bij alle tafels uit hetzelfde hout gesneden is en dezelfde tekening heeft.
Deze set is in zeer nette staat, de bovenkanten zijn gerestaureerd en weer in nette staat met zeer lichte gebruikssporen.
Afmetingen van de set: grote bijzettafel: 110 cm breed, 32 cm diep en 50 cm hoog. Kleine bijzettafels: 49 cm breed, 32 diep en 44 cm hoog.
De prijs van deze mimiset is 1275 euro.
Interested in this sidetables by Severin Hansen? Fill in the contact form below and we will get back to you.