Large vintage String wall system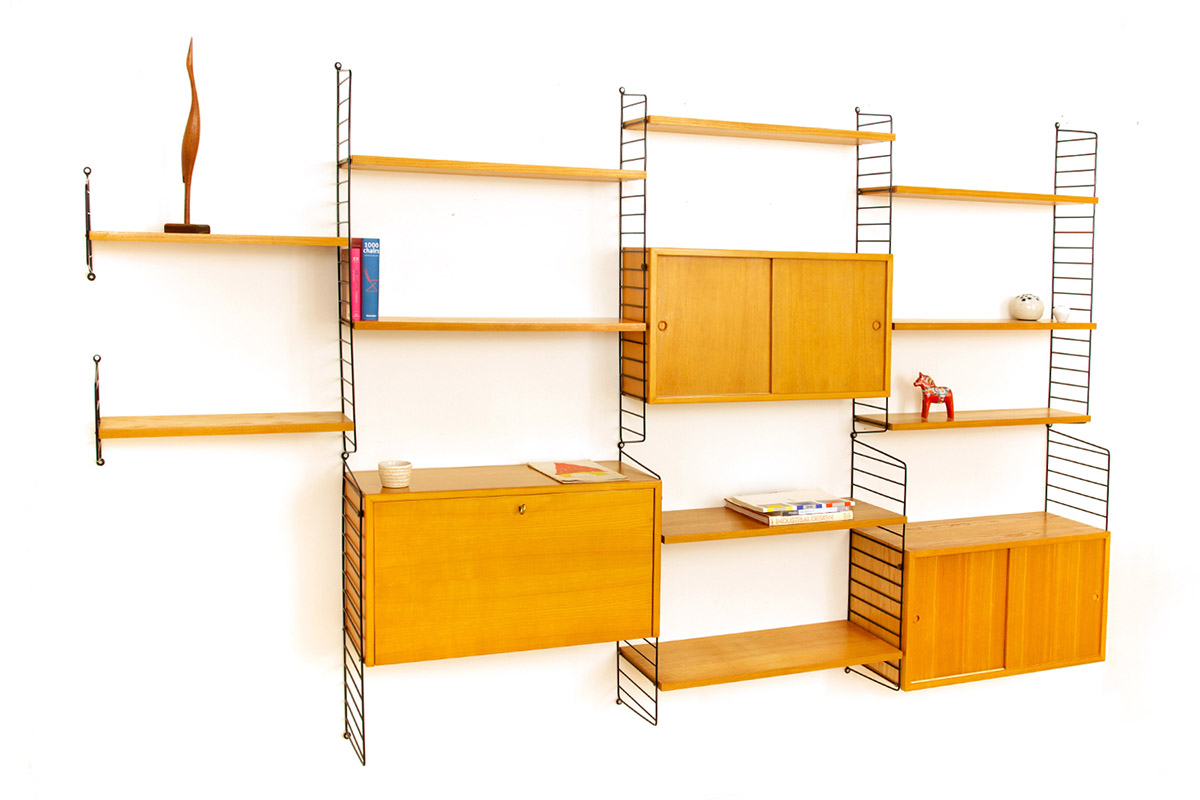 (more photos below the text)
Stylish and at the same time playful vintage Swedish design String wall system in light ash wood with three cabinets, of which one can be used as a desk.
The Swedish designer couple Nisse and Kasja Strinning designed this modular wall system in 1949 for a design competition for a public library. A few years later, the design was put into production by String Design AB. It's a nice airy design.
This large wall system is made of beech wood and consists of 10 black uprights, of which the 2 on the left are shorter. In addition, there are 8 shelves of 20 cm deep and 2 shelves of 30 cm deep and three cabinets, each with a shelf inside. The 2 shelves on the left are 56 cm wide, the other shelves are 80 cm wide.
The middle cabinet is 20 cm deep and 42 cm high, the other two cabinets are 30 cm deep and 42 cm high. The desk cabinet is 65 cm deep when unfolded.
The total width of the system is 300 cm, the total height is 175 cm.
The wall system is in good condition with light signs of use.
The price of this Scandinavian wall system is 1775 euro.
Stijlvol en tegelijkertijd speels vintage Zweeds design String wandsysteem in licht essenhout met drie kasten, waarvan er een als bureautje gebruikt kan worden.
Het Zweedse ontwerpers echtpaar Nisse en Kasja Strinning ontwierp dit modulaire wandsysteem in 1949 voor een ontwerpwedstrijd voor een openbare bibliotheek. Een paar jaar later werd het ontwerp in productie genomen door String Design AB. Het is een mooi luchtig ontwerp.
Dit grote wandsysteem is uitgevoerd in beukenhout en bestaat uit 10 zwarte staanders waarvan de 2 aan de linker kant korter zijn. Daarnaast zijn er 8 planken van 20 cm diep en 2 planken van 30 cm diep en drie kasten met allemaal een plank binnenin. De 2 planken aan de linkerkant zijn 56 cm breed, de overige planken zijn 80 cm breed. 
De middelste kast is 20 cm diep en 42 cm hoog, de andere twee kasten zijn 30 cm diep en 42 cm hoog. De bureaukast is uitgeklapt 65 cm diep. 
De totale breedte van het systeem is 300 cm, de totale hoogte is 175 cm.
Het wandsysteem verkeert in een goede staat met lichte sporen van gebruik, geen vlekken of kringen.
De prijs van dit Scandinavische wandsysteem is 1775 euro.
Interested? fill in the contact form below and we will get back to you.