Vintage geometrical white sconces set of 3 (*on hold)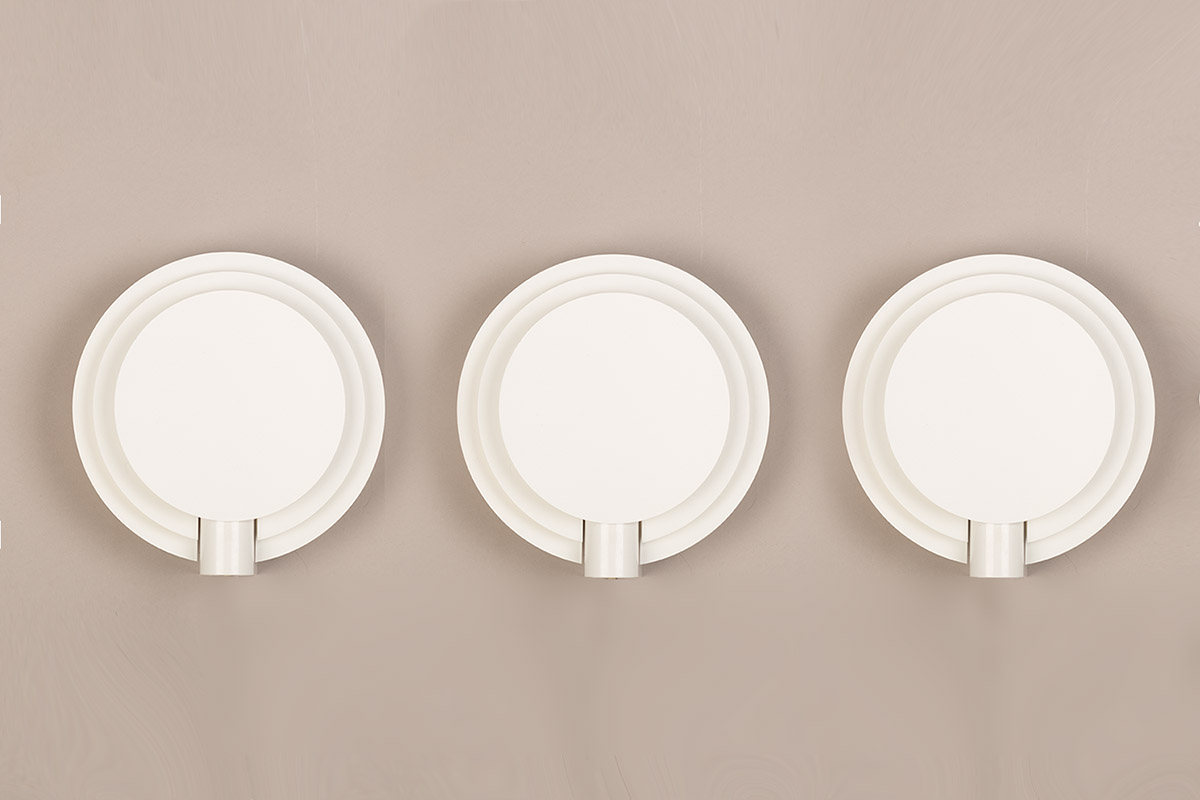 Mooie set van 3 vintage witte geometrische wandlampen van de Nederlandse fabrikant Lumiance. Deze charmante ronde wandlampjes uit eind jaren zeventig begin jaren 80 verkeren in een nette staat. De metalen wit gelakte ronde op elkaar gestapelde plaatjes zorgen er voor dat de lamp een mooi lichteffect geven. Het zijn wandlampjes maar ze blijven ook gewoon netjes op de wandbevestiging staan, dus je kunt ze eventueel ook gebruiken als tafellampjes.
Ze zijn eenvoudig te bevestigen aan de muur op een lichtpunt. Wordt geleverd zonder stekker, elektra werkt naar behoren. De lamp is voorzien van een PL lamp die nog goed verkrijgbaar is, de lampen worden overigens ook bijgeleverd.
De prijs voor de set van 3 is 275 euro.
Charming set of 3 vintage geometrical wall sconces by the Dutch lamp manufacturer Lumiance.
These wall lamps date from the late seventies early eighties and are in a very good and clean condition. The metal white lacquered round stacked discs create a very nice subtle light. They can be easily be mounted to the wall or they can be placed on a flat surface. They need to be attached to an electrical wall point, or we can make a cord and plug on them. They work with a PL lamp, which are provided and readily available.
The price for the set is 275 euro.
Are you interested in this item, fill in the contact form below and we will get back to you.