Vintage Poul Cadovius wall unit in teak (on hold)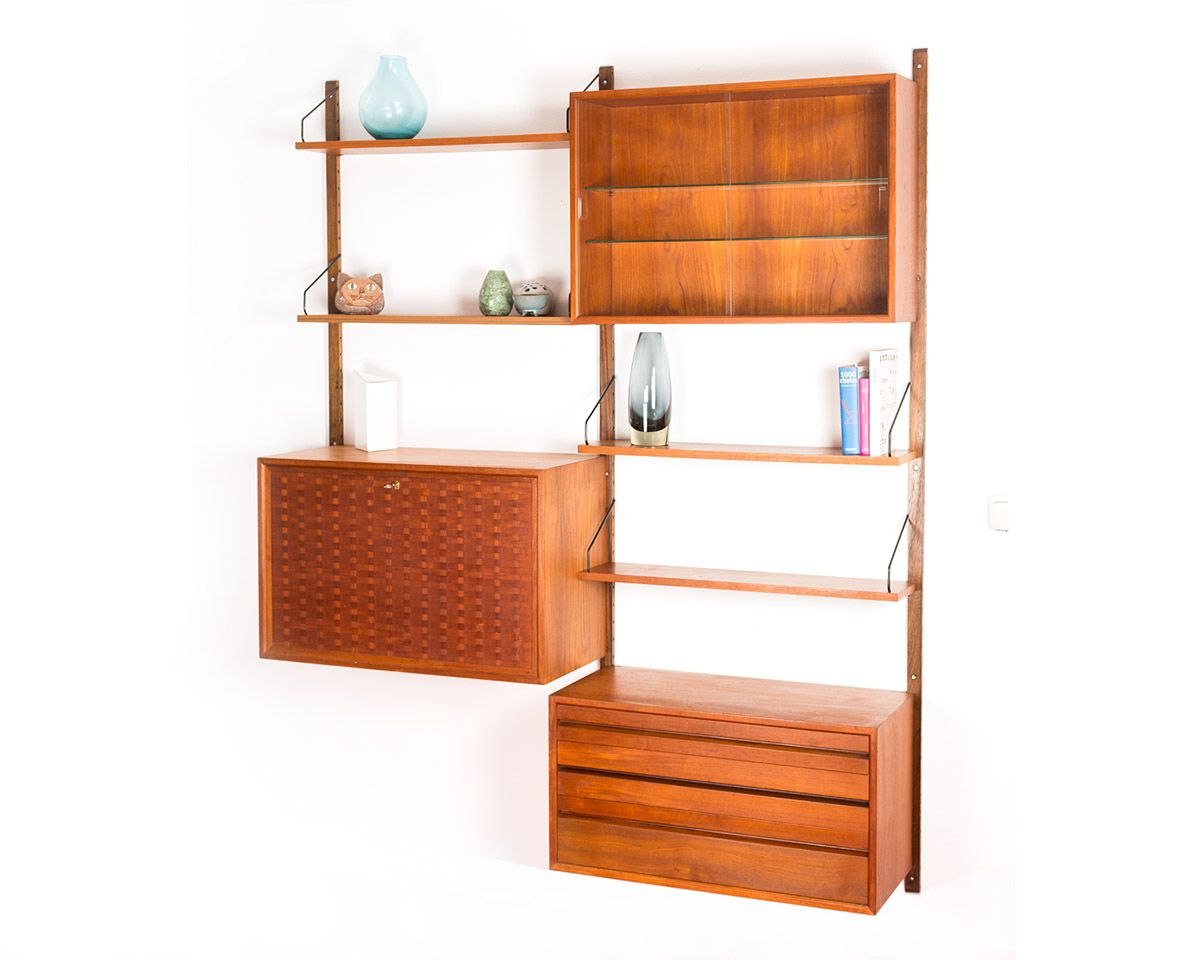 Fraai vintage Deens wandsysteem ontworpen door Poul Cadovius in de jaren zestig van de vorige eeuw. Dit exemplaar bestaat uit een secretaire kast met geweven front en twee lades in de binnenkant, een ladenblok met drie lades, een mooie vitrinekast met 2 glazen plankjes en glazen schuifdeuren en 4 planken van 20 cm diep.
Aan de kast met de gevlochten voorkant kun je werken met een laptop of zoals men vroeger deed een brief op schrijven.
Het wandsysteem verkeert in een nette staat met lichte sporen van gebruik maar geen kringen of grote krassen. Het ladenblok heeft op de bovenkant 4 kleine gaatjes die opgevuld zijn en wat niet heel storend is als het systeem aan de muur hangt.
De kwaliteit van de afwerking is hoog, de lades hebben zwaluwstaart verbindingen, er zit een mooi messing sleutelgat in de secretaire en de achterwand van de vitrinekast is ook uitgevoerd in teakfineer.
Een bijzonder elegant wandsysteem met veel opberg- en displayruimte.
Afmetingen:
2 staanders 205 cm hoog, 1 staander 150 cm hoog.
4 planken 20 cm diep en 80 cm breed.
1 ladekast 38 cm diep, 43 cm hoog, 80 cm breed.
1 secretairekast 40 cm diep, 52 cm hoog, 80 cm breed.
1 vitrinekast 24 cm diep, 56 cm hoog, 80 cm breed.
De prijs van dit mooie wandsysteem is 1350 euro.