Vintage Poul Nørreklit rosewood sideboard (sold)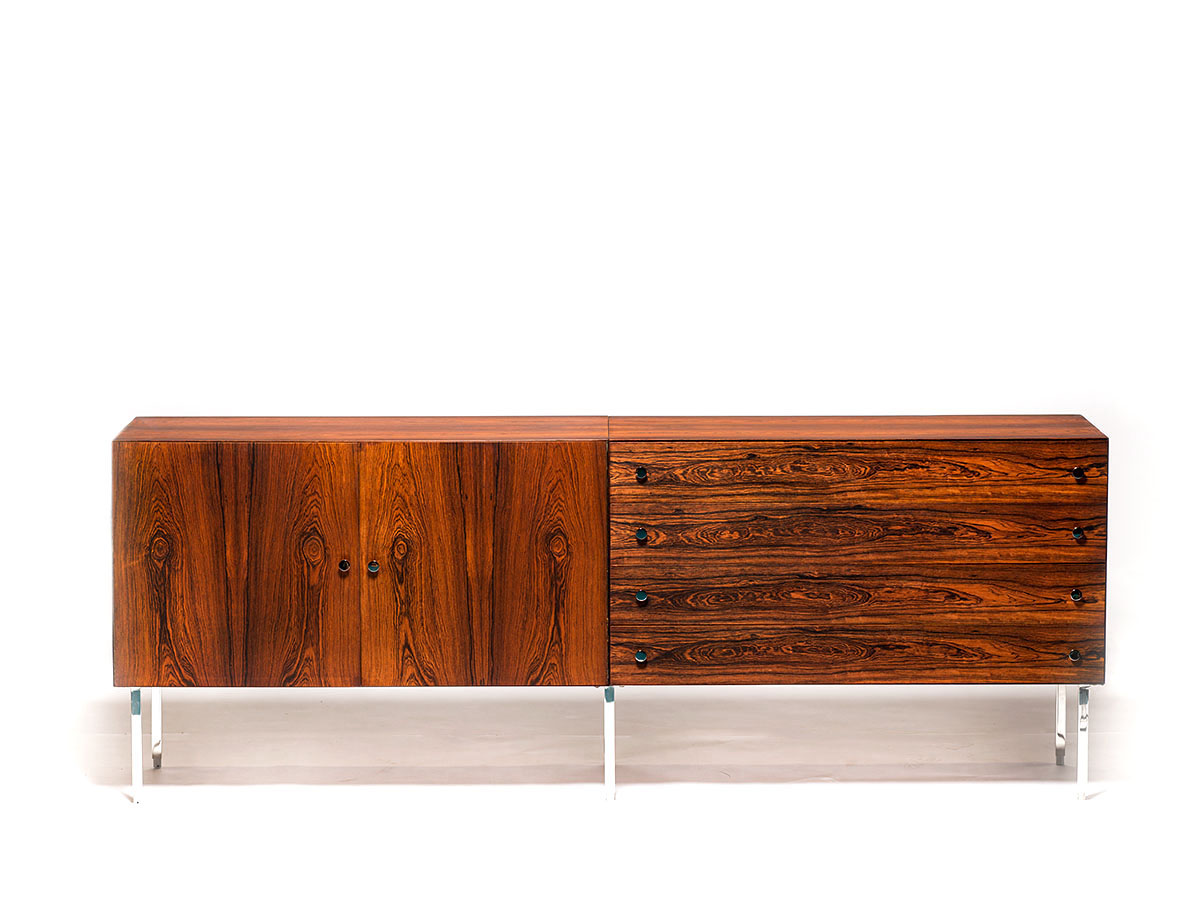 Deze beauty kwamen we al een tijd geleden tegen en we hebben er veel tijd en energie in gestoken om dit prachtige dressoir weer helemaal in ere te herstellen.
Het is ontworpen door Poul Nørreklit en geproduceerd door Sigurd Hansen Denmark.
Dit is een goed voorbeeld van hoe Deens design zou moeten zijn.
Het palissanderhout met fraaie tekening (die doorloopt over de twee aan elkaar gemonteerde delen), de facet gevormde randen van de laden en deurtjes en de glans vernikkelde pootjes maken het een strakke en elegante verschijning.
Zoals eerder aangegeven verkeert het dressoir in een zeer nette staat. De pootjes zijn opnieuw glanzend vernikkeld (nikkel heeft een wat warmere toon dan chroom) en het dressoir is afgewerkt met een semi matte finish en is zonder krassen of kringen of beschadigingen. Het dressoir is geproduceerd omstreeks 1961 is in ere hersteld maar toont zeker nog zijn oude karakter.
Afmetingen:
198 cm lang, 73 cm hoog en 45 cm diep.
Prijs op aanvraag.
Beautiful Danish sideboard designed by Poul Norreklit for Sigurd Hansen Denmark.
The rosewood with great grain patterns, the facet shaped edges of the doors and drawers and the newly nickel plated legs emphasize the design quality of this piece.
We've put in a lot of time and effort to bring this sideboard back to the beautiful condition it is in right now. It is refinished with a semi matte finish and the original character of the sideboard was remained in tact.
Dimensions:
198 cm long, 73 high and 45 cm deep.
Price upon request.